Robert F. Kennedy Jr. announced his long-shot bid for the 2024 Democratic presidential nomination on Wednesday.
President Joe Biden is expected to run for re-election but has not made a formal announcement.
Polls show Biden has a double-digit lead over other possible candidates, except for one.
President Joe Biden has yet to officially announce that he's running for re-election, but Robert F. Kennedy Jr. is already challenging Biden for the Democratic presidential nomination.
On Wednesday, Kennedy announced his long-shot bid for 2024 and launched his campaign from Boston, where he spoke about his father's 1968 campaign, his criticisms of the pharmaceutical industry and his career as an environmental lawyer in a nearly two-hour speech.
Kennedy, the nephew of former President John F. Kennedy and son of former U.S. attorney general and assassinated 1968 presidential candidate Robert Kennedy, has become well-known as a vocal anti-vaccine activist and leading proponent of COVID-19 misinformation.
Biden is expecting to make his own 2024 announcement soon and is widely expected to enter the primary as the clear favorite. Early polling shows the president with double-digit leads over other possible Democratic candidates, including Kennedy, self-help author and 2024 candidate Marianne Williamson, Vice President Kamala Harris, Senator Bernie Sanders and Transportation Secretary Pete Buttigieg.
Although one recent poll showed that a number of Biden voters are prepared to swing to Kennedy, the president fares well in a hypothetical matchup against the political newcomer. The only name that could close that gap into single digits has been former First Lady Michelle Obama, who has not signaled any plans to run for the White House.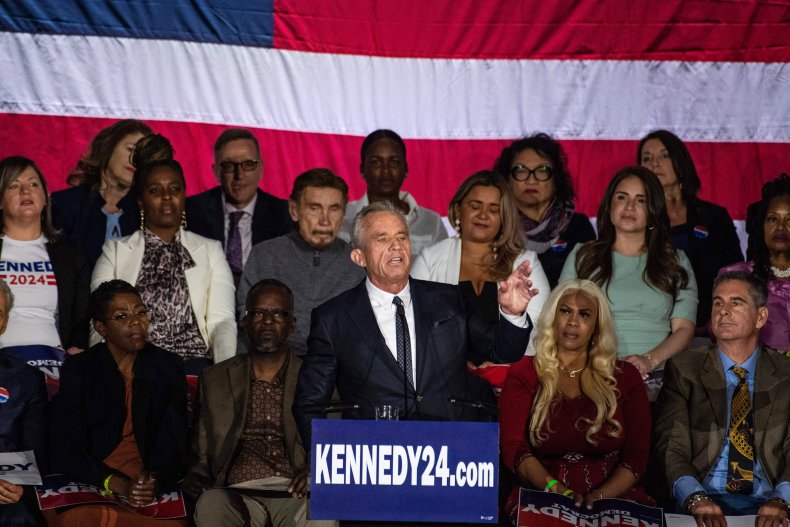 In a USA Today/Suffolk University poll conducted Saturday through Tuesday, 14 percent of Biden's 2020 supporters said they would vote for Kennedy. Comparably, 67 percent of those voters said they would re-elect Biden, 13 percent remained undecided and 5 percent backed Williamson.
Despite there being an overwhelming number of voters who support a second Biden term, David Paleologos, the director of the Suffolk University Political Research Center, said that the survey indicates Democratic voters are receptive to another option.
"In 2020, Joe Biden received more votes than any other president in U.S. history, yet the poll tells us that those same voters are open to other Democrats to wage a spirited primary," Paleologos told USA Today. "Kennedy, although a long shot at this point, starts in double digits and can't be ignored."
Kennedy polled particularly well among 33 percent of Biden supporters who disapprove of Biden's job in the White House and the 35 percent who described Biden's policies as "too liberal."
In response to the poll, TV personality and daughter of the late Senator John McCain Meghan McCain tweeted, "RFK Jr. and all his lunacy antivaxx propaganda has enough support to make very interesting spoilers for Biden…"
However, a poll conducted by Morning Consult earlier this month showed slightly stronger odds for Biden, who had a 60-point lead over Kennedy, 70 to 10 percent. Four percent of those respondents chose Williamson.
Newsweek reached out to the White House for comment.