Georgia Governor Brian Kemp signed a bill into law that could result in the ousting of Fulton County District Attorney Fani Willis, who is weighing criminal charges against former President Donald Trump.
The law, signed by the Republican governor on Friday, will establish the Prosecuting Attorneys Qualifications Commission. The panel will be comprised of six former or current federal attorneys and two other lawyers who will have the authority to discipline and remove prosecutors found to be not upholding their law enforcement duties, according to the Associated Press.
Critics, however, have accused Republicans of supporting this legislation as a means of controlling local prosecutors in the state's more liberal areas such as Atlanta—including Willis.
Willis is investigating Trump's alleged efforts of trying to overturn the 2020 presidential election results in Georgia, a crucial swing state that backed President Joe Biden by fewer than 15,000 votes. Willis has probed a call in which Trump allegedly urged Secretary of State Brad Raffensperger, a Republican, to find enough votes to tilt the election in his favor, as well as a false elector scheme that sought to send a slate of Trump supporters to the Electoral College.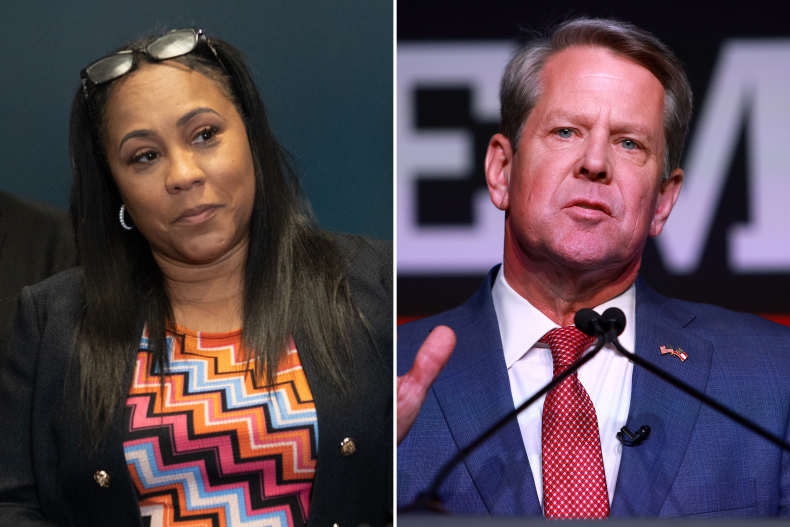 Both efforts ultimately failed, and Biden's victory was certified. Trump has maintained his innocence in Willis' investigation, accusing her of engaging in a politically motivated witch hunt aimed at weakening his standing in the 2024 presidential election.
Although Willis was not specifically targeted in the legislation, the new law would give the panel authority to take complaints against her, as well as potentially remove her from office if the commission rules against her. It remains unknown exactly who will sit on the panel, which will convene on July 1, while complaints will be taken by the panel starting on October 1, according to the AP.
Critics view the commission as a Republican effort to crack down on local prosecutors who embrace criminal justice reform and more progressive prosecutorial practices, as well as those who decline to enforce state laws surrounding marijuana possession and abortion, according to the AP.
Seven Georgia district attorneys vowed to not prosecute abortion-related offenses before the U.S. Supreme Court overturned Roe v. Wade last June, the decision that previously guaranteed reproductive rights across the country, the AP reported.
Kemp, in a statement on Friday, praised the legislation as a "valuable oversight mechanism" for district attorneys.
"As hardworking law enforcement officers routinely put their lives on the line to investigate, confront, and arrest criminal offenders, I won't stand idly by as they're met with resistance from rogue or incompetent prosecutors who refuse to uphold the law," Kemp said. "The creation of the PACQ will help hold prosecutors driven by out-of-touch politics than commitment to their responsibilities accountable and make our communities safer."
Newsweek reached out to the Fulton County District Attorney's office for comment via email.
In the latest update in Willis' investigation, it was revealed on Friday that at least eight of the false Georgia Republican electors accepted immunity deals offered by prosecutors—indicating they have "have significant evidence to offer," said former U.S. attorney Joyce Alene. A decision about whether or not Trump will personally be charged will be announced in July .