A GOP member in the Tennessee House of Representatives has been recently found guilty of sexual harassment, but no action was taken against him by Republicans who voted to expel Democratic Representatives Justin Pearson and Justin Jones for participating in a gun reform protest.
An ethics subcommittee in the Tennessee House issued a memo on March 29 about a complaint received against Republican Representative Scotty Campbell. The lawmaker was found guilty of sexually harassing at least one legislative intern, WTVF reported. The memo stated that Campbell's misconduct violated the workplace harassment policy, but it didn't reveal details or specified the nature of his action. Legislative interns are mainly students from Tennessee colleges and universities.
Campbell, 39, who serves as vice chair of the House Republican Caucus, was among Republicans who voted to expel Jones, Pearson, and Democratic Representative Gloria Johnson for breaching decorum by participating in a gun-control protest. An effort to remove Johnson, who is white, failed by one vote.
Johnson was also involved in leading hundreds of protesters onto the Tennessee House floor on March 30 after a demonstration led by young people pushed for stricter gun control measures following the fatal mass shooting at the Covenant School in Nashville a few days earlier when Audrey Hale, a former student at the school, shot and killed three 9-year-olds and three adults before she was killed by the police.
Justifying his vote to expel the lawmakers, WTVF reported, Campbell argued that "if you were in court and behaved like those three did, you would have been found in contempt of court."
Jones and Pearson have been recently reinstated following public outrage over the expulsion, according to the Associated Press. However, Campbell faced no consequences for his actions as the lawmaker remained in his leadership position and continued performing his committee assignments.
The Republican lawmaker has been accused of making rude comments and inappropriate advances, according to WTVF, which reported that payments have been made to relocate one of the interns who were sexually harassed by Campbell.
Both Campbell and the victim lived in the same apartment building, which later prompted legislative officials to reportedly pay money to ship the intern's furniture and relocate her to another part of the state for the remainder of her internship. No details were revealed about the amount of money paid in this process, but WTVF reported that potentially thousands of dollars were spent to protect the intern.
One of the victim's family members sent an email to WTVF detailing her account of the incidents with Campbell to officials at her university. The unidentified woman recounted one instance in which the Republican lawmaker allegedly "made comments about how …he was in his apartment imagining that we were performing sexual acts on one another and how it drove him crazy knowing that was happening so close to him."
She added that he continued to describe "how sexually attractive he finds her," referring to the 19-year-old intern.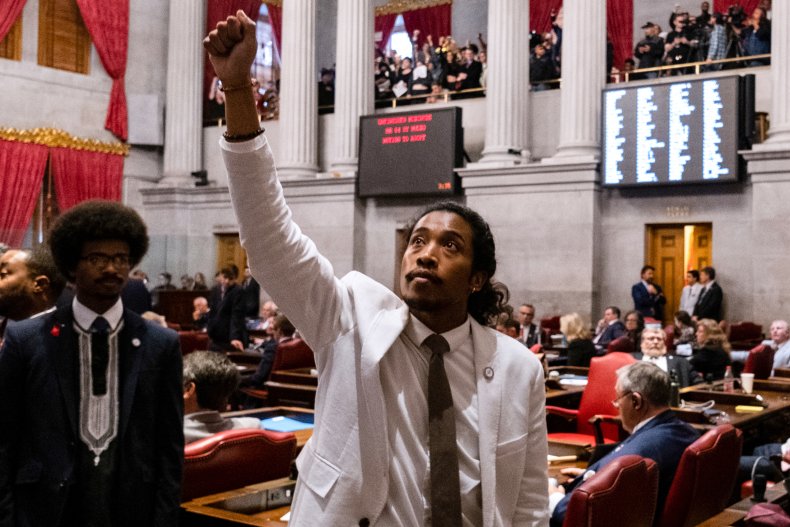 The woman also recounted personal questions that he allegedly asked her, including one about how many men and women she slept with. He also allegedly offered to give her cannabis gummies to see her tattoos and piercings, according to WTVF.
When he was confronted with the sexual harassment allegations, Campbell that he "had consensual, adult conversations with two adults off property." He also denied the victim's accounts of their conversations.
"I think conversations are consensual once that is verbally agreed to. If I choose to talk to any intern in the future, it will be recorded," he said, according to the news outlet.
However, the ethics subcommittee, which is composed of two Republicans and two Democrats, concluded that Campbell "violated" workplace discrimination and harassment policy, according to the Marcy 29 memo which was sent to House Speaker Cameron Sexton.
"The Ethics Subcommittee is committed to protecting members, employees, and visitors by providing an environment free of discrimination, harassment, or retaliation. Discrimination and harassment in any form will not be tolerated," the memo read. The Ethics subcommittee is not allowed to publicly discuss its proceedings.
Newsweek reached out by email to Representative Campbell for comment.