A college essay written by House Minority Leader Hakeem Jeffries in 1992 in which he criticizes Black conservatives like Clarence Thomas and Colin Powell has resurfaced.
In the essay, Jeffries also defended his uncle, who was engulfed in controversy at the time for antisemitic comments.
Jeffries in 1993 told an interviewer he only had a "vague recollection" of his uncle's controversy.
Jeffries' spokesperson said that he does not share the views espoused by his uncle and touted his record of bringing communities together.
House Minority Leader Hakeem Jeffries, a New York Democrat, is facing backlash after a decades-old opinion article he wrote that defended his antisemitic uncle resurfaced on Wednesday.
His uncle, Leonard Jeffries, became a controversial figure while working as a Black Studies professor at the City University of New York for making comments such as "rich Jews" were allegedly involved in the African slave trade and that Jewish people had orchestrated a "conspiracy" against Black Americans.
In 2013, Hakeem Jeffries told The Wall Street Journal that he had only a "vague recollection" of the controversy surrounding his uncle. However, CNN uncovered a 1992 editorial the younger Jeffries wrote while attending Binghamton University for the student newspaper, The Vanguard.
Entitled "The Black Conservative Phenomenon," the editorial briefly discusses his uncle's controversy while denouncing prominent Black conservatives such as Clarence Thomas and Colin Powell.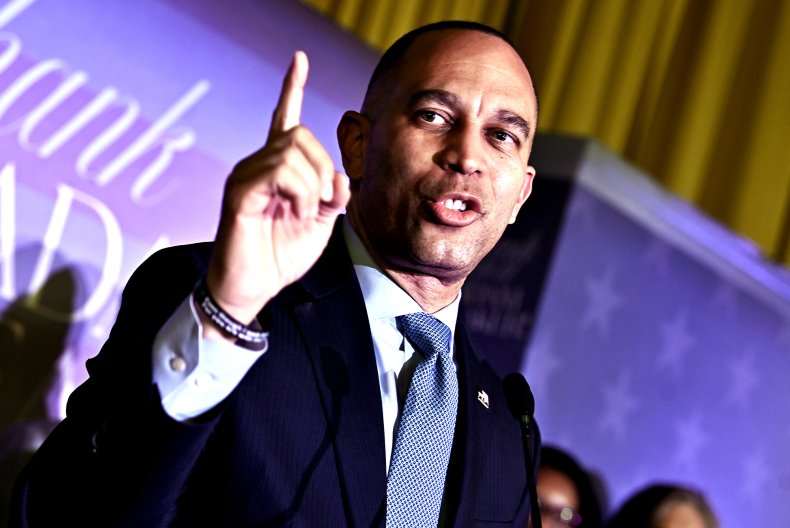 As first reported by CNN's Andrew Kaczynski and Em Steck, the future Democratic leader's college essay also defended Nation of Islam leader Louis Farrakhan, who had recently come under fire for comments such as calling Judaism a "dirty religion" and referring to Nazi Leader Adolf Hitler as being "a great man."
"Dr. Leonard Jeffries and Minister Louis Farrakhan have come under intense fire," Hakeem Jeffries wrote in his 1992 essay. "Where do you think their interests lie? Dr. Jeffries has challenged the existing white supremacist educational system and long standing distortion of history. His reward has been a media lynching complete with character assassinations and inflammatory erroneous accusations."
Jeffries' essay can be read in full below. The pdf was first uploaded by Kaczynski onto CNN's website.
"The House Negro of the slavery era and the Black conservative of today are both opportunists interested in securing some measure of happiness for themselves within the existing social order. In both cases, the social order has Blacks occupying the lowest societal echelon," Jeffries wrote.
"Perhaps the most frightening aspect of the rise of Black conservatives is that of their popular acceptance by the predominantly white media," he wrote. "Clarence Thomas, Colin Powell, and [author/scholar] Shelby Steele are hailed as our leaders and pointed to as examples for us to follow.
"I find it suspect when the white power structure and their propaganda emissaries, the media, tell us who our leaders should be," he continued. "Do you think that a ruling elite would promote individuals who seek to dismantle their vice-like grip on power? Of course not."
Jeffries further criticized Thomas and Powell in the editorial for their ties to then-President George H.W. Bush, a Republican. Thomas was appointed to the Supreme Court by Bush in 1991, while Powell—at the time of the essay—was serving as the chairman of the Joint Chiefs of Staff under Bush.
"Clarence Thomas was appointed by George Bush to the highest court in the nation. Colin Powell was appointed by George Bush to lead the military establishment 'policemen of the Wall Street Bankers', in the words of Cesar Agusto Sandino. Where do you think their interests lie?" wrote Jeffries.
Jeffries has remained a critic of Thomas since writing the essay. During a House Judiciary Committee in May 2022, he derided the Supreme Court justice for his stance on issues such as abortion rights and voting rights.
"Let me ask this question of Brother Thomas: Why are you such a hater?" Jeffries said at the time. "Hate on civil rights. Hate on women's rights. Hate on reproductive rights. Hate on voting rights. Hate on marital rights. Hate on equal protection under the law. Hate on liberty and justice for all. Hate on free and fair elections. Why are you such a hater?"
Jeffries spokesperson Christie Stephenson said in a statement emailed to Newsweek that "Leader Jeffries has consistently been clear that he does not share the controversial views espoused by his uncle over thirty years ago."
"Leader Jeffries has been in public service for more than 16 years as a state legislator and Member of Congress," Stephenson said. "His track record of bringing communities together and standing up for everyone speaks for itself."