Russian President Vladimir Putin has shared the apparent reason why he did not order a full-scale invasion of Ukraine in 2014.
In an interview with state-controlled TV channel Russia 1, Putin claimed he wanted to resolve the upheaval in the region without going to war.
According to the Russian state-controlled outlet TASS, Putin said: "We assumed that we would be able to solve [the situation] absolutely peacefully. We have never been anxious for any confrontation.
"Now we see that we were simply messed around, with none of our so-called partners intending to solve anything peacefully."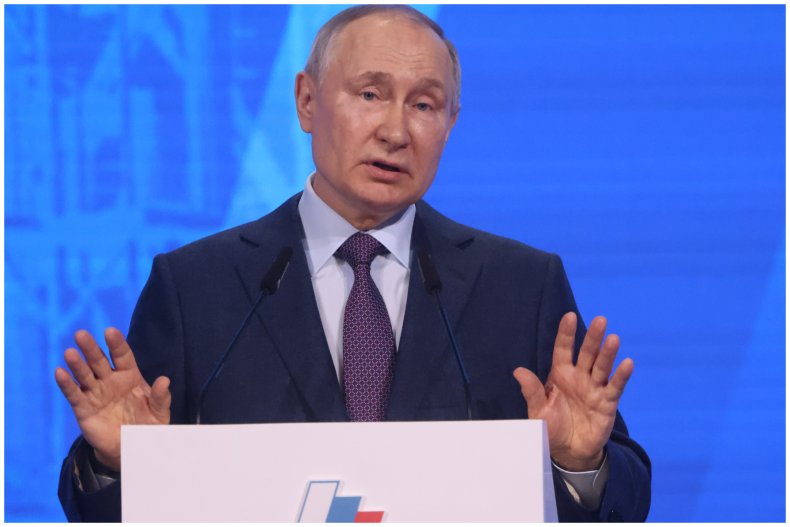 He added: "Secondly, this also applies to our readiness for some more serious actions within our framework of the so-called 'Crimean Spring.'"
The Crimean Spring Putin references is a nod to the Arab Spring where people across the Middle East rose up against authoritarian leaders in a series of protests that had varying degrees of success.
In contrast, Russia first invaded and then annexed Crimea in 2014, a key year that would define the country's relationship with Ukraine.
Putin attempted to justify the annexation with a referendum, where the Russian-speaking majority voted to join Russia. But the referendum was considered a sham by Ukraine, the U.S., and numerous other nations.
That same year, Russian-backed separatists declared their independence from Ukraine and instigated a conflict in the east of the country.
While Russia repeatedly denied involvement in the conflict, the Donetsk and Luhansk people's republics received considerable support from Moscow.
The conflict continued as a static war with few major breakthroughs on either side until Putin ordered the invasion of Ukraine proper in 2022.
Ahead of the full-scale invasion, Russia moved military equipment and soldiers close to its border with Ukraine.
Putin then ordered the invasion of Ukraine on February 24 of that year with the objective to "denazify" the country.
Ukrainian President Volodymyr Zelensky has made repeated demands that Russia withdraws from all of Ukraine, including Crimea.
But Putin, now subject to an arrest warrant by the International Criminal Court, visited both Crimea and Mariupol, a city heavily bombarded during the more recent phase of the Ukraine-Russia conflict, in the last few days.
The arrest warrant was issued over Putin's alleged transportation of Ukrainian children and teenagers to Russia, where many have been adopted into families there.
It is unlikely Putin will face charges while he is in power, but the move has been widely welcomed by his critics.
Newsweek has contacted the Kremlin for comment.