An attorney for a member of the Proud Boys recently called on the U.S. government to unmask all of the informants and undercover agents involved in the January 6 Capitol riots.
In a motion filed on Wednesday, the attorney for Proud Boys member Dominic Pezzola compelled the government "to reveal all informants, undercover operatives and other Confidential Human Sources (CHSs) relating to the events of January 6."
"Pezzola recently learned that a federal agency other than FBI—the Homeland Security Investigations (HIS) unit—was handling and running undercover CHSs on Jan. 6," the motion said. "The federal prosecutors in this case are refusing to disclose information regarding these non-FBI informants. The existence, and likely conduct of these CHSs is almost certainly exculpatory for Pezzola."
The motion this week comes amid the ongoing trial for the Proud Boys, where members including Pezzola, as well as Ethan Nordean, Enrique Tarrio, Joseph Biggs and Zachary Rehl, have been accused of seditious conspiracy and several other charges, in connection to the January 6 riots at the Capitol.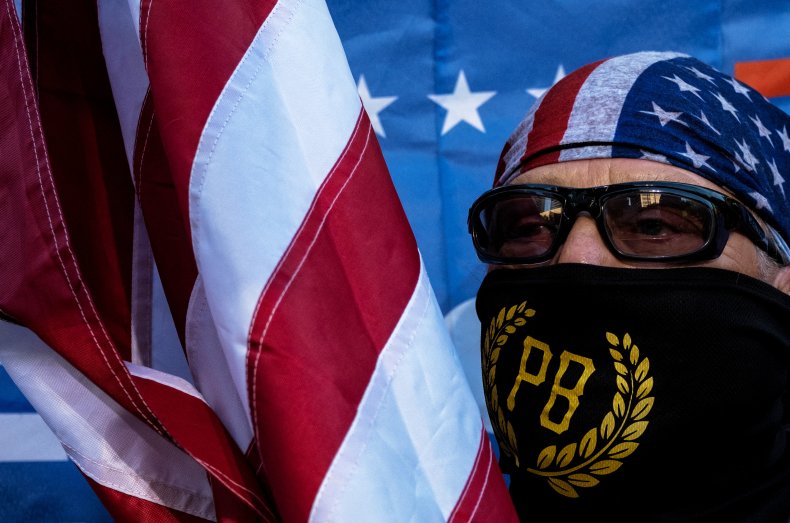 The trial has faced several hiccups over the past few months as the attorneys for the Proud Boys have filed numerous motions. Last month, the trial was halted after the government revealed that one witness scheduled to testify was an informant.
"During this period of time, the CHS [Confidential Human Source] has been in contact via telephone, text messaging and other electronic means, with one or more of the counsel for the defense and at least one defendant. During this period of time, the CHS also participated in prayer meetings with members of one or more of the defendants' families," Carmen Hernandez, an attorney for Rehl, wrote in a motion on March 23.
Additionally, an attorney for Nordean previously filed a motion after "hidden messages" between two FBI agents were revealed. According to the motion filed in early March, government witness Special Agent Nicole Miller provided the court all digital messages related to her testimony; however, a further review of an Excel sheet showed additional messages that appeared to be hidden.
In the motion filed this week, Pezzola's attorney, Roger Roots wrote that two other law enforcement agencies outside of the FBI had undercover agents at the January 6 riots, including "13 undercover plain-clothes agents" with the Washington D.C. Metro Police Department. In total, there were at least 40 undercover agents at the riots, the motion said.
"Some of these undercover Metro officers marched with the Proud Boy march. And some appear to have played roles of instigators, in that they are seen on body-worn videos chanting 'Go! Go!,' 'Stop the Steal!,' and 'Whose house? Our house!' on Jan. 6. Others generally followed demonstrators toward the Capitol," the motion said.
Newsweek reached out to Roots via email for comment. A spokesperson for the U.S. Attorney's Office in Washington, D.C., told Newsweek that they plan to respond to these issues in court.