America is beholden to those who supply us. Institutions from the military to hospitals rely on imports from a broad range of countries, and not all of them are friendly. Relying on non-allied countries for critical goods makes us vulnerable. We can only improve that reality with bipartisan collaboration; it's what brought a Tennessee Republican and a Democrat from California together.
The pandemic showed us how difficult and slow it is to reorganize complex international supply chains. Imagine how much worse the situation would be during an armed conflict, and you'll begin to understand our newest national security crisis.
The reasons for the crisis aren't complex. Like any other purchaser, the United States government looks for the most stable, lowest-cost suppliers. Unfortunately, this has created an overreliance on goods like medical supplies manufactured in countries, primarily China, that could weaponize the very supply chains that sustain us.
The escalating tension between the United States and China has brought that vulnerability into sharp relief. If Americans' access to essential medical and pharmaceutical supplies were suddenly interrupted, our national security would be in serious jeopardy.
The United States must fortify its life sciences supply chain by shifting it to countries with whom we share more amicable relations and strategic alignment. This process will entail turning diplomatic success into strong economic relationships, and a promising opportunity has recently opened up.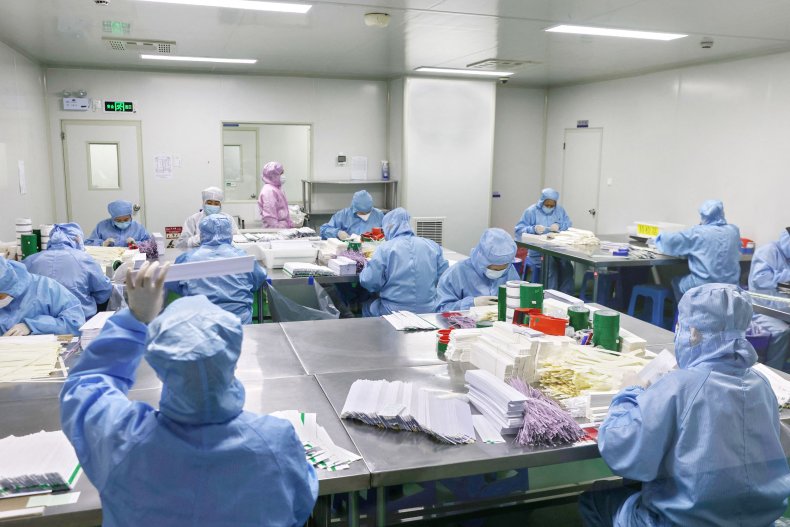 Brokered by the United States, the Abraham Accords established peaceful relationships between our strong ally, Israel, and various Arab states in the Middle East and North Africa. Medical innovation and economic growth have followed hot on the heels of these watershed agreements, and we are well positioned to realize the benefits as well.
If America pursues this bipartisan friendshoring solution, the first step would entail the establishment of an FDA bureau in the Middle East. By creating a staging ground there, we diversify our offshore medical and life sciences supply chain while shifting our dependence away from China.
Both Israel and the United Arab Emirates have robust biopharmaceutical industries that make them natural allies in the United States' quest to safeguard its access to vital medical products that are now predominantly produced in China.
These allies also boast cutting-edge medical technology, research, and development. With the FDA in their neighborhood to expedite regulatory reviews and partnerships, Americans would enjoy expanded access to lifesaving medical technologies while accelerating pioneering healthcare and biomedical technologies.
It would also lead to the manufacturing of high-demand healthcare products for sale in the U.S. including biopharmaceuticals, medical devices, diagnostics, and nutraceuticals.
We need to begin this process as soon as possible, because we have a big hill to climb.
As of now, active pharmaceutical ingredients imported from China comprise approximately 90 percent of the American supply of life-saving antibiotics like penicillin, azithromycin and cephalosporins. It should also be noted that in 2019, China was responsible for 95 percent of the United States' imports of ibuprofen, 91 percent of hydrocortisone, 70 percent of acetaminophen, 40–45 percent of penicillin, and 40 percent of heparin.
That same year, a report by an FDA-commissioned task force claimed that drug shortages are a persistent problem and are difficult to resolve, often lasting for years.
A major challenge is that we have no comprehensive list of every biopharmaceutical product manufactured in China and imported by the U.S. The suspicious absence of this vital list begs the questions: Who is hiding what, and why? Whose responsibility is it to maintain accountability for this critical supply chain inventory?
If China were to inflict even a minor stoppage on the United States, the American population and military would find themselves acutely vulnerable and unprepared.
Friendshoring some of our pharmaceutical needs to the Abraham Accords countries, including Israel, the United Arab Emirates, Bahrain, and Morocco, will make America safer.
This friendshoring collaboration will not fully resolve America's dependence on China, but noteworthy precedents have already been set. The National Defense Authorization Act for Fiscal Year 2021 included the "Expanding Medical Partnerships with Israel to Lessen Dependence on China Act," which authorizes $4,000,000 annually to support collaborative life sciences research.
We see our situation as a massive bipartisan opportunity to strengthen our national security while increasing America's access to innovation and cutting-edge medical technology—but the clock is ticking quickly.
Rep. Juan Vargas (D-CA) who serves on the Committee on Financial Services and Rep. Diane Harshbarger (R-TN) who serves on the Energy and Commerce Committee recently returned from a USIEA bipartisan Congressional tour to Israel.
The views expressed in this article are the writers' own.