Going into the Urban Debate National Championship, Jun Kwon and Delmy Lopez from Port of Los Angeles High School had a lot to prove.
They were the first team from their school to qualify for the tournament, which was hosted in Dallas last weekend by the National Association for Urban Debate Leagues (NAUDL) and brought together top teams from 19 of the 22 Urban Debate leagues across the country.
For Port of L.A. juniors Kwon and Lopez, just qualifying for the tournament and having the opportunity to learn from some of the best debaters in the country was enough of a win. But they made it to the final round Wednesday night, which was moved back three days and hosted over Zoom due to dangerous weather moving across Texas that shortened the in-person tournament.
Their opponents, Maren Lien and Cayden Mayer, seniors from Minnesota's St. Paul Central High School coming off a semifinal finish last year, were considered a top team to beat this year.
And that's exactly what Port of L.A. did, winning the entire tournament for the first time in program history with a decisive 4-1 victory in the finals.
Preparing efficiently for each opponent and their arguments was a challenge for Port of L.A. in the tournament, Lopez said.
"I feel like we were a little bit behind on that," she said. "We were expecting something a little bit different than we're normally used to. That's why you've got to prepare. You got to stay up and do a lot of work."
For Kwon, the biggest hurdle was adapting to the judges in each round, who ranged from college debaters and league officials to first-time coaches and judges.
"I think making sure that we crafted arguments that were tailored and open to all judges of all backgrounds, all resumes and all philosophies was the biggest challenge," he said, adding that they "learned a lot from that process."
Lopez admitted that the delayed final round played to their favor and allowed them more time to better prepare.
"We were very underprepared for the finals," she said, explaining that they broke two affirmatives in the tournament and did not have a plan for a new affirmative argument for the last round.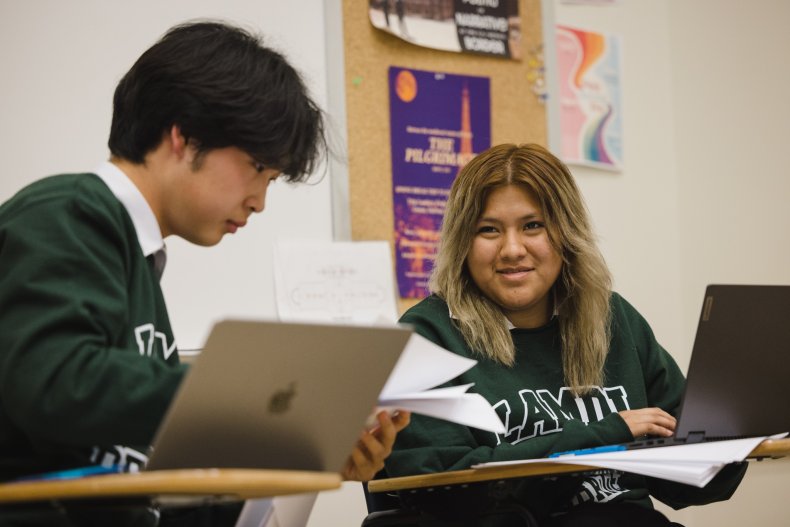 The extra few days allowed the team to form a strategy and a new affirmative specifically for this matchup, which saw the teams debate whether the U.S. should substantially increase its security cooperation with NATO in areas including artificial intelligence, biotechnology and cybersecurity.
Kwon was disappointed by returning home from Dallas without a trophy but was thankful for the extra time to "settle down" between the semis and finals and properly strategize for St. Paul Central.
"Analyzing which affirmative would get us the best chance at winning was beneficial and that strategy planning over the course of a couple of nights helped us win this round a lot easier than if we had to go at the round right on the spot," he said.
During the tournament, St. Paul Central opted for a more performance-focused style that relied on kritik arguments, which question assumptions made by the opposing team. As the affirmative in the finals, Port of L.A. set the tone and used a more straightforward policy approach to the resolution.
In their thank you speeches at the start of the final debate, both Lopez and Kwon thanked their families, coaches, teammates and their league.
Lopez specifically thanked the Los Angeles Metropolitan Debate League (LAMDL) for "allowing low-income students to have these opportunities" to study debate and compete on a national level.
Debate is a competition that favors well-resourced programs, Kwon said.
"It's very pricey, meaning the biggest and the best private schools are usually the ones that [are] winning," he said. "I think lower-income students that come from lower-income backgrounds and schools with smaller infrastructure and smaller income and smaller expenses should be able to engage in the same activity with the same amount of competition, providing them the same opportunities to succeed."
Going into the finals, Lopez said she wanted to make her parents, who had no more than a high school education, proud. So winning the title and a $5,000 scholarship made all her efforts worth it.
"When I told [my parents] that I won, they told me that all the work that I have done has paid off and that they're very proud of me," she said.
She said the scholarship will go toward paying for debate camp over the summer, taking the financial weight off her parents' shoulders.
In his speech, Kwon joked that his parents "begged" him not to go to debate tournaments this year and focus on his schoolwork.
He said he fell in love with the activity, prompting arguments about spending most of his weekends debating rather than doing his homework. Kwon was thankful his parents let him compete, shaping him into the person he is today.
He also made a special shoutout to his fourth-grade teacher, who helped him integrate into life in America when he and his family moved from South Korea.
Kwon credits Ms. Penner's understanding and passion for teaching for his ability to speak English fluently and articulate himself with confidence, and for making him the scholar he is today.
"She provided a safe space for me," he said. "There wasn't a huge Korean population where I was able to speak Korean naturally. Having someone that could understand the struggles of not being able to say what you want to when you're, like, facing problems in school was really important for me."
Kwon also thanked Lopez for their strong partnership. They've known each other since freshman year, meeting over Zoom during the height of remote learning. Developing a friendship on the basis of their sense of humor and putting in long hours of debating blossomed into a winning partnership.
"I think what I most looked for in a partner this year…was someone that was committed," Kwon said. "I think Delmy is the perfect embodiment of someone who was a committed debater."
Looking ahead, Kwon and Lopez have their sights set on qualifying for the Tournament of Champions (TOC), the most prestigious high school speech and debate tournament on the national circuit, hosted by the National Speech and Debate Association.
"I think we still have a lot more goals to get through," Lopez said. "I still have a lot more work to do."
Kwon said the confidence they've gained from this win and the additional work they will do over the summer will help them after falling short of a TOC bid last year.
"When we meet that wall again next year, we'll be able to sufficiently get over it and qualify," he said.