A photo of cases of Bud Light sitting untouched on the shelves of a CVS in Florida has gone viral on social media, as furor aimed at the beleaguered beer brand continues.
Over the past several weeks, Bud Light has been the focus of a divisive debate after the company sent transgender influencer Dylan Mulvaney a personalized beer can.
In early April, Mulvaney shared a video on Instagram in which she explained that Bud Light had sent her a can with her face on it to commemorate 365 days of her living as a woman. Mulvaney's Days of Girlhood video series, which charts her first year of transitioning, has been a viral success.
The partnership drew condemnation from a number of social media users, who issued calls for a boycott. Amid the criticism and reports of plummeting sales, some Bud Light executives took a leave of absence, including marketing head Alissa Heinerscheid and Daniel Blake, who oversees marketing for Anheuser-Busch's mainstream brands.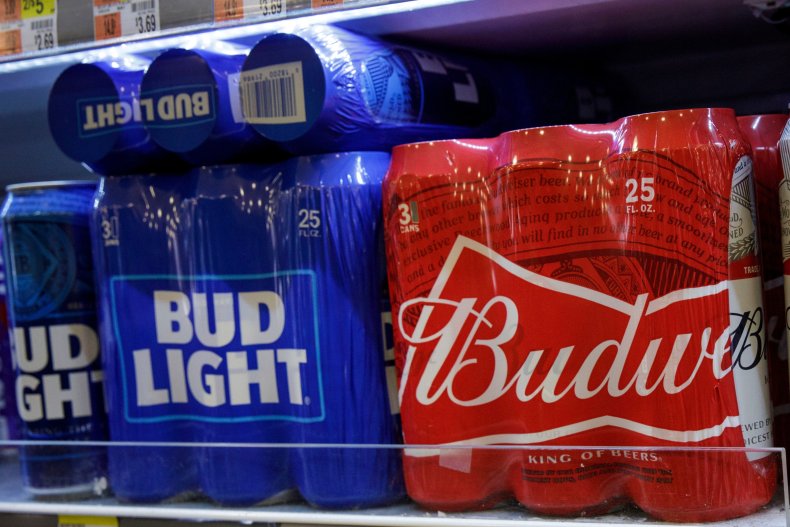 In an apparent demonstration of the conservative boycott's effect on Bud Light sales, far-right internet troll and Capitol rioter Anthime "Tim" Gionet recently took to Twitter to share an image from a CVS pharmacy in West Palm Beach.
The image showed 18-can boxes of Bud Light on a shelf in the store, with promotional yellow labels indicating that the price of the packs had been reduced from $22.99 to $19.99.
Captioning the photo, Gionet, better known as "Baked Alaska," wrote: "Not even [joking] Bud Light on clearance at Florida CVS & not a single one has moved."
The post, which has been viewed more than 186,000 times, was met with amusement among a number of Gionet's followers, some of whom responded by sharing their own anecdotal claims of seeing Bud Light shunned in stores.
Gionet—who according to court documents pleaded guilty last July for his part in the attack on the U.S. Capitol on January 6, 2021—responded to the tweets regarding Bud Light's apparent struggling sales by writing "keep it up."
Similar photos and videos have gone viral on social media in recent weeks, as boycotters seek to illustrate the purported success of their aversion to Bud Light.
The Bud Light backlash has spilled beyond social media criticism and boycotts. A bomb squad was recently dispatched to an Anheuser-Busch facility in Los Angeles following a threatening email.
An employee with the company told Patch Media that other threats were made to facilities across the U.S. after Mulvaney's Bud Light post.
In an April 14 press release, Anheuser-Busch CEO Brendan Whitworth said the company had no intention of dividing people.
"We never intended to be part of a discussion that divides people. We are in the business of bringing people together over a beer," read the statement. "I care deeply about this country, this company, our brands, and our partners.
"I spend much of my time traveling across America, listening to and learning from our customers, distributors, and others. Moving forward, I will continue to work tirelessly to bring great beers to consumers across our nation."
Newsweek has contacted representatives of Anheuser-Busch via email for comment.