Nearly six in 10 gas stations in major southeast Florida cities including Miami and Fort Lauderdale were without gas as of Tuesday morning in the wake of last week's extreme weather.
The National Weather Service's Miami office and weather monitoring services like AccuWeather said record rainfall reached 25.91 inches in a 24-hour period" beginning April 12 in Fort Lauderdale, where the stormwater system is capable of handling only 3 inches in a 24-hour period.
A southeast Florida gas outage tracker updated at 10:40 a.m. ET Tuesday by GasBuddy, a travel and navigation app, showed that about 57 percent of gas stations in Fort Lauderdale and Miami were without fuel, as were about 21 percent of stations in West Palm Beach.
"Most of this is being brought on by panicked buying now," Patrick De Haan, head of petroleum analysis at GasBuddy, told Newsweek. "The system even in normal times keeps up with this. Now, the problem is pumps at Port Everglades are damaged, so trucks are having to pull product from hours away, reducing how quickly stations are getting supply, driving the issues."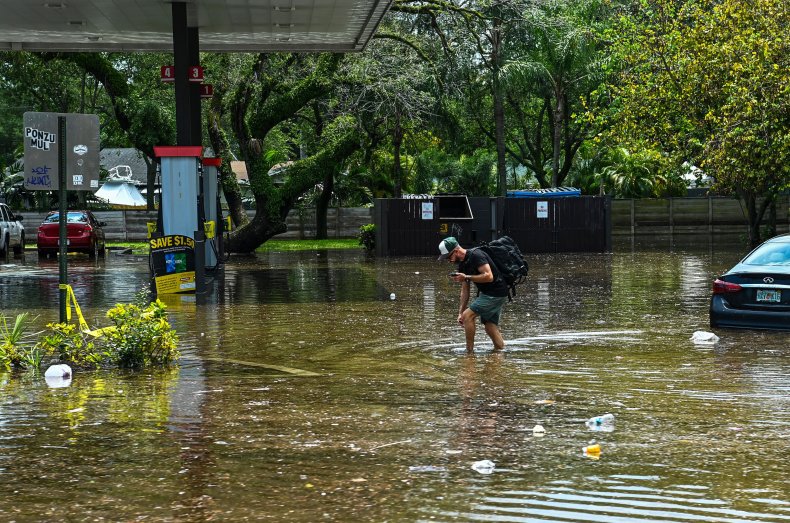 De Haan tweeted Tuesday that the average per-gallon cost across Florida rose to about $3.75 and that it "is not related to the fuel situation" in the southeast and Broward County, home to Fort Lauderdale.
"Good news: latest batch of GasBuddy data (1245pm ET) showing fuel outages *improving* in Miami and Fort Lauderdale with 56.2% of stations out of gas, down from 60.6% at the peak," he tweeted at 1:14 p.m.
The AAA federation of motor clubs was optimistic that things would recover quickly, issuing a statement Sunday that the flooding interrupted operations at fuel terminals in Port Everglades, described as the hub for about 40 percent of the gasoline in the state.
"To offset the shortage, gasoline was brought in from Port Canaveral, Tampa and Orlando," AAA said. "The good news is that operations have reportedly been restored at Port Everglades and gasoline supplies in the region should return to normal very soon. It's just a matter of filling the gasoline trucks at the terminals and delivering the fuel to the gas stations that need it."
Port Everglades, a cruise and cargo seaport in Fort Lauderdale and Hollywood, issued a statement on Sunday asking residents to remain patient, adding that there was enough gas and "deliveries will continue to increase."
"Fuel deliveries to gas stations are expected to increase over the next few days as more petroleum companies reopen," the port tweeted on Monday. "Loading and delivering petroleum products is a 24/7 operation that was disrupted on April 12 during the unprecedented storm that flooded greater Fort Lauderdale."
Video tweeted out by Port Everglades on Tuesday morning showed trucks traveling from station to station as the "majority" of petroleum companies have reopened.
Newsweek reached out to Port Everglades via phone and email for comment.
Broward County Mayor Lamar Fisher said Monday that fuel supply at Port Everglades "remains sufficient" and that deliveries are likely to become more routine in coming days, aided by three tanker ships in port and five offshore ready to unload.
"There is no need to panic or rush to the pumps," Fisher said, according to CBS. "It's a fluid issue….There is no issue with fuel, we have plenty of fuel here at the docks, we have plenty of fuel that is out and coming toward us to Port Everglades."
Newsweek reached out to Broward County via email for comment and updates.
Other concerns have related to potentially more rainfall occurring this week because of king tides, which usually occur during certain periods annually.
The city of Fort Lauderdale, which reviews tide elevations with assistance from the National Oceanographic and Atmospheric Administration's (NOAA), predicted king tides on at least 28 days this year, with high tides possible on the new moon and the full moon during the four-day stretch between April 18 and 22, per the city's website.
On Tuesday morning, Fort Lauderdale Public Works reported receiving 737 calls since 4 p.m. Monday and 7,498 calls since 2 p.m. April 12. Calls have pertained to flood damage, sanitation and utility billing.
The city said 14 trucks are performing floodwater removal and offsite transport throughout the area. De-mucking and street sweeping also are taking place.
There has been no rain since midnight Tuesday morning.
"Conditions across the hard-hit areas of the city improved overnight," the city's website said.
Fort Lauderdale City Hall remains closed and all local government-related meetings are virtual as crews continue cleanup and repairs.
"It don't matter now; it's all ruined," Jack Grimm, a resident of Fort Lauderdale's Edgewood neighborhood, told WSVN. "A car and my truck? Underwater, they're totaled. The house is ruined. It can rain all it wants now."
Broward County declared a state emergency effective at 12:01 a.m. April 13 because of "record-breaking rainfall and flooding" that occurred the day before.
Newsweek reached out to Fort Lauderdale officials via email for comment and updates.