An Oklahoma pastor is defending his decision to wear Blackface and share photos of his Ray Charles depiction on social media.
The photos were first posted in February 2017 on Matoaka Baptist Church's Facebook page. According to the photos, it appeared the Bartlesville, Oklahoma, church hosted a music-centered event. Attendees dressed up in the garb of famous singers such as Elvis Presley and Willie Nelson. The church's pastor Sherman Jaquess opted to portray Charles, an American singer, songwriter and pianist, equipped with Blackface and an afro wig.
One of the photos of Jaquess wearing Blackface remains on the church's social media page, and outrage resurfaced as Jaquess referenced the photos in a sermon he delivered earlier this week.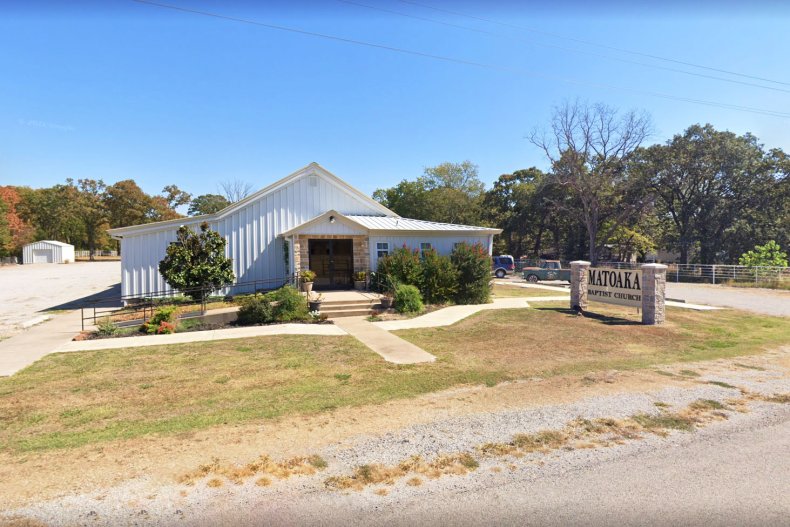 Jaquess, a white man, wore Blackface and also painted his hands black. The photo shows him standing at a keyboard wearing a white suit over a purple shirt. He also dons dark sunglasses depicting Charles' blindness and an afro wig. In the photo, Jaquess stands next to another person dressed as Willie Nelson.
The church tagged Charles in the photo. Charles died in 2004.
Newsweek reached out to a number listed for Jaquess on the church website for comment, but the voicemail said the phone owner wasn't accepting any more messages. Newsweek also texted the number for comment.
The photos first appeared in 2017 when Jaquess posted them to the Matoaka Baptist Church Facebook page, but the discussion about the pastor resurfaced this week after Jaquess referenced the incident in a sermon that he posted on the church's Facebook page.
Jaquess defended the action by saying "I love Ray Charles", and that he was attempting to portray the singer by acting as a Black man.
What is Blackface?
Blackface originated approximately 200 years ago as a method for white people to caricaturize Black people in an offensive way. At the time, white performers would wear Blackface, attempt to look stereotypically Black, and used Blackface to depict enslaved Africans in a humorous way, according to a report by CNN, but the depiction was considered far from funny amid the Black community.
In modern times, white people using Blackface to depict a Black person evokes similar feelings among the Black community and is widely deemed as racist and offensive.
Despite the national outcry at the pastor wearing Blackface, Jaquess assured churchgoers that he wasn't racist.
"I just want to publicly say I don't have a racial bone in my body. I'm not racist at all," he said. "There wasn't anything racial about it. I was singing Ray Charles."
"Are you for real? Like…who would post this?" one person commented on the photo on Thursday.
The outcry also spread to Twitter, where many people spoke out against the pastor's actions, including Rural Oklahoma Pride, a pro-LGBTQ+ organization.
A spokesperson for Rural Oklahoma Pride told Newsweek that Jaquess' actions not only target the Black community but also the drag community.
The Blackface photo wasn't the only time Jaquess has been under fire for racist actions. He also allegedly dressed as a Native American woman during a church "Cowboys and Indians Night" and posed for a picture next to a member dressed as a cowboy pressing a fake gun to Jaquess' head.
According to a report by Fox 23 News, Jaquess also defended that photo, using a slur to refer to his female Native American character.
"I dressed up like a s****. I had a full Indian looking dress on. I had a wig braided," he said.
Jaquess went on to defend his outfit, which was supposed to depict Pocahontas—and refuted claims that he was dressing in drag.
However, the Rural Oklahoma Pride spokesperson said anytime someone dresses as a character other than themselves, it could be perceived as drag.
Rural Oklahoma Pride urged people who are demonstrating figures in the LGBTQ+ community or figures of a different ethnicity to "do research" and "be educational" rather than inappropriate.
"We at Rural Oklahoma Pride have viewed the images in the incident of what occurred at the Matoaka Baptist Church and are unable to comprehend the level of suffering and anger that Pastor Sherman Jaquess has caused the people of Bartlesville, Oklahoma," the statement said. "We believe that this pastor should be directing and leading acceptable, respectful, and appropriate activities for his congregation to partake in, not activities that are discriminatory.
"For what his actions have done, we have seen racism and intolerance against people of different ethnic backgrounds. As members of the LGBTQIA+ and drag communities, we are aware that homophobia, racism, and xenophobia are not necessary for an audience to be entertained by any performing arts," the statement added. "Only love, respect, and compassion for individuals living in our communities. We send our love and respect to all of Bartlesville, Oklahoma."
Update 04/21/23 2:57 p.m. ET: This article was updated with comment from Rural Oklahoma Pride.