An Egyptian lawyer on Sunday filed a lawsuit over Netflix's upcoming Queen Cleopatra, accusing the streaming service of "erasing the Egyptian identity" for depicting the ruler as a Black woman.
Mahmoud al-Semary submitted the legal complaint with Egypt's public prosecutor following the recent release of a trailer for the docudrama series, which premieres May 10. His filing not only requested legal action be taken against the makers of the show but for Netflix to be shut down in Egypt.
"Most of what Netflix platform displays do not conform to Islamic and societal values and principles, especially Egyptian ones," Mahmoud al-Semary said in his complaint, according to the Egypt Independent.
Adele James, a British actress who is of mixed race, stars as the queen in the upcoming Netflix production. Jada Pinkett Smith serves as executive producer of the series, and she is quoted in promotional material from Netflix as saying, "We don't often get to see or hear stories about Black queens, and that was really important for me, as well as for my daughter, and just for my community to be able to know those stories because there are tons of them!"
However, many historians and experts on ancient Egypt disagree with Pinkett Smith, instead saying Cleopatra was of Macedonian heritage and likely fair-skinned. But not everyone shares this view. Other scholars have argued that the monarch may have had additional ancestries, and her complexion may have not been fair.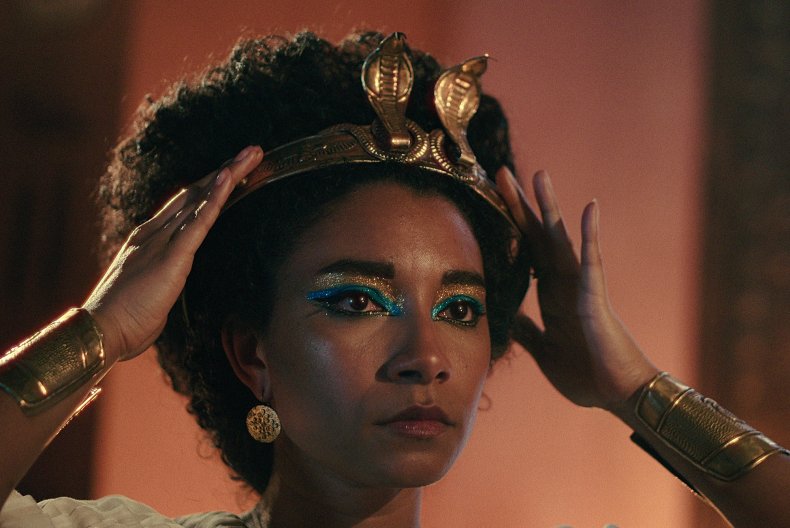 Officially named Cleopatra VII, the monarch ruled during the Ptolemaic Kingdom of Egypt from 51 to 30 BC. Cleopatra's stature in popular culture grew thanks to Hollywood features, which often featured the queen being portrayed by white actresses such as Elizabeth Taylor and Vivien Leigh.
More recently, the debate about Cleopatra's appearance once again flared up in 2020 when Israeli actress Gal Gadot was cast as the ruler for an upcoming project. People on social media complained that an Arab or African actress should have gotten the part, and Gadot defended her casting during a BBC interview in which she said a Macedonian actress was not available.
When asked about Cleopatra in regards to the upcoming Netflix series, Kathryn Bard— professor of archaeology and classical studies at Boston University—told Newsweek that "we don't know what color Cleopatra's skin was and unless her mummy is found (unlikely) and DNA can be analyzed from it, we will never know."
"Her father was a Ptolemy of Macedonian descent, but it's less certain who her mother was. But even a so-called docudrama is bound to fictionalize much of her life—for entertainment's sake," Bard added.
One popular theory is that Cleopatra's mother came from the family of the priests of Memphis, which would have made her half-Egyptian.
The filing by al-Semary reportedly does not delve into such intricacies but instead claims that Netflix is damaging Egypt's history.
According to the BBC, al-Semary's complaint accuses Netflix of trying to "promote the Afrocentric thinking…which includes slogans and writings aimed at distorting and erasing the Egyptian identity."
Meanwhile, James has been subjected to criticism on social media for her casting, which has included messages that contain racist epithets. She responded to these remarks by tweeting she would block accounts that use hate speech while defending her role.
"If you don't like the casting don't watch the show. Or do & engage in (expert) opinion different to yours. Either way, I'M GASSED and will continue to be!" she wrote.
Newsweek reached out to Netflix via email for comment.