A video of a dog being walked around New York City in a stroller has gone viral on TikTok, where it received 131,000 views at the time of writing.
The clip was shared by @tullystours, the TikTok account of a rescue dog from Alabama called Tully who now lives in the West Village in the New York City borough of Manhattan. A message overlaid on the video read: "Welcome to Tully's Tours: a nervous rescue dog's adventures in NYC."
"Shortly after we adopted Tully, he started having a lot of anxiety walking on the leash in the city, in the suburbs, everywhere," a voice says in the video as the pup sits in a stroller being pushed down a street.
"We finally realized that he actually just doesn't like walking away from his safe and cozy home, because now that he has a loving family he just never wants to leave. But once he's out and about, he's actually really happy to walk back towards home," the voice said.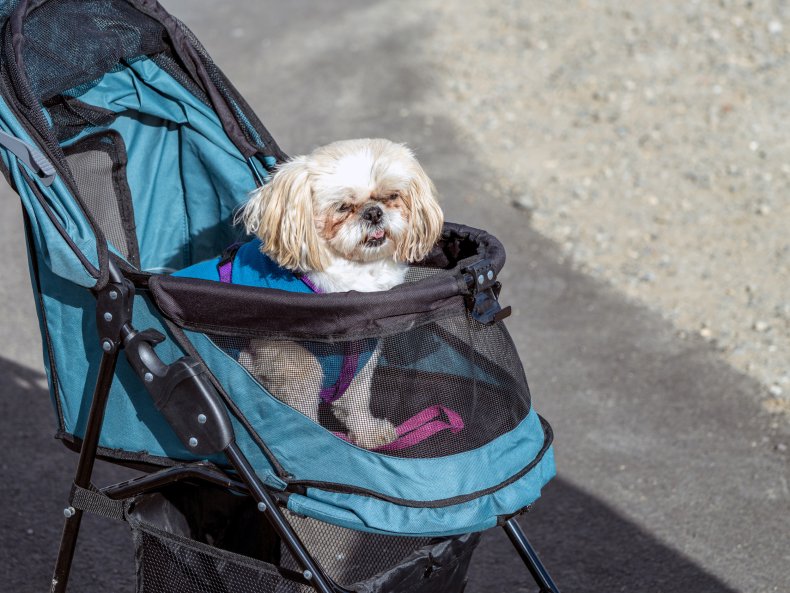 Around 4.1 million shelter animals are adopted each year, including two million dogs, according to 2019 data compiled by the American Society for the Prevention of Cruelty to Animals (ASPCA).
Among the greatest stressors for pups in animal shelters is social isolation, said a March 2019 study from PeerJ. Prior research has shown that "human interaction reduces cortisol in shelter dogs, with the possibility that longer periods of interaction may yield greater effects," the study stated.
The study's findings showed that "dogs' cortisol [a hormone regulating stress]: creatinine ratios dropped significantly during their fostering stay, but returned to baseline levels after return to the shelter."
Perhaps Tully's anxiety may have also been triggered by all the noises on the streets of the bustling Big Apple.
In a study of 13,715 Finnish dogs, published in March 2020 in the peer-reviewed Scientific Reports, noise sensitivity was found to be the most common anxiety-related trait, with 32 percent of the dogs in the study being highly fearful of at least one noise.
The voice in the latest viral video said: "Three years ago we got him [Tully] a stroller so we could take him to more places with us."
According to the narrator, Tully "loves riding in his stroller" as it makes him feel "so safe and secure" and it "reduces his stress so he can enjoy his long walks even more."
Tully will "happily walk all the way home" after being strolled to some of the places he loves to walk or run, as the footage showed the dog walking along while on a leash.
"We hope Tully inspires you to keep being courageous, keep being patient with your growth and to look for creative solutions to your challenges even if other people think they're silly," the voice said as the clip ended.
A caption shared with the post read: "Follow along for more adventures in the Tullymobile."
Tully has melted the hearts of users on TikTok, with many praising the original poster for taking such good care of their pup.
TikTok user Sam S said: "Tully was scared he was leaving home forever," to which the original poster replied "I know. heart breaking! But he is learning he always gets to go home."
Another user, moonlight7, wrote: "such an amazing dog mum."
The original poster said that they'd "do anything for" Tully when one of their followers thanked them for their patience.
Newsweek reached out to @tullystours for comment via TikTok. This video has not been independently verified.
Do you have funny and adorable videos or pictures of your pet you want to share? Send them to life@newsweek.com with some details about your best friend and they could appear in our Pet of the Week lineup.