Footage of a dachshund attempting to dash away from his birthday celebrations has got dog lovers talking on social media.
Pickle the dog was joined by an assortment of his human friends and family for his second birthday celebrations. However, as the chorus of "Happy Birthday" began to ring out, the dog of the hour appeared ill at ease with being the center of attention.
Decked out in a polo shirt designed specifically for a wiener dog and with a roast chicken serving as a birthday cake, at first glance Pickle looked like a picture of canine contentment.
However, as the video uploaded to TikTok under the handle @juicyyjoce showed, after a few strategic sniffs at the chicken, he was eager to step away from the limelight.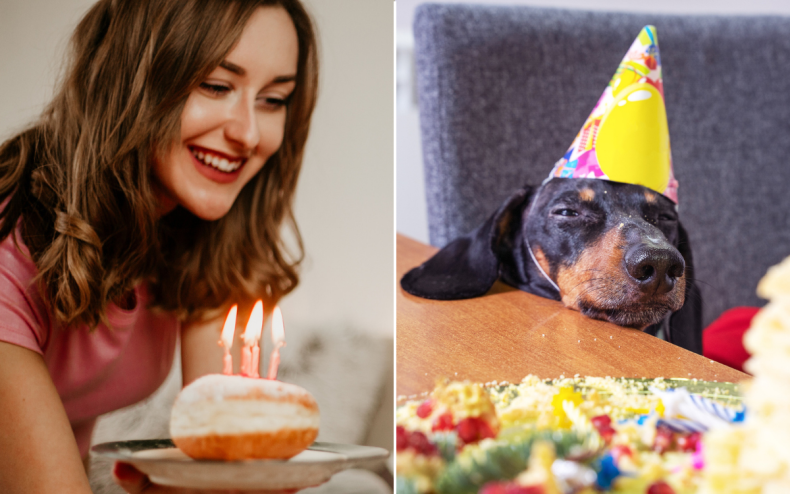 Pickle is the latest in a line of dachshunds to garner attention on social media.
He joins the likes of Sophie, the young wiener dog who sparked delight with her adorable reaction to seeing snow for the first time and another dachshund who went viral after stealing an unattended beer.
Other highlights have included Albert the lonely dachshund who found fame after footage of him befriending another dog in the park was shared online.
In the case of Pickle, it's his reaction to his owner's efforts in celebrating his birthday that is proving particularly popular.
Celebrating a pet's birthday is a common enough practice today.
In a 2022 survey of 2,000 pet owners conducted by OnePoll on behalf of pet product company Zesty Paws, researchers found just under 50 percent of female and 40 percent of male pet owners liked to celebrate their pets' birthdays.
However, what may add up to fun for the owner and their friends may not necessarily equate to the same for their four-legged companions, as Pickle demonstrates here.
"Pickle was getting nervy when all eyes were on him," a caption accompanying the clip explained.
The dachshund appears far from comfortable at the attention being lavished on him. Then again, Pickle may just be the type of dog who doesn't enjoy being at the center of proceedings—there are plenty of humans who would probably feel the same.
While the jury is likely to remain out on what exactly Pickle makes of it all, those watching along on TikTok were in agreement; it was adorable, whatever the case.
It was all very relatable for one dog owner who wrote: "This is so cute I have a dachshund [too] and she gets shy also with anything." A fellow animal lover, meanwhile, wrote: "He's beautiful and he deserves the most amazing birthdays."
Elsewhere, Pickle's antics were described as "the cutest thing ever" while one viewer theorized that his scared demeanor was likely a reaction to the candles on his birthday cake/chicken. "Dogs are automatically afraid of fire," they explained. "Did the same thing to mine and he tried running."
Thankfully, Pickle has settled into life as a two-year-old dog in the weeks since the clip was first posted while his owner is no doubt already counting down the days to his next big birthday bash.
Newsweek has contacted @juicyyjoce for comment.
Do you have funny and adorable videos or pictures of your pet you want to share? Send them to life@newsweek.com with some details about your best friend and they could appear in our Pet of the Week lineup.