Polish Prime Minister Mateusz Morawiecki is embarking Tuesday on a three-day U.S. trip that will include a meeting with Vice President Kamala Harris and a tour of U.S. weapons manufacturers.
Morawiecki has remained one of the most consistent critics of Russia since its invasion of Ukraine on February 24, 2022, referring to its "cruelty" and numerous acts of "genocide" in a Newsweek op-ed published on the war's one-year anniversary.
One of Morawiecki's biggest points of argument is that if Russia succeeds in overpowering Ukraine, it will not stop there and will continue to physically assault and invade other NATO nations, including Poland.
"We need to start by getting rid of a false image of the Russian invasion," Morawiecki wrote. "This is not a local conflict. Russia wants to set Europe ablaze. Its aim is to destabilize the entire global economic order."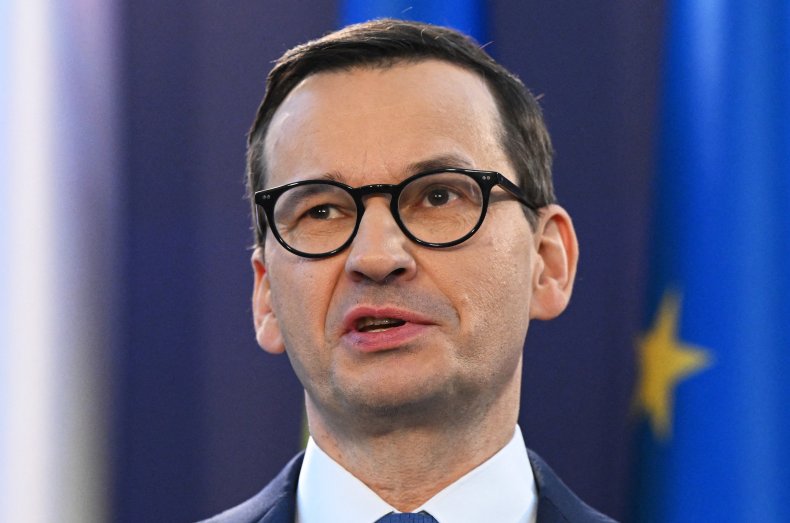 In separate comments made days earlier to France 24, he said Russia is "preparing for the next attack, the next offensive, potentially on the Baltic states, or Finland, or Poland, or Romania or Moldova, any other country bordering."
Morawiecki's itinerary will commence with a trip to the White House on Tuesday, according to the Polish Press Service and Polish government spokesman Piotr Müller. The prime minister and Harris are expected to discuss security issues and bilateral cooperation as part of the first visit by Polish officials to the White House since President Joe Biden came into office.
Tours of unnamed weapons manufacturing facilities and meetings with their representatives will follow.
"In the face of current geopolitical challenges, the issue of armaments has become a priority for the Polish government," the Polish government said. "This is why Poland is increasing its defense spending this year to as much as 4 percent of its GDP, which will be one of the highest rates among NATO countries. Poland is actively purchasing the best military equipment from the United States and its other allies."
Poland is acquiring new weapons from European countries as well as other continents, Müller said. It orders military equipment from American allies, including M1 Abrams tanks and F-35 fighter jets.
Poland is increasing its defense spending from about 2.57 percent of GDP in 2022, according to the publication Notes From Poland. The increase makes Poland's spending the highest of any NATO member, followed by Greece (3.76 percent) and the U.S. based on 2022 data.
A total of 20 of NATO's 28 members spent less than the 2 percent guideline agreed to in 2006.
In February, Poland delivered Leopard tanks to Ukraine to aid its ground warfare. The move was preceded by countries, including Germany and the U.S., also sending tanks, including the Abrams.
Last month, Poland sent Ukraine four Soviet-made MiG-29 fighter jets. It has also conversed with Ukraine about potentially sending F-16 fighter jets, a move not replicated by countries like the U.S. as the Biden administration has remained steadfast in not providing Ukraine with any aircraft.
During a conversation with Ukrainian President Volodymyr Zelensky this month, Morawiecki reportedly touted Biden's trip to Warsaw in February as a confirmation of Poland's role as "the keystone of transatlantic relations."
"Russia's invasion of Ukraine has changed the global security architecture," the Polish government said. "Poland is one of the most involved countries in humanitarian and military support for Ukraine. In this context, we are a key partner of the United States….Poland's role in supporting Ukraine is crucial, and Poles today are an example of solidarity."
Morawiecki will also take part in a panel discussion at the International Monetary Fund as part of a planned debate on the state of the global economy and its various threats and challenges.
"I think it is important for Poland to keep up its credentials as an indispensable ally of the United States in Europe—especially in light of the pre-war frictions that marred Poland's relationship with European Union bodies," Mikhail Troitskiy, professor of practice at the University of Wisconsin-Madison, told Newsweek via email. "Warsaw is likely to be considering various scenarios of continuation of the war in Ukraine and various designs for post-war Europe.
"If Ukraine is unable to push back against Russia, Poland will find itself in a dangerous situation and will need increased support from the United States."
Another conversation potentially on the table between Warsaw and Washington is the potential for more direct involvement in the war, Troitskiy added. That might become a more serious debate should Ukraine prove unable to restore its territorial integrity.
"In any case, Poland is one of the NATO countries that may be most worried now about replenishing their stocks of weapons and munitions while mapping out different scenarios of the war going forward," Troitskiy added.