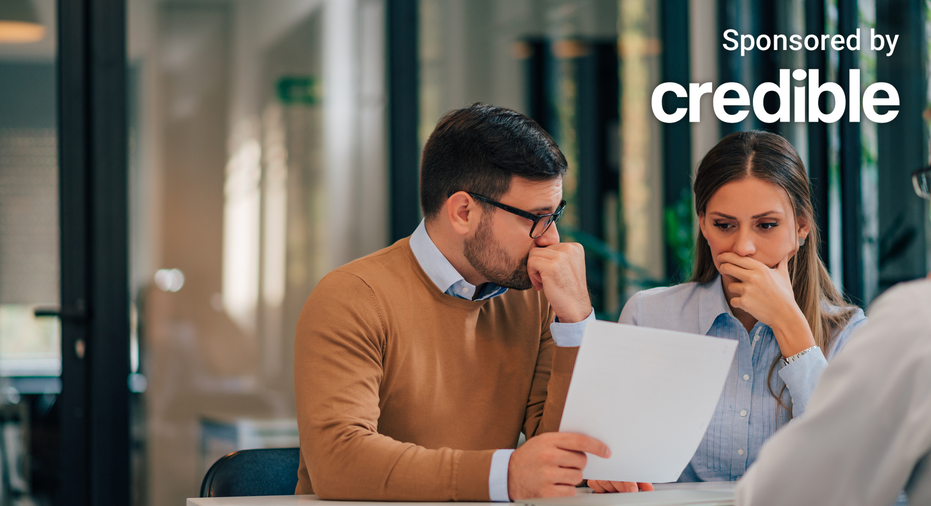 Mortgage rates continue to rise as the Federal Reserve hints at more aggressive monetary policy to fight inflation, according to Freddie Mac.
The average rate for a 30-year fixed-rate mortgage increased to 6.73% for the week ending March 9, according to Freddie Mac's Primary Mortgage Market Survey. That's up from last week when it averaged 6.65%. At the same time a year ago, it averaged 3.85%.
Meanwhile, the average 15-year fixed-rate mortgage averaged 5.95%, up from last week when it averaged 5.89%. That rate is much lower than it was a year ago, when it averaged 3.09%.
These mortgage rate increases come amidst ongoing uncertainty over the pace of inflation, a high-interest rate environment and fears of a looming recession. Nonetheless, homebuyers can still find value when shopping around for the best rates.
If you're ready to become a homeowner, it could benefit you to search for the best mortgage rate. You can visit Credible to compare options from different lenders at once, without affecting your credit score.
MORTGAGE INSURANCE PREMIUMS ON FHA LOANS TO BE REDUCED IN MARCH
The Fed expects to keep increasing interest rates in 2023
To lower inflation, the Fed has been raising interest rates. But while the move may reduce spending and the rate of inflation, it can also affect rates on products like mortgages, which have been climbing in the past few weeks.
Most recently, the Fed increased interest rates by 25 basis points in February. That marked the second consecutive lower rate hike. But Fed Chair Jerome Powell told a Senate panel Tuesday that rate increases could heat back up in the midst of a strong economy and high inflation.
"The latest economic data have come in stronger than expected, which suggests that the ultimate level of interest rates is likely to be higher than previously anticipated," Powell said. "If the totality of the data were to indicate that faster tightening is warranted, we would be prepared to increase the pace of rate hikes."
And while the pace of rising inflation has cooled in recent months, it still remains far from the Fed's target 2% range. Inflation increased by 6.4% year-over-year in January, based on the Consumer Price Index (CPI). But that's still close to its June peak of 9.1%.
If you want to take advantage of mortgage rates before they potentially increase, it may help to compare rates now. You can visit Credible to get your personalized rate in minutes, without affecting your credit score.
INFLATION IS WHY SOME HOMEOWNERS DON'T HAVE ENOUGH INSURANCE TO COVER A DISASTER: SURVEY
Mortgage rates and home prices projected to fall
Even though mortgage rates continue to increase, some experts say rates are close to peaking.
Almost 63% of economists and housing experts on a recent Zillow panel predicted 30-year fixed rate mortgages will peak in Q1 2023. Plus, 22% said mortgage rates would be highest in Q2. About 6% or less projected rates to peak in subsequent quarters.
In addition, home prices are expected to fall by 1.6% through December 2023, the panel said. Nonetheless, the panel also predicted that home prices will pick back up in 2024 and hold steady at an average clip of 3.5% per year. And existing home sales were forecasted to drop to 4.2 million in 2023. That rate is up from November and December's seasonally adjusted annual rate of sales, but lower than the 5.0 million sales throughout 2022, Zillow said.
"The housing market is resetting," Zillow said. "Though we're seeing early signs of renewed buyer interest early this year, prices should generally flatten out in 2023, helping buyers to catch up. The sheer number of people in the first-time homebuyer age range and a lack of inventory should limit price declines. A return to more normal growth would be welcome after the rollercoaster ride that home prices have been on lately."
If you're a first-time homebuyer looking to keep costs down, it could benefit you to shop around for mortgage options. You can visit Credible to speak with a mortgage expert and get your questions answered.
AUTO AND HOME INSURANCE SHOPPING INCREASES AFTER 2022 DROP
Have a finance-related question, but don't know who to ask? Email The Credible Money Expert at moneyexpert@credible.com and your question might be answered by Credible in our Money Expert column.