Slovakia has completed the transfer of all 13 of its MiG-29 fighter jets to Ukraine as NATO nations rally to back Kyiv in its defensive war against Russia.
Poland has also sent combat aircraft to Ukraine, delivering four MiG-29s in March and last week receiving approval to provide another five fighter jets.
The Czech Republic and Poland have agreed to cover Slovak airspace until the country receives new American-made F-16 fighters in 2024.
NATO member Slovakia announced on Monday it had completed the transfer of the country's entire MiG-29 fighter jet fleet to Ukraine, where they will be used in Kyiv's continued defense against Russia's full-scale invasion.
Slovakia's Defense Ministry announced in a Facebook post that the second and final tranche of nine Russian-made MiG-29 fourth-generation fighter jets had been delivered in Ukrainian hands. Slovakia has now sent all 13 of its MiG-29 aircraft to Ukraine, four other fighters having already been donated in March.
"All 13 announced MiG-29 fighter jets have already been safely handed over to the Ukrainian armed forces," the ministry wrote in the post on its official Facebook page. "[Slovakia] did the right thing. For Ukraine, these aircraft represent significant support in its defense against Russian military aggression and in protecting human lives."
Slovakia and Poland are the first NATO nations to have sent combat aircraft to Ukraine, despite many months of appeals from leaders in Kyiv. Other NATO members have so far refused to send Western-made aircraft for Ukrainian use, though discussions are ongoing about the proposed provision of American-made F-16 fighters.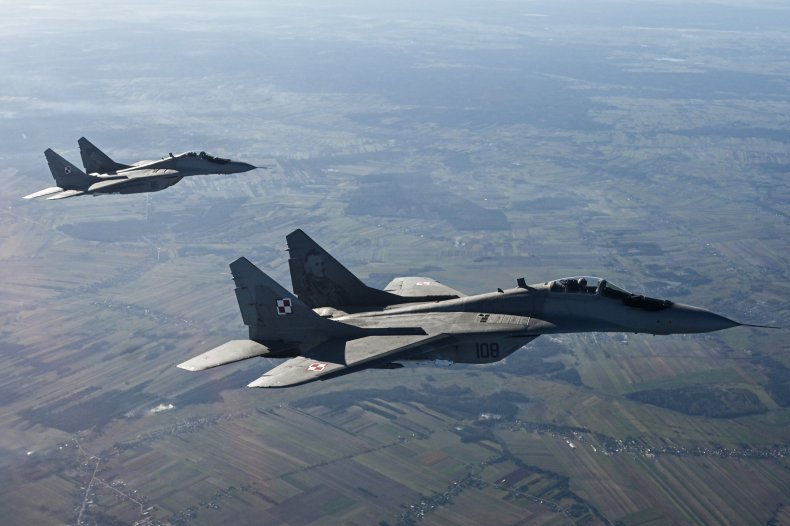 The four Slovak MiGs donated in March are already flying, Bratislava has said. However, how effective they will be is unclear. Slovak Defense Minister Jaroslav Nad said earlier this month that suspected sabotage—by Russian technicians contracted to maintain the aircraft at a Slovak air base until the end of 2022—may have made the jets incapable of combat. The planes, Nad said, "were able to fly, but that doesn't mean they were also capable of combat." Police were unable to prove sabotage intent, but defects appeared "only in those parts accessed by Russians," Nad said according to The Kyiv Independent.
Newsweek has contacted the Slovak Defense Ministry by email to request comment.
The remaining nine units delivered this week were transported with "the greatest safety," Bratislava said, thanking all those involved "in this important and demanding logistic operation." Ukraine is lobbying for more NATO weaponry ahead of its expected spring counteroffensive, success in which could see Kyiv's troops liberate swathes of Russian-held territory. It appears unlikely that any NATO-made aircraft will be delivered in time to assist the operation.
"In addition, unlike our neighbor, these planes were useless for us," the ministry's post added, referring to comments made by a former Slovak air force chief who had pointed to logistical challenges and personnel shortages that made the fleet unsuitable for Slovakia.
Poland has also delivered four aircraft, and last week received German approval—required as part of the Polish fleet previously belonged to Germany—to provide another batch of five fighter jets.
Moscow has threatened swift retaliation against NATO-donated aircraft. "The delivery of this military equipment, as we have repeatedly said, cannot affect the outcome" of the ongoing war, Kremlin spokesperson Dmitry Peskov said in March. "Of course, this equipment will be destroyed," he added.
Polish newspaper Dziennik Gazeta Prawna reported in January that Warsaw had already provided other MiG-29s to Ukraine under the guise of sending spare parts with which to repair Ukraine's existing fleet of Russian-made fighter aircraft.
Poland and the Czech Republic will step in to help secure neighboring Slovak skies until Bratislava receives new fighter aircraft, the Associated Press reported. Slovakia did agree to a deal for 14 U.S.-made F-16s, though planned delivery has now been delayed to 2024.
In exchange for its donation of MiG-29s to Ukraine, the U.S. offered Slovakia 12 new Bell AH-1Z attack helicopters. The aircraft are worth around $1 billion, but Bratislava will reportedly only pay around $340 million with American foreign military financing covering the rest.