For many, the idea of traveling around the world with little children may sound like a nightmare, but for this mom, it's a dream that she's made into a reality.
It is estimated that only 44 percent of Americans aged between 18 to 35 travel with their children, and 70 percent of families say that amenities for children are an important factor in making decisions.
Mom-of-two Allison Jones has lived in several countries with her children, and believes traveling with kids enhances their development, and helps them to find out who they really are.
In an exclusive interview with Newsweek, she reveals how she has been able to have it all.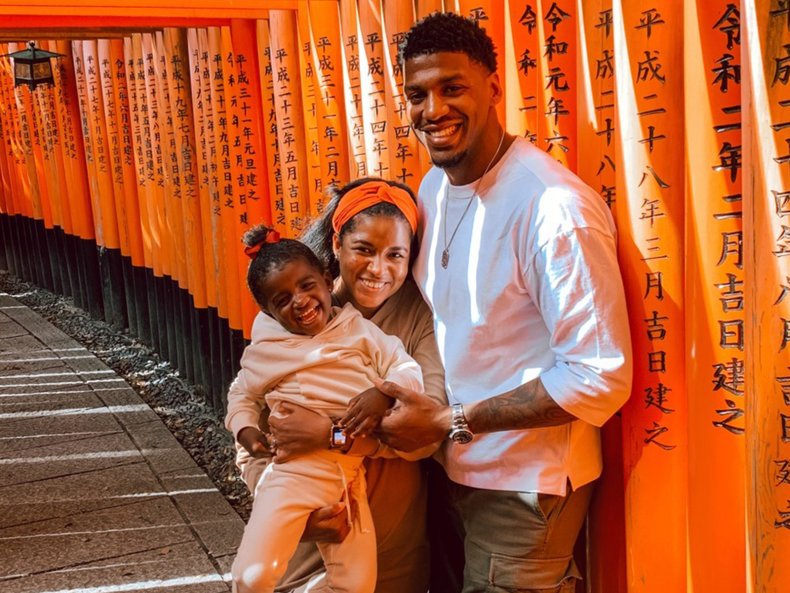 'We Have Lived in Italy, France, Israel, and Now We Are in Japan!'
Because of her husband's job, Jones has had to leave the United States and move across the world on many occasions, living in several different countries, from Europe to Asia, and since she became a mom, she's had to learn how to travel with small children too.
Her husband, DeQuan Jones, is a basketball player, from Atlanta, who's been playing professionally for over 11 years, and because his contracts change very often, they have had the chance to live all over the world, as a couple, and then as a family.
Jones told Newsweek: "We've been overseas on and off since 2014. We lived in Italy, Japan, France, and Israel, and then back in Italy and now back in Japan again. It has been kind of a wild ride, but a lot of fun."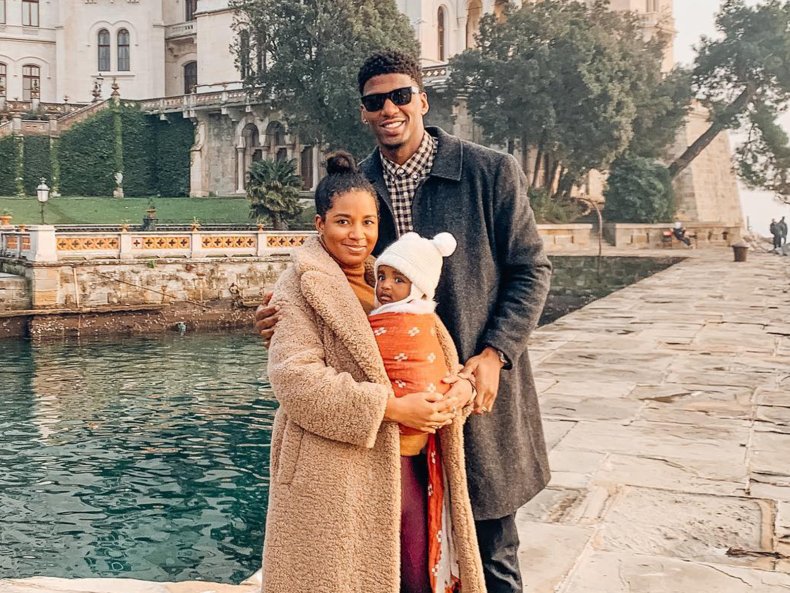 'It's Not Easy…But Giving My Children the Chance to Learn Different Cultures Is Important'
"I will not say at all that it's easy," Jones said, adding that there's a big difference between traveling to a place and moving to a place and that if she hadn't been thrust into this lifestyle by her husband's career, she would have definitely still wanted to travel with her kids.
"The best experience I've had so far is just seeing my daughter be able to make connections with people abroad and make friends. I definitely would recommend traveling the world with kids 100 percent, getting to introduce them to different cultures.
"I mean my three-year-old eats sushi and enjoys it! It's important to show children that there's more out there than just your neighborhood, giving them the chance to learn different cultures and meet different people, interacting with kids of different races that speak different languages," she said.
Her worst experience so far, as a mom, has been the actual travel day itself, as she says it's not easy to get children used to it, and going overseas can be a very long trip, but with time her kids have gotten accustomed to it and are now experienced and well-behaved travelers.
She said: "My kids now know how to travel, they know how to behave in certain settings, and I'm not saying they are always perfect because they are definitely not, but my three-year-old understands we're gonna get on the airplane, and that's where she's going to have her snacks and her tablet, and toys and, and this is how this works."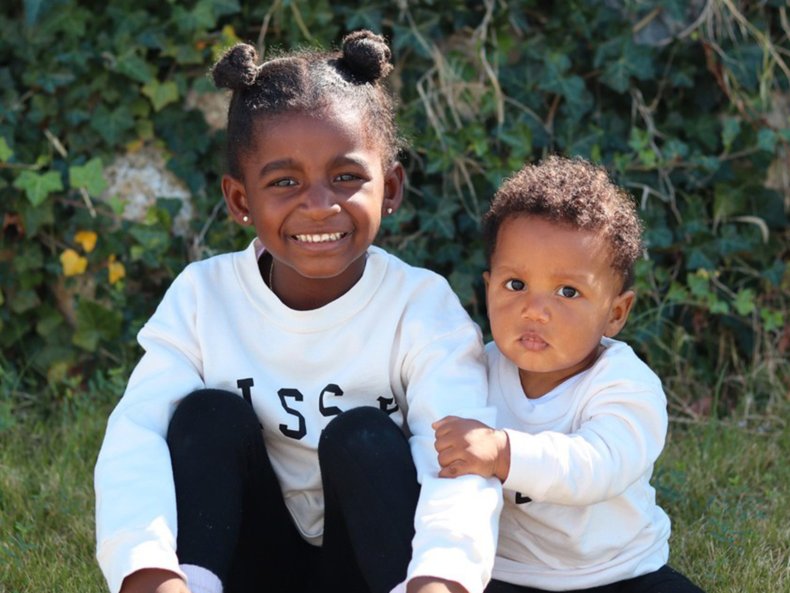 'I Want My Children to Be Citizens of the World'
Jones says it's important to travel with kids because it enables them to be "citizens of the world" and recognize from a young age that they can go everywhere they want and be whoever they are, instead of just being stuck in a box, and according to travel guide Travel+Leisure that couldn't be more true.
It explains that while children may not remember these experiences, they will still have a huge impact on their development. Because age 0-5 is when children's brains are more prone to learn, and exposing children to different cultures and people from a very young age will normalize these experience for them, and build the "foundation through which they view the world for the rest of their life," it quoted early education specialist Robin Hancock as saying. Traveling at such a young age also makes children more open to trying new things, as well as helping their linguistic development.
According to a study by the Student & Youth Travel Association, there's also proof that kids who travel benefit in many ways, including doing much better in school than kids who don't. In fact almost 80 percent of educators consider it a priority to increase the cultural awareness of young students, and 56 percent of teachers believe that travel has a very positive impact on students' education and career development.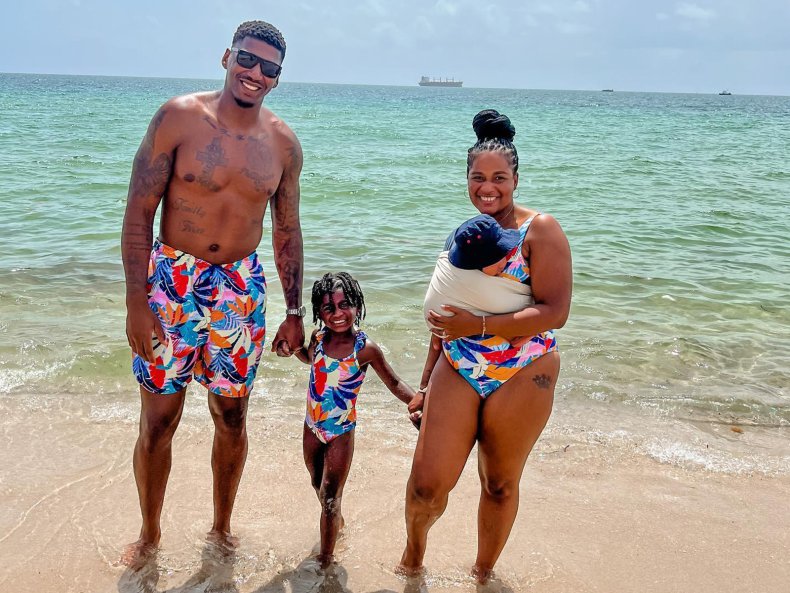 Jones' daughter, Harper, still doesn't speak fluent Japanese, because she attends an international school that is completely in English, apart from Japanese classes, although because of her young age she's learning at a much faster pace than her parents, and anyway the language barrier hasn't stopped her from making loads of Japanese-speaking friends.
"My kids are both very social and very outgoing, and they're not afraid to talk to people and ask questions. I can already tell that they are kids that love learning and love kind of being in new situations and navigating new situations and I think that's great.
"And then on top of that, just being able to recognize that she is the minority, being able to recognize okay I'm different here but having the confidence to be herself still and walk into those spaces and not minimize it, I think it's something that is already in her.
"A lot of people especially online when I share about our experiences have been like, so concerned about her and how she's going to turn out, you know, in this type of situation, but she is just shining and her personality is coming out more and more. She's not getting smaller, she's getting bigger, which is something that I really admire about her and hope continues as she gets older," Jones said.
'The Biggest Challenge Has Been Not Having Family Nearby'
The Jones and their kids live in Atlanta off-season, from June to August, and Allison and the children fly back home every time they feel homesick, but this doesn't change the fact that for most of the year, she can't get any help from her family raising her kids.
"The one thing that makes it the most difficult is that for the most part, when we're overseas, it's just me and him and the kids, and so, it has been challenging to just not really have our village. We have a very involved and loving family and great friends at home, but you know, when we're overseas, it's just us.
"It's good because it has brought our nuclear family unit close together, but it is definitely challenging, if I need something I can't necessarily just call my mom who lives 15 minutes away when we're in America and ask her to watch the kids because obviously, it doesn't work like that when abroad. Similarly, having a young child like my son, who's only one, I do feel like it has kind of impacted his relationship with the rest of our family and that he just hasn't been that much time with them," Jones said
'Japan Has Been the Most Family-Friendly, and Safest, Place We Have Lived'
According to Jones, Japan is the most family-friendly place to be with children as it offers a lot of entertainment while still keeping them safe.
"It's definitely the safest place that we've lived in, I mean, it's one of the safest places in the world. Being able to have our kids here and not have to worry about a lot of the things that we worry about in different countries is definitely great and then also here, people are very heartiest towards mothers with young children, like, just in terms of giving up their seats on the train if they see that you're with a child or when you go out to public places, they have basically rooms for mothers and babies for you to nurse and they have diaper changing rooms that are better than just a stall with a fold down.
"They have actual spaces that are designated for mothers with young children. And then there's also a lot for families to do, like lots of parks and things like that. So I think that this would probably be the most family-friendly, however Italy does have a special place in my heart so I do have to mention Italy as well because I do feel like even though Japan is probably more family-friendly, in Italy I saw more kids just kind of like running freely and free of pressure."