GOP state Senator Mike Moon from Missouri sparked outcry after suggesting that children as young as 12 should have the right to marry with parental consent.
His suggestion, which came during a Tuesday debate in the state legislature, conflicted with his reasoning for introducing a bill banning transgender health care.
Moon previously voted against raising the minimum marriage age in Missouri from 15 to 16 years old.

A state senator from Missouri is facing harsh criticisms for his remarks supporting child marriage.
During a Tuesday debate, GOP state Senator Mike Moon suggested that children as young as 12 should have the right to marry as long as they have parental consent while arguing a bill he introduced to block gender-affirming care for transgender minors throughout Missouri.
Criticized by his colleague, Democratic state Representative Peter Meredith, for an earlier vote in which Moon voted against changing state laws to raise the minimum marrying age, Moon asked Meredith, "Do you know any kids who have been married at age 12? I do. And guess what? They're still married."
The Springfield News-Leader reported that Moon met the couple "who had married one another at age 12" while in college.
A clip of the interaction between the Missouri legislators garnered attention online, with social media users scrutinizing Moon for his stance, but some critics equated his remarks to his support of 12-year-olds being allowed to marry adults.
"The fact that Missouri Senator Mike Moon said that 12 year olds can be married off to adults just sickens me. My daughter is nearly 11 and still plays with Barbies and her baby dolls," Jess Piper, the executive director of Blue Missouri, tweeted.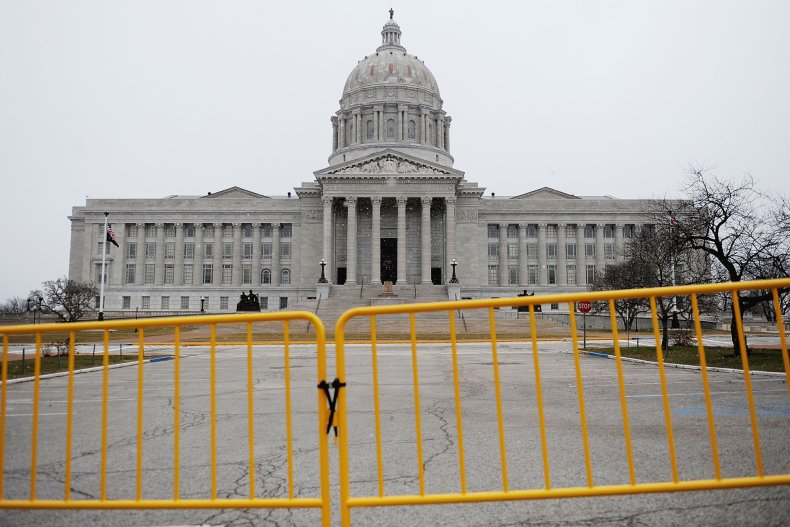 Most states have a minimum marriage age of 16 years old and advocacy groups have called for all states to set the minimum age to 18, with no exceptions. In 2018, Missouri passed a law raising its marriage age from 15 to 16 that requires parental consent for older teenagers to marry—a bill that Moon opposed at the time.
Moon first used the happily-married couple that he knew from college as an example in his arguments against raising the age limit back when the state's minimum marriage age was still 15.
On Tuesday, when the Republican introduced his bill, which seeks to prevent minors from accessing gender-affirming care, he brought the couple up again, but again some criticized him under the presumption Moon was an advocate for 12-year-olds marrying adults.
"He is an advocate for the marriage of 12 year olds to adults. He says their marriages are long lasting when they marry as children," one Twitter user wrote of Moon. "I guess with no education or options. That makes sense. Kind of like having a prisoner."
"What in the world was that?! Sen. Mike Moon proud of the fact that he voted to protect the ability of 12 year olds to be married to adults. He spoke of someone he knew that married a 12yo and declared gleefully, 'they're still married!'" another said.
Moon has argued that the purpose of his bill, which denies gender-affirming care for anyone under the age of 18, is so that "children will be protected."
But during the debate, Meredith argued that Moon's stance on child marriage conflicted with Moon's reasoning for introducing a bill banning transgender health care.
"You voted no on making it illegal for kids to be married to adults at the age of 12," the Democrat told him. "If their parents consented to it, you said actually, that should be the law because it's the parents' right and the kids' right to decide what's best for them."
While not commenting on the portion of the accusation of children marrying adults, Moon again used the analogy of his college friends who married each other at 12 before the conversation was directed back to gender-affirming care.
Newsweek reached out to Moon for comment.