The new face of Miller Lite, comedian Ilana Glazer, is being criticized for referring to Stephen Colbert as the "model white man."
There have been fresh calls to boycott the beer over its Women's History Month ad campaign in March. This comes weeks after anger was directed at Bud Light over its collaboration with transgender influencer Dylan Mulvaney.
The calls to boycott Miller Lite have grown louder recently, with an executive at the company deleting her social media accounts amid the "woke" accusations.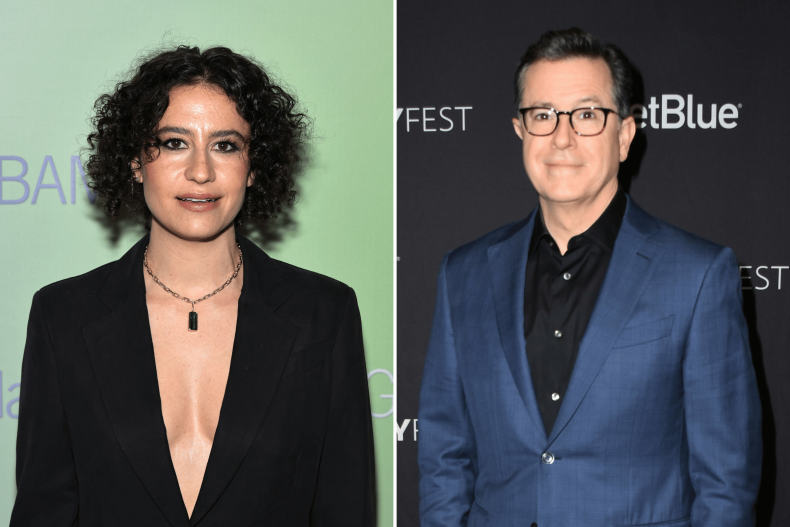 Old footage of Glazer appearing on The Late Show with Stephen Colbert has resurfaced where the actress and comedian called him a "model white man."
She appeared on the talk show in June 2017, promoting her comedy series Broad City where she made the remark to Colbert.
"I have been thinking, Stephen, that you are a really, model white man." She continued, "You are the good version of one because our president is almost the number one white guy in America because he's the president but I'm also like, also Stephen Colbert is. You've just been revealing yourself to us over the years in a way."
Glazer's recent involvement with the Miller Lite campaign has led some to dig up the old clip and share it on social media. Conservative journalist and Rebel News writer Ian Miles Cheong told his followers Glazer praised Colbert in a "condescending manner" and asked, "Is this a normal thing for people to do now?"
"This is the strangest compliment I've heard in a while," former Fox journalist Clayton Morris wrote.
Many social media users suggested this was a racist comment by Glazer.
"Another racist hiding in plain site; both sick and sad this is sociably acceptable behavior now," wrote Twitter user and NFT artist @JPEGreg.
Another wrote, "I remember when we didn't judge others by their skin color or political beliefs. Those were the golden years."
Web designer and Twitter user Derek J said, "Remember racism is only to non-white people…" including a clown emoji in his response to Glazer.
"Imagine someone going on a show hosted by a black celebrity and stating, 'You are the model black male'… career would be over," wrote another conservative commenter, Michael V. Pearce.
While Glazer appears to be criticized for her comments now, at the time she said them, some viewers of The Late Show with Stephen Colbert praised her. "Guests coming on the show and appreciating and complimenting Stephen genuinely is one of my favorite things," one viewer wrote in the comments section of the show's YouTube channel.
"I love it when guests come on and embarrass Stephen by gushing about him," another added.
The recent responses to Glazer's comments were linked to Miller Lite too. "Miller must be so proud of their new, racist spokesperson," wrote Twitter user Oyo Chick.
Glazer, known for co-creating and starring in the comedy Broad City, has also appeared in the likes of Rough Night, The Night Before, and Apple TV+ murder mystery The Afterparty.
Miller Lite has reportedly gone silent in response to the calls to boycott the brand over its two-month-old commercial which highlights the role women played in the invention of beer.
Newsweek has reached out to representatives of Molson Coors, Miller Lite's parent company, and Glazer via email for comment.