Megyn Kelly has hit out at Vogue over a photoshoot of Stormy Daniels, while incorrectly claiming Melania Trump "never got in" to the iconic publication.
The former Fox News star made the comments on The Meghan Kelly Show after Donald Trump became the first ex-president to be charged with a crime in American history on Tuesday. Trump has been accused of 34 counts of falsifying business records, relating to allegations that he arranged the payment of $130,000 to Daniels ahead of the 2016 presidential election to stop her from going public about an alleged affair. Trump has denied both financial wrongdoings and having any sexual relations with Daniels.
Kelly's comments continue an ongoing row over the Trumps' treatment by high fashion magazines, with Melania having previously accused Vogue of being "biased" for not featuring her on the front cover during her time as First Lady. Both Michelle Obama and, more recently, Jill Biden appeared on the cover during their time in the White House.
Discussing Daniels, a former pornographic actress, Kelly said: "The Left is celebrating this woman like she's Joan of Arc, her bravery!
"Vogue…does this in-depth, glamour photo spread. Melania Trump never got in Vogue, who had been a supermodel, she never got featured by Vogue, but Stormy Daniels is in there!"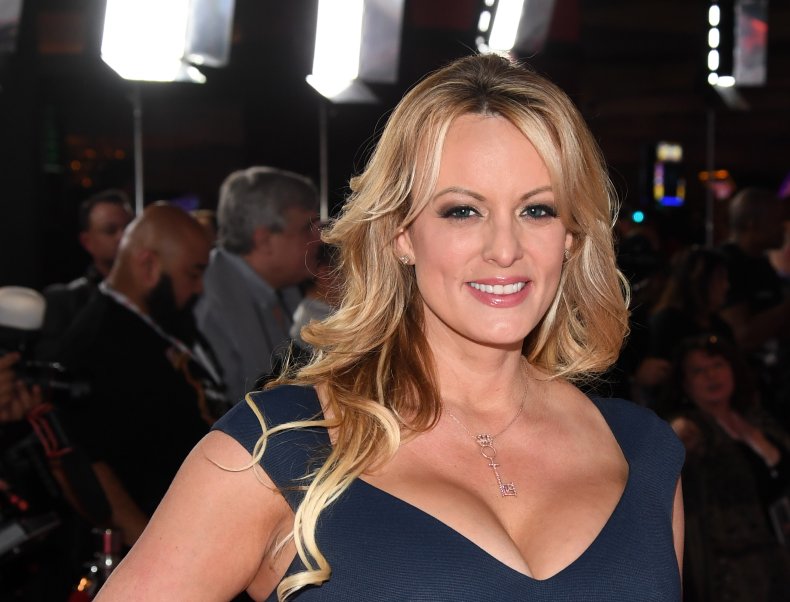 Melania did, in fact, feature on the front cover of Vogue, wearing her wedding dress for the February 2005 edition right after her marriage to Trump.
On Tuesday, Vogue published an interview with Daniels, in which she discussed the alleged affair she claims she had with Trump in 2006.
Describing their relationship, Daniels said: "I'm standing there, in the doorway, and all of a sudden he's there in his underwear, doing the world's worst Burt Reynolds impression, and—that's the thing I don't understand, I don't understand how I got from the doorway to being underneath him in the bed."
Asked about the charges Trump is facing, she added: "For my own sake, I'd like vindication, I'd like him to get what's coming for once.
"But that's about me, and there's other stuff that's more like, about the country."
According to Huffington Post, the Vogue pictures of Daniels are being taken by famed celebrity photographer Annie Leibovitz, and are expected to feature in the magazine's September issue, though not on the cover.
A clip of Daniels responding to Trump calling her "horseface," during an interview with British journalist Piers Morgan, received more than 250,000 views on Twitter earlier this week.
Hitting back at the insult, Daniels joked that Trump is "outing to the world that he has a penchant for bestiality because this is a guy who chased me for sex repeatedly, and then says I look like a horse?"
Donald Trump has been contacted for comment via his official website.