House Speaker Kevin McCarthy is struggling to get enough of his own Republican Party to support a spending plan he says could avert a national default, even as Democrats reject it as being insufficient for America's needs.
The U.S. faces a risk of default if Congress fails to agree to raise or suspend its $31.4 billion borrowing limit before it reaches that level this summer—a danger McCarthy described this week as a "ticking time bomb" while saying default was not an option.
But some Republicans oppose any increase to the debt limit and seek cuts to spending plans instead. The narrow Republican majority in the lower chamber means just four rejections would be enough to block McCarthy's proposal.
McCarthy said in a floor speech that his bill "would provide more than $4.5 trillion in savings to the American taxpayer." But he first has to get all House Republicans on his side as the party can only afford to lose four members in the chamber.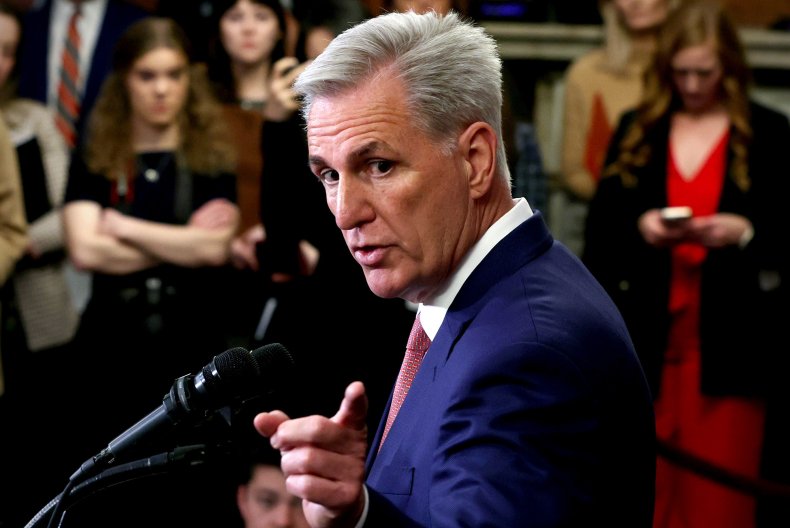 If successful, the passing of such legislation in the Senate seems like a major longshot.
"House Republicans have a plan for a responsible debt ceiling increase," McCarthy tweeted Wednesday. "The Senate does not. President Biden cannot continue to ignore this crisis. It's time for him to come to the table, or risk bumbling into the first default in our nation's history."
Newsweek reached out to McCarthy via email for comment.
GOP Representative Tim Burchett told CNN's Manu Raju on Wednesday that if a vote occurred right now, he would vote against it due to "still struggling" with the amount of national debt.
Steve Bannon, a former White House chief strategist during the Trump administration, wrote on the social media platform GETTR that cuts in McCarthy's plan are "not enough, not fast enough, not deep enough….NOT ONE PENNY MORE ON DEBT CEILING…."
Pennsylvania Representative Brian Fitz told Punchbowl News that he has concerns and remains undecided. Embattled New York Congressman George Santos also said he would be a "no" vote at this juncture.
Freedom Caucus Chairman Scott Perry, a Republican, said while speaking to CNN's Melanie Zanona that he needs "some revisions in the language" of the plan before he supports it, without elaborating any further.
"The manufactured MAGA default crisis is shameful, reckless and dangerous. Speaker McCarthy is prepared to hold our economy hostage in order to strip assistance away from hardworking families and give massive handouts to billionaires and corporations," House Democratic Whip Katherine Clark told Newsweek in an email.
"We can have a conversation on future spending, but first the GOP must stop the brinkmanship and support a clean debt ceiling bill—as we did three times under the Trump Administration," she said.
Democratic Senator Ron Wyden, chair of the Senate Finance Committee, blasted McCarthy's plan for repealing clean energy provisions and work requirements associated with healthcare coverage.
"It's clear that nothing unites House Republicans more than helping rich people cheat on their taxes," Wyden said in a statement. "Republican cuts to the IRS made it far too easy for wealthy tax cheats to get away with breaking the law, and they want to keep it that way."
White House Press Secretary Karine Jean-Pierre on Thursday railed on McCarthy's plan, saying that every House Republican who votes for this bill "is voting to cut education, veterans medical care, cancer research, Meals on Wheels, food safety and law enforcement" as well as off-shoring American manufacturing jobs.
"Yesterday, Speaker McCarthy sided with the extreme MAGA wing of his conference and released a blueprint to devastate hard-working American families," she said. "MAGA House Republicans are holding the American economy hostage in order to take a hatchet to programs Americans rely on every day to make ends meet."
'A game of chicken'
Daniel Alpert, senior fellow in financial macroeconomics at Cornell University Law School and managing partner of Westwood Capital, told Newsweek in a phone conversation that it's no surprise that McCarthy is trying to get the White House into a negotiating position even as "open questions" remain on his own side of the aisle.
Officials within the Biden administration who also spent time in the Obama administration are privy to such negotiations, he added, as splitting hairs on spending policies doesn't generally lead to positive outcomes for the American people as evident based on the 2011 debt ceiling crisis.
"This is a continuation of that saga—it's the same church, different pew," Alpert said. "And I think the big question is notwithstanding: whatever [McCarthy] is able to get through the House—it's dead on arrival in the Senate—but more importantly whether that actually acts as the tool that he needs and gets the administration to the negotiating table. This is clearly a game of chicken in the end."
Christopher Howard, a professor of government and public policy at the College of William & Mary, told Newsweek in an email that House Republicans risk contradicting positions on Social Security and Medicare that have been taken by Trump.
"House Republicans are more interested in position-taking than policymaking," Howard said. "They voted to raise the debt limit when Trump was president, without insisting on spending cuts. Their views have changed simply because a Democrat is now in the White House."
He said history precedes the GOP in these negotiations, harkening back to "budgetary hardball" that previously forced multiple government shutdowns and the raising of debt limits under other former Republican presidents including Ronald Reagan and George Bush.
"Democrats will have a decided advantage in blaming Republicans for any problems that result," he added.
Jay Oliver, a radio news host on Long Island's WRIV station, told Newsweek that McCarthy is placating both parties.
"He wants to accentuate the faux pas of Washington in reclaiming unspent COVID-19 funds, cancel the student forgiveness plan, rescind the IRS and enact work requirements for federal aid programs," Oliver said in an email. "There's no doubt the speaker's plan is dead on arrival in the Democratic-controlled Senate, but at the very least he'll gain leverage by passing the Republicans' own bill in Congress."
Alpert said there are likely elements of the House GOP coalition "that will be tempted to blink when it comes to the endgame" while the Biden administration will wait until that happens before getting down "into any sort of brass tax."
The situation is presently aided by a calm market, which could fluctuate and cause either side of the aisle to panic.
A "sufficient" number of House Republicans may raise the debt limit without qualification, he added, calling it "a mighty bullet for them to bite."
"How far to the radical right does [McCarthy] have to go to be able to hold his caucus together, and to a certain extent by his own extension his own speakership?" Alpert said.