House Speaker Kevin McCarthy directed GOP committee chairs on Saturday to launch investigations surrounding a possible indictment of former President Donald Trump.
Trump is under investigation by Manhattan District Attorney Alvin Bragg over a payment allegedly made to adult film star Stormy Daniels, in relation to an alleged affair between the two, during his 2016 presidential campaign that prosecutors believe violated campaign finance law. Trump has denied the affair. Meanwhile, the district attorney's office has indicated the probe is nearing its end, with experts anticipating an indictment against the former president in the coming weeks.
On Saturday, Trump took to Truth Social to say he believes authorities will arrest him on Tuesday, calling for his supporters to protest the looming indictment. His post sparked criticism against Bragg's office from conservatives, who say the investigation is politically motivated and aimed at knocking Trump's 2024 presidential bid. Critics of the ex-president, however, have said he should have faced prosecution over the payment years prior.
McCarthy, a California Republican, condemned the possibility of an indictment in Twitter post.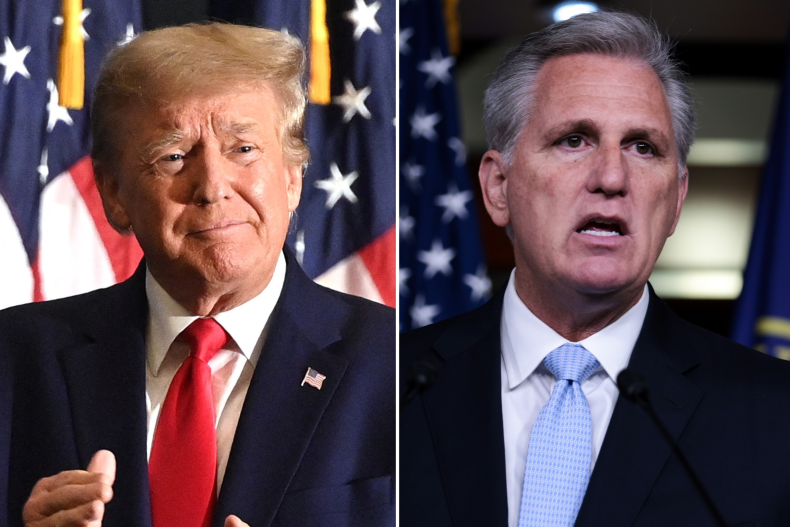 "Here we go again — an outrageous abuse of power by a radical DA who lets violent criminals walk as he pursues political vengeance against President Trump," McCarthy tweeted on Saturday, urging House Republicans to launch investigations into the potential indictment.
Republicans retook a narrow majority of seats in the House of Representatives during the 2022 midterm elections, giving them control of each committee. Thus far, House Republicans have used their power to launch several investigations into the Biden administration and Democrats, saying that past probes of Trump were unjust and compelled by political reasons.
"I'm directing relevant committees to immediately investigate if federal funds are being used to subvert our democracy by interfering in elections with politically motivated prosecutions," McCarthy added in his tweet.
Lawmakers React to McCarthy's Call for Investigations
Republicans voiced support for potential investigations.
Representative Marjorie Taylor Greene, a Georgia Republican who sits on the Oversight Committee, tweeted: "@SpeakerMcCarthy proves again that through his leadership @HouseGOP will not tolerate the Democrat's weaponization of government and political persecution in the taxpayer's dime. The government serves the people NOT the Democrat Party."
However, McCarthy received criticism from some Democratic lawmakers.
"The guy who created a committee to look into 'weaponization of government' is using his powers in government to stop an independent prosecution of his boss," tweeted Representative Eric Swalwell, a California Democrat.
Trump's Truth Social 'Protest' Call Follows Concerns of Violence
Trump has maintained his innocence throughout the Manhattan investigation, as well as in other probes surrounding his conduct surrounding the 2020 presidential election and classified documents found by the FBI at his Mar-a-Lago residence in Florida.
He wrote in Saturday's Truth Social post: "THE FAR & AWAY LEADING REPUBLICAN CANDIDATE & FORMER PRESIDENT OF THE UNITED STATES OF AMERICA, WILL BE ARRESTED ON TUESDAY OF NEXT WEEK. PROTEST, TAKE OUR NATION BACK!"
His remarks sparked comparisons to the January 6, 2021, Capitol riot when a group of Trump supporters, allegedly motivated by his unproven claims of widespread voter fraud, rioted at the U.S. Capitol building in a failed attempt to block the certification of President Joe Biden's Electoral College win.
Meanwhile, WNBC reported on Friday that local officials have begun security preparations ahead of the anticipated indictment following concerns from legal analysts that a looming indictment could spark violence.
"This will be the most politically charged prosecution in American history," former federal prosecutor Neama Rahmani previously told Newsweek. "Things like security and how to handle it—you don't do something like this unless you plan to go all the way to Trump."
Newsweek reached out to spokespersons for the chairs of the House Oversight and Judiciary committees, which have led prior investigations, by email for comment.