Winning the 2023 Masters might have helped change the career trajectory of Spanish golfer Jon Rahm, but it also turned Aaliyah Kikumoto's world upside down.
The Texas Tech University cheerleader had only 15 seconds of screen time in the background at Augusta National Golf Club on Sunday, but it was enough to make her a viral social media sensation.
Double Bogeys Only posted a clip of Kikumoto standing behind Brooks Koepka, the eventual runner-up who was paired with eventual champion Rahm for the final round, along with a caption: "Somehow I feel in love with someone I only saw for 15 seconds."
The video was watched more than 3 million times and Kikumoto told Newsweek that her phone was "blowing up" after she commented to reveal that she was the one in the video.
Since then, Kikumoto, who has been dubbed "Masters Girl," has seen her subsequent videos on TikTok go viral as the clamor for more from her reached fever pitch.
One of the constant themes in the comments in her recent posts was for her to wear the green Masters cap that she had on in the original clip.
Not one to disappoint her new fans—Kikumoto saw her Instagram followers grow from 4,000 to more than 30,000 in 48 hours—she put her hat on for her latest TikTok videos, which also have gone viral, with more than 550,000 views.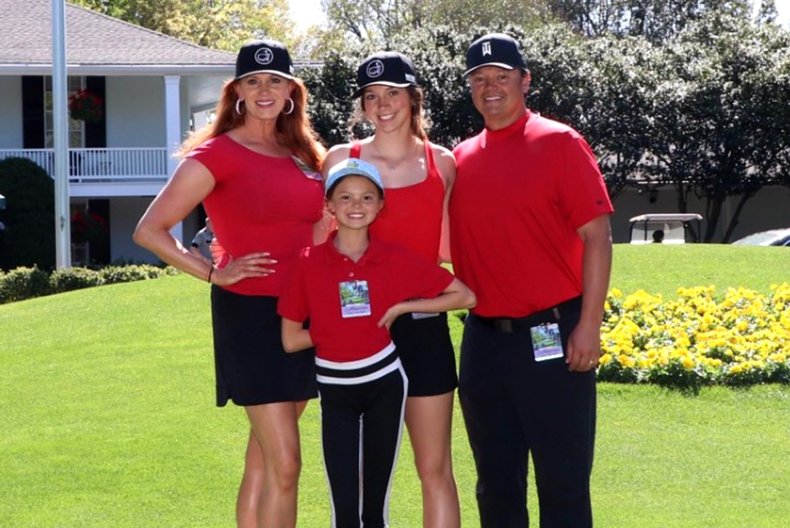 Posting a clip of a skit in which she tells a young family member that they are going to the airport the following day, Kikumoto is seen with her green Masters cap on, and it did not go unnoticed in the comments.
Captioning the post "funny thing is is tht [sic] she is actually going to the airport tomorrow," Kikumoto was met with many comments celebrating that the green hat was in place.
With her now synonymous with the hat, one commenter said: "Masters girl! Beautiful smile."
While a second wrote: "there's the hat. keep it on."
Kikumoto had no idea about the fuss she was causing on the internet at the time and told Newsweek this week: "[I] didn't know. After the Masters tournament, we went back to our home. There are no phones so we had no idea what was going on at that time."
It was only later in the evening that she started to get messages that she was making waves on TikTok.
"That evening my friends told me they saw me a few times and shared screenshots and video but nothing crazy," she said. "We went to dinner and then we got home and my phone was blowing up.
"My friends called me and said, 'You're on a TikTok video. Look at what I just sent you!' Then I saw two videos. I commented on one and said, 'That's me!' Then my phone was literally blowing up."
Do you have a tip on a sports story that Newsweek should be covering? Do you have a question about golf? Let us know via entertainment@newsweek.com.