Author and political commentator Mary Trump compared a tactic used by elected Republicans nationwide to one used by her uncle, former President Donald Trump.
During a roundtable discussion with several guests on the Friday edition of her YouTube series, The Mary Trump Show, the host at one point noted a seeming cascade of controversial moves by Republican lawmakers across the country. This included Idaho's recent legislation to ban "abortion trafficking," which it defined as the practice of transporting underage people out-of-state for abortions or obtaining abortion pills for them without parental consent; and, the Kansas state legislature overriding Governor Laura Kelly's veto and enacting a broad ban on transgender students competing in sports. Mary Trump echoed claims that the bill would subject children to "genital examinations" in order to play sports, a provision that is not explicitly called for in the bill, though the method for determining biological sex is also not specified.
Amid this discussion, Mary Trump said that the increase in similarly controversial Republican-backed measures has been a conscious effort to "flood the zone," and overwhelm the ability of Democrats and the political left to push back. This tactic, she noted, is one also employed by her uncle, especially during his presidency.
"Part of the project, certainly in the last seven years, has been to overwhelm, to flood the zone," Mary Trump explained. "That's a Donald tactic right there. We don't know where to focus half the time."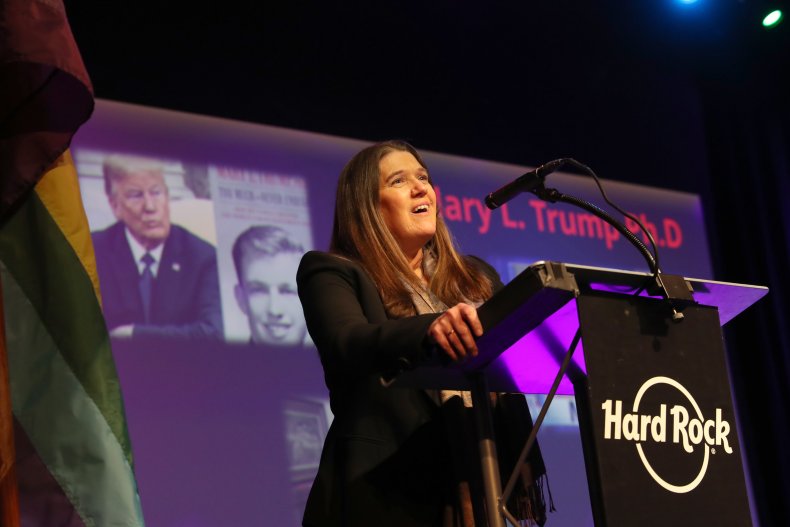 Steve Bannon, the former adviser to Donald Trump, once summed up the former president's tactic for combatting media coverage of his presidency in similar terms. In an interview with Bloomberg in 2018, Bannon told writer Michael Lewis that "the way to deal with them is to flood the zone with s***," which he said was "not about persuasion," but "disorientation."
Mary Trump continued, suggesting a strategy to counteract this tactic: "Which is why we need to decide to focus on the perpetrators, not what they're perpetrating…Not like, diffuse our rage, be laser-focused on the people who are doing the damage."
In response to this suggestion, guest Dahlia Lithwick, a lawyer and journalist at Slate, said that the left's focus should also be broadened to encompass the many smaller levers of political power in the country, not just the singular high-level power brokers, like Senate Minority Leader Mitch McConnell, Supreme Court Justice Clarence Thomas, and Florida Governor Ron DeSantis.
Newsweek reached out to the White House press office via email for comment on the recent legislation mentioned by Mary Trump on Friday.
The daughter of Donald Trump's deceased older brother, Fred, Mary Trump first emerged on the national stage in 2020 as an outspoken critic of her uncle and his political agenda. In addition to her ongoing internet show, she has also published two books, concerning her family's history and her uncle's impact on the fabric of American politics and culture.