The likelihood that former President Donald Trump will be charged with and convicted of a crime "just went way up," according to his niece Mary Trump, amid new reports of developments in the Department of Justice (DOJ) investigation into the Mar-a-Lago documents case.
Trump is currently facing several significant legal battles as he attempts to run for president again in 2024. One of these cases, Manhattan District Attorney Alvin Bragg's investigation into Trump's alleged attempts to unlawfully conceal "hush money" payments made to adult film star Stormy Daniels ahead of the 2016 presidential election to keep her quiet about an alleged affair the two had, has already resulted in a criminal indictment, the first in history leveled against a former president. Trump has denied the affair and maintains his innocence in the case.
The former president is also being investigated by the Fulton County District Attorney's Office in Georgia over his alleged attempts to interfere with the state's election processes in 2020, and by the DOJ for his potential involvement in planning to overturn the election results overall that ultimately led to the January 6, 2021, riot at the U.S. Capitol building.
The DOJ is also investigating Trump's handling of classified documents after leaving the White House, with both of the department's probes being led by special counsel Jack Smith. Last August, the FBI executed a search warrant at Trump's Florida residence at Mar-a-Lago, finding numerous improperly stored classified documents. It was later reported that the government had previously requested that the former president's team hand over all classified documents that Trump had, which they allegedly failed to do on multiple occasions.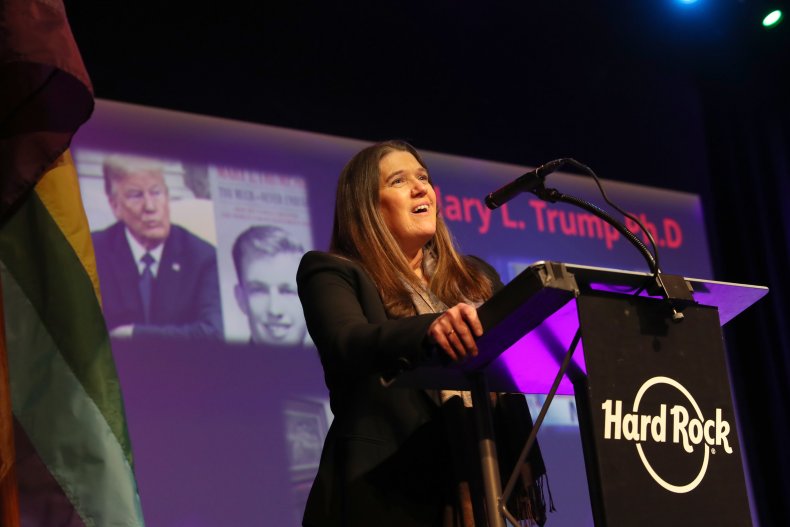 Within the last week, it was reported by The New York Times that Smith's investigation had zeroed in on a map contained in the cache of classified documents, which reportedly featured sensitive intelligence information. Witnesses have reportedly testified that Trump showed this map to multiple staffers and visitors to Mar-a-Lago.
In a tweet from Friday, Mary Trump, the former president's niece and an outspoken critic of his political actions, explained that the development regarding this map increases the likelihood that Trump will face a conviction as a result of Smith's investigation. She cited analysis from Nicole Wallace, a legal expert for MSNBC, who said that Trump's alleged sharing of the map that he was "unauthorized to have possession" of would constitute a firm violation of the Espionage Act.
"In case you need some good news, there's a chance Donald Trump could be charged with espionage," the former president's niece tweeted. "Newly reported information reveals that Jack Smith has zeroed in on the type of documents Donald illegally removed from the White House–and then refused to return–including a classified map."
She continued: "Recently, it was reported that aides to Donald were asked questions about this map before a criminal grand jury. This adds a new level of seriousness to Donald's case because it potentially gives prosecutors physical evidence of his crimes: a proverbial smoking gun. That means, the very real possibility Donald will not just be charged with but convicted of a crime just went way up."
Trump has yet to comment on the allegations surrounding this map, but has frequently spoken out against Smith's investigation, and all others against him, as "politically motivated" and unjust. In the case of the documents probe, Trump has claimed that he had complete authority to possess the documents he had, even claiming at one point that as president he could have declassified them just "by thinking about it."
Newsweek reached out to Trump's communications team via email for comment.