Marjorie Taylor Greene, a Georgia Republican, has called for an end to "online personal fights between Trump and DeSantis influencers," as tensions between the two continues to escalate.
Greene made her plea via Twitter on Friday, urging supporters of former President Donald Trump and Florida Governor Ron DeSantis to concentrate on their "real enemies" on the political left.
Whilst DeSantis has yet to announce a formal presidential bid, polling indicates he is the Republican best placed to challenge Trump for the 2024 GOP nomination. Meanwhile, Trump has become increasingly critical of DeSantis, mocking him during a rally in Waco, Texas, last month, when he said the governor came to him "crying, begging" for an endorsement ahead of the 2018 gubernatorial election in Florida.
DeSantis has largely avoided hitting back at Trump, though late last month he did pointedly comment during a press conference, "I don't know what goes into paying hush money to a porn star," in reference to Trump's alleged affair with adult film star Stormy Daniels.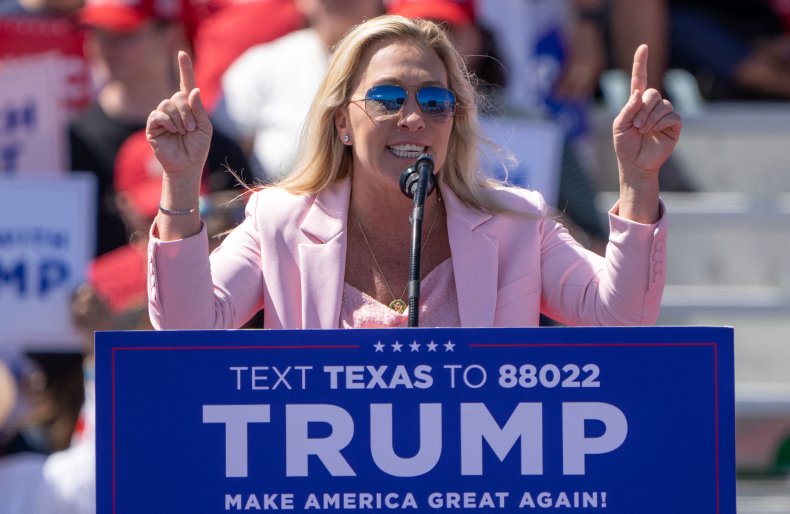 Manhattan District Attorney Alvin Bragg launched an investigation into Trump's alleged attempts to unlawfully conceal "hush money" payments made to Daniels ahead of the 2016 presidential election to keep her quiet about an alleged affair the two had years prior. Bragg's probe has already resulted in a criminal indictment against Trump, the first in history leveled against a former president. However, Trump has denied the affair and maintains his innocence in the case, accusing Bragg of pushing the charges for political reasons.
On Friday, Greene, a staunch Trump ally, tweeted: "The online personal fights between Trump and DeSantis influencers needs to stop. It makes everyone look bad and helps no one."
The GOP lawmaker continued: "We are in $31T in debt, our border is out of control w/ 300+ people dying daily from drugs, our economy sucks, our kids are being groomed and indoctrinated by Pedos, we are fighting a war in a foreign country against a nuclear armed superpower that has caused skyrocketing inflation and changed the balance of world alliances creating BRICS that may destroy our dollar. Focus on the real enemies causing all of these extremely serious problems."
DeSantis' comments about Trump's alleged hush money payment sparked a furious response from some prominent Trump supporters.
Laura Loomer, a former Republican congressional candidate, tweeted earlier this month: "The media is sending out news updates this morning to puff up DeSanctimonious by saying he 'slammed DA Bragg over the Trump indictment'. This is fake news. DeSantis didn't even say Trump's name yesterday in New York. This is just RINO propaganda."
Alex Bruesewitz, a pro-Trump Republican consultant, tweeted: "DeSantis is such a fraud!! Takes a swipe at @realDonaldTrump over a BS rumor instead of sticking up for him as he's being politically persecuted."
On Tuesday, Jenna Ellis, a former member of Trump's legal team with over 970,000 Twitter followers, hit out at abuse from pro-Trump figures after she made favorable comments towards DeSantis.
"I was called a lot of things and had a lot of leftist hit pieces trying to destroy my credibility while I represented Trump. But I never saw a media outlet or journo use the blatant sexism & vulgarity that 'MAGA influencers' do now. And I don't even work for DeSantis. Telling," she tweeted.
Ellis also shared tweets from pro-Trump influencers, including Loomer, Bruesewitz, and right-wing writer Preston Parra, several of which had sexual overtones.
Newsweek has contacted Greene via email for comment.