A grandmother has delighted her grandson with an unexpected gift of matching cheeky T-shirts for them both, and photos of the moment have gone viral on social media.
In a series of pictures, Marlon Noah from Germany was captured opening grandmother Irene's gift.
Carefully wrapped in a gift box, Noah opened it up and found a clothing item far from the knitted sweater most might expect from their grandparents.
Instead, Irene gifted her grandson a T-shirt that read: "I love s****," and she was even wearing one herself.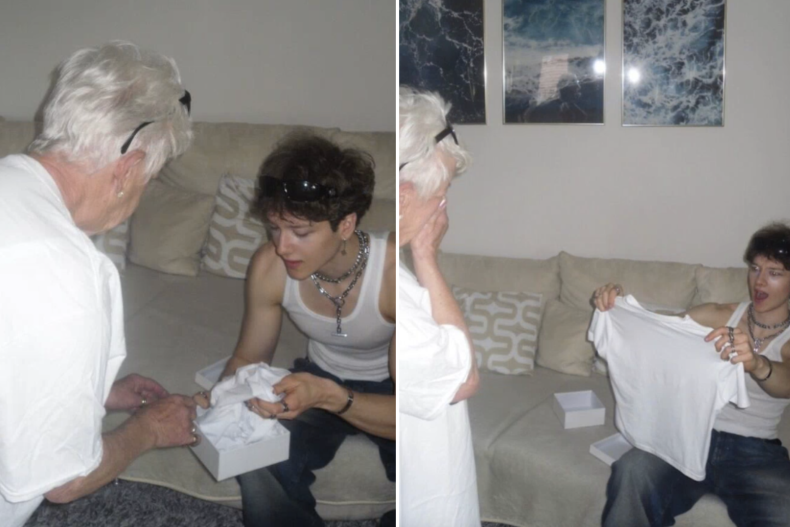 In the series of joyous images, the pair laughed and posed in their matching T-shirts, and later Noah shared the pictures on his TikTok account, marlon.noah, where it has been viewed 23 million times. Alongside the video he wrote: "Nothing could've prepared me for the gift my grandma gave me."
"She gave it to me because I don't see her very often so every time I see her she tries to make it memorable," Noah told Newsweek. "Moreover, she knows that I'm known on social media for my style and wanted to contribute in a funny way to it."
With 100,000 followers on Instagram and a further 615,000 on TikTok, Noah is a hit for his stand out style and innovative take on fashion.
"I feel like we both share the same 'I don't give a f***' attitude when it comes to expressing ourselves," Noah said. "So naturally when she found that she knew it was the one for me."
Millions of TikTok users gave the video a like and over 20,000 comments reacted to the fun T-shirts.
"Icons," said one commenter, while another asked: "How do I become besties with ur grandma?"
Another viewer wrote: "She passed the vibe check," while one TikToker said that the pair were: "Goals."
Noah knew his grandmother's sense of humor, but he was still taken aback when he opened the gift.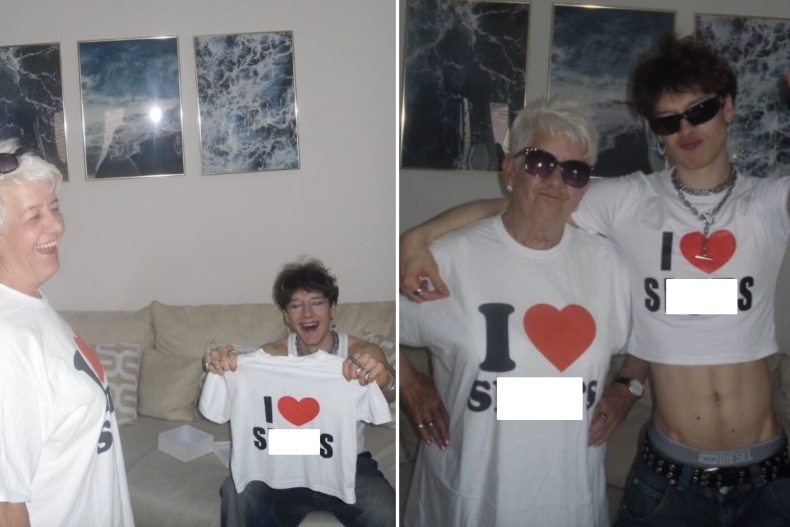 "My first reaction was shock because even I didn't expect such a shirt. While she has always been funny she never took it to this level," he said. "My second reaction was to laugh loud because I found it hilarious & unexpected. I love it though and honestly if I had found it myself I would've probably bought it too."
Others commented on how they didn't think their own grandparents would be as keen on the racy T-shirt. One said: "My grandma would have a heart attack if she was me in this."
"She should have the most iconic grandma in the world award," said another reply.
With a huge viral reaction, Noah wasn't expecting the video to be as popular as it was: "I shared it because I felt like my audience would get the joke and find it as funny as I did since we share somewhat of a similar humor and style," he said. "While I expected the video to go kind of viral, I didn't expect it to go as viral as it turned out to be. I'm happy to see how many people I could make laugh and also very happy at the amount of people who love my grandma as much as I do."