While looking out his window on April 11, Tom McClelland caught sight of three black bears walking up his driveway in Ontario, Canada.
The mother and her two babies walked along the side of the house and made their way into his backyard. McClelland caught the whole thing on video, which he shared in segments to his TikTok page, @trailcam_tom.
"The mischievous baby bears managed to crawl under my gate…and Momma followed, over the gate," McClelland said in a post.
Black bears live throughout Ontario but are primarily found in forested areas. In that habitat, they are more easily able to find food, refuge and den sites.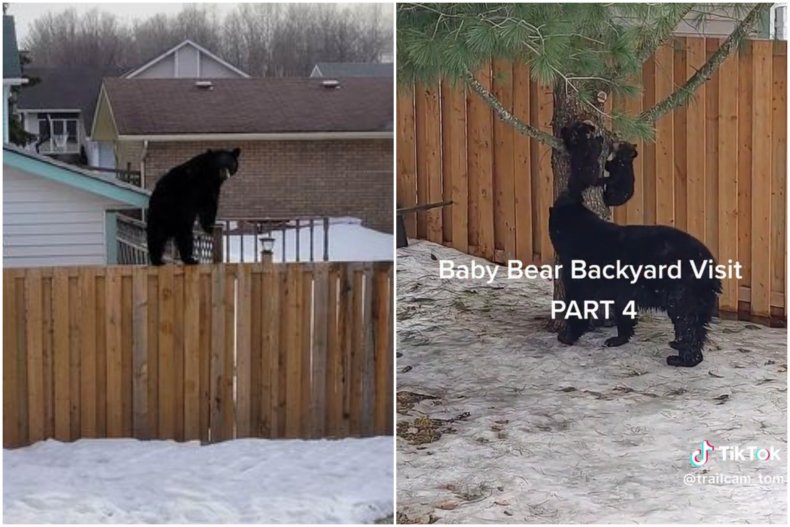 Once she got past McClelland's gate, the mother made a beeline for the neighbor's fence. "She seemed intent on getting to our backyard neighbors' yard," McClelland told Newsweek. "She was a young, small bear. Seeking a food source is my speculation. She did eventually get into their trash bin."
While the mom went in search of food, the two cubs ran around in McClelland's garden, climbing the tree and playing in the snow. "The cubs were in my backyard for the next six hours," he said. "Mother bear departed and returned several times, [and] at one point all three had a lengthy sleep in my tree."
Black bear cubs are born in January and stay in hibernation with their mother until April, according to the Ontario Ministry of Natural Resources and Forestry. When they first come out, the cubs are only the size of a house cat, usually weighing up to 10 pounds.
The cubs put on weight quickly and usually grow up to 60 pounds by the time they go into their first full winter. They will stay with their mother for another hibernation season before venturing off on their own, at 17 to 18 months old, to mate.
When they are fully grown, male black bears can weigh up to 500 pounds, while the females tend to weigh up to 300 pounds. However, their size will vary greatly depending on food availability.
The videos from McClelland's bear series have been viewed millions of times, and thousands of users have commented on the trespassing trio.
"They are so agile for large creatures," said one user. "She dropped them off at daycare," said another.
At 6:15 p.m., the bears finally took their leave. "They departed the yard…trailing their mom back across my front yard, across the street and into a bushy area," McClelland said.
To avoid attracting bears to your neighborhood, the Ministry of Natural Resources and Forestry recommends sealing trash cans and eliminating any food sources, such as ripe fruit, bird feeders and pet food, left outside.