A 52-year-old has been accused of murder after allegedly killing his mother-in-law in a violent attack with a large sword.
The alleged incident happened on April 28 in Puna, a town situated near the eastern edge of Hawaii's largest island. Around 1:40 p.m. local time, officers from the Hawaii Police Department were called to a home in an Orchidland Estates neighborhood following reports of a disturbance.
Upon arriving at the residence, police reportedly found Christopher Roy Howlind in need of medical attention with injured hands and a bloodied shirt. A large sword was found near Howlind covered in blood.
While medical assistance was being called for Howlind, the continued search of the residence turned up the dead body of 58-year-old Teri Lynn Apple, who had "severe knife wounds to her neck, upper body, arms, and hands," according to the police report. Following this discovery, Howlind was arrested and charged with the murder of Apple, later determined to be his mother-in-law. An autopsy completed on Tuesday confirmed that she had died as a result of the wounds and ruled her death a homicide.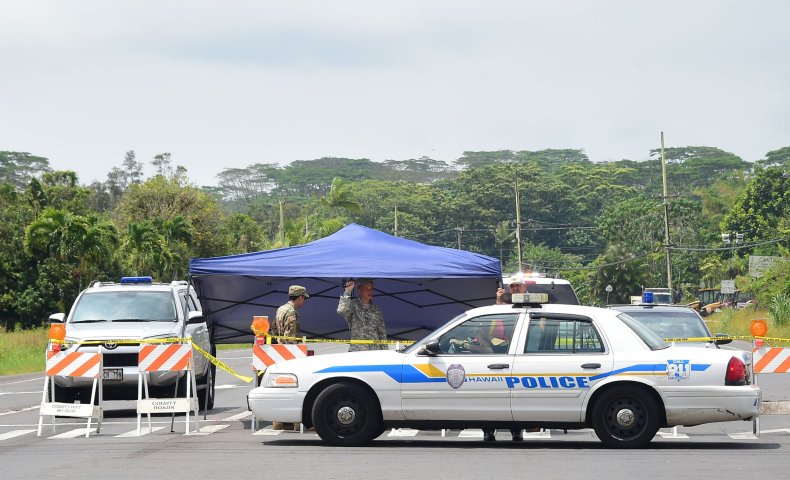 Howlind was booked into a cellblock at the nearby Hilo Police Station but was later rushed to the Hilo Medical Center Emergency Room after vomiting and becoming unresponsive. According to a report, the medical incident at the cellblock was the result of the suspect drinking a liquid chemical substance prior to police arriving at this residence.
Due to the need for medical treatment, Howlind was temporarily released from police custody on Sunday but was later taken back in on Thursday. He currently faces a charge of second-degree murder, with his bail being set at $1 million. The charge carries the potential for a life sentence with the possibility of parole. A statement from Prosecuting Attorney Kelden Waltjen confirmed that the suspect made his first appearance in court on Friday.
The details about what sort of situation may have led Howlind to allegedly assault his mother-in-law with a deadly weapon have not been disclosed at this time. Newsweek reached out to the Hawaii Police Department via email for comment.
A similar incident occurred last summer in the resort neighborhood of Waikiki, when 46-year-old 7-Eleven worker Jason Walker allegedly attacked a 51-year-old man outside the convenience store with a sword, cutting off the victim's left hand in the process. Walker was later charged with second-degree attempted murder, according to the Honolulu Star-Advertiser.