The use of pronouns on LinkedIn by the suspected Louisville, Kentucky, shooter has drawn outrage on social media.
The suspect was identified as 23-year-old Connor Sturgeon, a former employee at the Old National Bank, where the shooting occurred, Louisville Metro Police Department officials said Monday. The shooting left at least four people dead and nine injured and comes just a few weeks after the school shooting in Nashville, Tennessee, that killed six, including three children.
Police said the shooter was fatally shot by responding officers. Before his identification by police, social media users shared screenshots of a LinkedIn profile associated with Sturgeon that showed the use of the pronouns he/him, which has brought some criticism online.
A University of Alabama spokesperson confirmed to Newsweek that a student named Connor Sturgeon attended the school from 2016 to 2020, the same dates listed on the LinkedIn profile. The spokesperson was unable to confirm that the student in their records was the suspected shooter.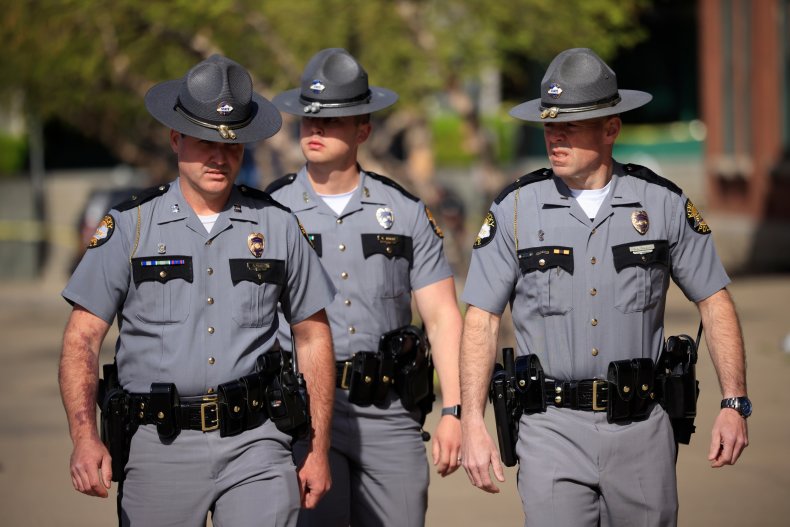 Sebastian Gorka, a conservative commentator and ex-adviser to former President Donald Trump, wrote on Twitter that Sturgeon was "proudly displaying his "pronouns" online" and called this a "#RedFlag."
Caitlin Sinclair, a correspondent with the conservative news station One America News, wrote, "BREAKING: Meet Connor Sturgeon (he/him), the Louisville mass shooter. He killed multiple people this morning. Do we believe the MSM will show you this screenshot?" (MSM is apparently a reference to the mainstream media.)
Right-wing commentator Ian Miles Cheong shared a screenshot of the LinkedIn profile and wrote, "Meet Connor Sturgeon (he/him), the Louisville mass shooter, who listed pronouns in his bio as seems to be in vogue these days…. He posted about his suicidal intent prior to the shooting."
Collin Rugg, co-owner of the conservative commentary outlet Trending Politics, wrote, "JUST IN: Louisville mass shooter identified as Connor Sturgeon, who identified as a He/Him. I've said it once I'll say it again: It's not the guns. It's the pronoun extremists."
Twitter user Proud Elephant wrote, "BREAKING: Louisville Shooter identified as Connor Sturgeon, identified as a 'He/Him.' The woke mind virus is destroying America."
Gunther Eagleman wrote, "Pronouns kill… Louisville bank mass shooter Connor Sturgeon self identified as a He/Him."
On the other hand, Ed Krassenstein wrote, "Following the mass shooting in Louisville, Kentucky, and mixed in with their typical "Thoughts and Prayers," Republicans are now arguing themselves into circles. The first bizarre argument they are making is that the apparent killer Connor Sturgeon "identified as He/Him." This is ironically how every one of these republican men also identifies."
Newsweek reached out to the LMPD for further comment via email and by phone.