Former President Donald Trump called on Republicans in Congress to cut funding for the Justice Department and FBI, but GOP Senator Lindsey Graham doesn't support withdrawing money from the agencies.
Graham, a staunch Trump ally, recently appeared on Sean Hannity's Fox News show to plead for donations for Trump's legal defense.
He also urged people to vote for Trump as early as possible in their states during the 2024 presidential election.
Former President Donald Trump on Wednesday urged GOP members in Congress to cut funding for the U.S. Justice Department and the FBI, but South Carolina Senator Lindsey Graham said he doesn't support such a move.
"I understand his frustration, but defunding the police is not the right answer," Graham said during a news conference, according to The State newspaper.
Graham is one of Trump's most vocal supporters in Congress and received attention last week for an appearance on Sean Hannity's Fox News show in which he made an emotional appeal for people to donate money to Trump's legal defense. Clips of the Hannity appearance circulated on social media with comments claiming the Republican senator appeared to be on the verge of tears.
Graham's March 30 interview on Hannity's program came after a grand jury indicted Trump following an investigation by Manhattan District Attorney Alvin Bragg into an alleged hush money payment made by Trump to former adult film star Stormy Daniels before the 2016 election. On Tuesday, Trump pleaded not guilty to 34 felony counts of falsifying business records and has denied an affair with Daniels as well as any wrongdoing in the case.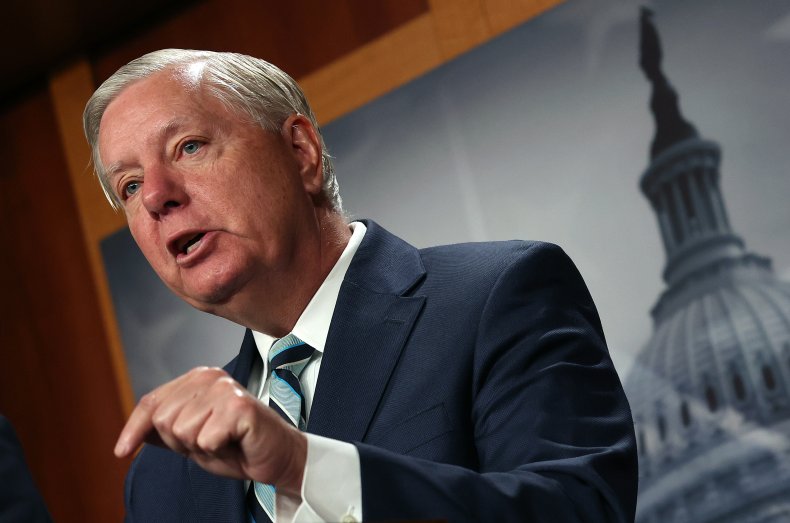 On Wednesday, Trump called on Republican lawmakers to slash funding for the nation's top law enforcement agencies.
"REPUBLICANS IN CONGRESS SHOULD DEFUND THE DOJ AND FBI UNTIL THEY COME TO THEIR SENSES. THE DEMOCRATS HAVE TOTALLY WEAPONIZED LAW ENFORCEMENT IN OUR COUNTRY AND ARE VICIOUSLY USING THIS ABUSE OF POWER TO INTERFERE WITH OUR ALREADY UNDER SIEGE ELECTIONS!" Trump wrote on Truth Social.
"As frustrated as [Trump] has a right to be for what the FBI has done, terrorism lurks out there, and taking your guard down for one moment could be very dangerous for the public," Graham told reporters on Wednesday.
Graham's news conference followed another appearance on Hannity's program on Tuesday, in which he again appealed to Trump's supporters to donate money to the former president.
"Please help President Trump," Graham said on Fox News. "If you can afford five or 10 bucks, if you can't afford a dollar, fine. Just pray. Make sure you vote as early as you can in your state. Don't risk anything anymore. Vote as soon as you can. Pray for this country, pray for this president, and if you got any money to give, give it."
Graham addressed the public requests for donations during his Wednesday press conference.
Trump "has spent millions of dollars defending against every kind of lawsuit on demand, all kinds of criminal investigations, and I think from a Republican point of view, that if you believe in President Trump, you should take some of the burden off of him" by donating, Graham said, per The State.
George Ajjan, an international political strategist, told Newsweek that Graham's public pleas will have little effect on Trump's case.
"Unfortunately for Republicans, the tempest in a teapot surrounding Bragg's indictment of the former president exposes the extent to which conservative ideology continues to take a back seat to Trump's personal considerations," Ajjan said.
"Conservatives rightfully cite the 9th and 10th Amendments as a means of preventing big city liberals from ramming a woke agenda down the throats of their kids. But the inverse also applies—Manhattanites elected their own district attorney without the input of red states."
He added, "Lindsay Graham ought to wipe away his tears and move to New York to run against Bragg to avenge Trump, but until then, it's put up or shut up."
Newsweek reached out to Graham's office via email for comment.