Representative Lauren Boebert (R-CO) has branded Department of Transportation (DoT) Secretary Pete Buttigieg "a toddler" after a train carrying hazardous materials derailed in Maine.
The Canadian Pacific freight train caught fire after derailing in a wooded area on Saturday, April 15, which resulted in three employees suffering minor injuries.
Maine's Forest Department told Reuters: "A total of three locomotive engines and six rail cars carrying lumber and electrical wiring derailed into a wooded area, where they caught fire and started a small forest fire."
Boebert laid the blame for the incident on Buttigieg in a tweet shared on the same day as the derailment.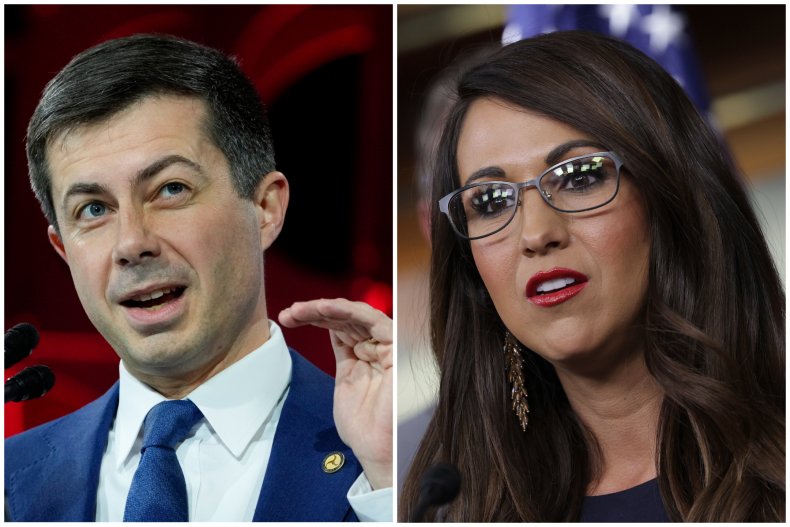 The firebrand Republican added: "Buttigieg is running this country's rail system like a toddler playing with his first toy train set."
Since being shared online, Bobert's comment has been viewed more than 733,000 times.
As of Sunday morning, Buttigieg has not responded to Boebert or shared any posts about the derailment on Twitter or his other social media accounts.
According to Bureau of Transportation Statistics, there were 54,529 train derailments in the U.S. between 1990 and 2021.
While the figure is high, deaths from derailments are not common, the bureau finding that on average there have been four per year since 1990.
Boebert previously hit out at Buttigieg amid the fallout from a train derailment in East Palestine, Ohio, on February 23.
During an exchange on the Fox News show Unfiltered with Dan Bongino, Boebert referred to the children's TV series Thomas and Friends, originally known as Thomas the Tank Engine.
She told Bongino: "He (Buttigieg) said he lost his train of thought, while Americans are losing many things under his leadership as the Secretary of Transportation and I think he needs to watch more of Thomas the [Tank] Engine to really understand how our infrastructure works.
"But wasn't Pete Buttigieg saying we have too many white, male construction workers and here he is dressed in cosplay as a white, male construction worker while President [Donald] Trump was delivering real victories for the American people, providing the needs that they needed in that moment and that time."
Buttigieg and President Joe Biden's administration came under intense scrutiny after critics said it took them too long to send someone to the derailment site in East Palestine.
The DoT secretary defended his response to the derailment and said he was "proud" of the department's response to the incident and what they had done "since day one."
Newsweek has contacted the DOT and Bobert's spokesperson for comment.