Senior Russian officials are banned from resigning their posts during the war in Ukraine, according to a report that said attempting such a move would be considered a betrayal.
The independent Russian language news outlet Vazhnye Istorii (iStories) said that at least two governors had sought to stand down since the start of Russian President Vladimir Putin's invasion but were stopped from doing so under threat of a criminal prosecution.
"There are many" who have wanted to leave their posts since the start of the war, a Kremlin source told the outlet, but "if everyone leaves, control will be lost."
The Kremlin administration considers a desire to leave as a "betrayal" and so the task of "demonstrating unity" was set before civil servants, iStories reported, drawing on four sources, which also included a former FSB officer and a political strategist.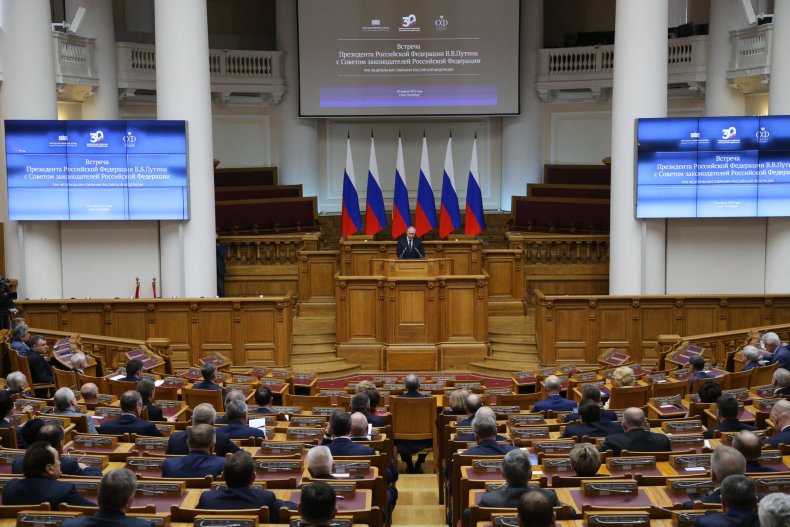 It said that officers from the FSB security agency had previously complained about not being allowed to quit, even after their contracts end, because of the partial mobilization announced by Putin in September.
"However, the fact that the ban also applies to civil servants was not previously known," said iStories, while emphasizing that this was informal and subject to exceptions such as on health grounds or accusations of corruption.
"Many are ready to pay well for the opportunity to leave quietly, unnoticed now," a source said.
Newsweek has reached out to the Kremlin for comment.
Even before Putin launched his full-scale invasion, Russia's authorities made it difficult for officials to resign, according to independent Russian-language outlet Meduza, citing Kremlin administration sources.
"Each case is decided on an individual basis," a source told the outlet, "but the overall trend remains, officials are to stay in their positions."
In March Sistema, an investigative project that is part of Radio Svoboda, reported that some officials and state-run company employees had been asked to "turn in their passports for storage." Another independent outlet, the Bell reported in April that Russian government officials had been banned from leaving the country altogether.
The Institute for the Study of War (ISW) said Monday that the Kremlin "may be attempting to stop Russian officials from resigning in protest to advance their own objectives."
The U.S. think tank had previously noted that former Central Military District commander Colonel General Alexander Lapin and Russian Airborne Forces commander Colonel General Mikhail Teplinsky reportedly resigned following criticism and in protest at conditions at the front respectively.
The ISW said that it was likley Teplinsky used the fallout from his resignation to push for a leading military command position in Ukraine which was "a scenario that the Kremlin may attempt to avoid in the future by applying the reported ban more broadly."