A 20-year-old photo of Kid Rock drinking Bud Light next to a drag queen has resurfaced online days after the musician repeatedly shot at Bud Light cases to protest a partnership with a transgender influencer.
Dylan Mulvaney, a trans advocate who has obtained a large following due to her Day 365 Of Girlhood video series on TikTok, shared a personalized Bud Light can with her face on it in commemoration of her one-year anniversary since beginning her gender transition.
It almost immediately drew backlash against the beer brand and its parent company, Anheuser-Busch, leading to public figures like Kid Rock—whose real name is Robert James Ritchie—and countless others online to voice their displeasure and call for boycotts.
Earlier this week, Rock, donning a backward MAGA (Make America Great Again) hat, posted a video to his social media networks that showed him shooting numerous bullets at several cases of Bud Light propped up on a table near a river.
"Grandpa is feeling a little frisky today," he said, prior to blasting the cases and turning towards the camera with his middle finger raised.
"F*** Bud Light and f*** Anheuser-Busch," Rock shouted in the aftermath, never specifically mentioning Mulvaney or the trans community.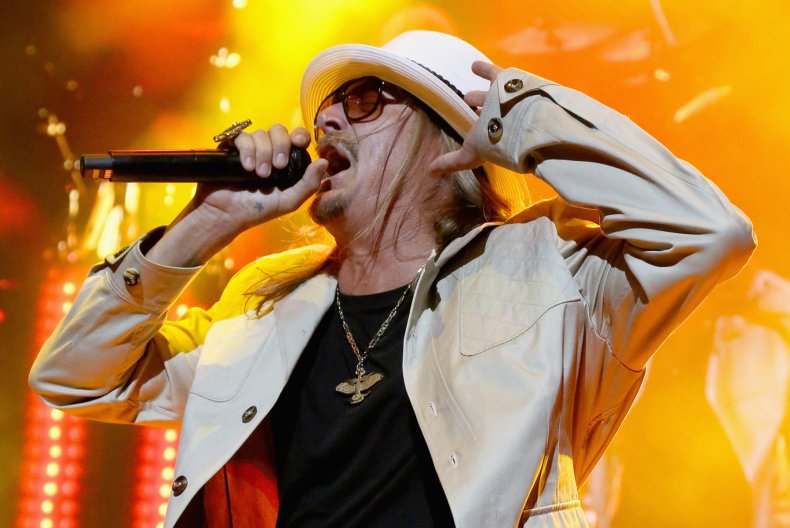 Following the posting of Rock's video, an alleged image of him began popping up on social media networks including Twitter, Reddit and Facebook. It shows Rock, wearing a Coors hat, chugging a bottle of Bud Light while sitting next to a drag queen.
The photo was reportedly taken by the global multimedia digital agency World Red Eye (WRE). A page on the agency's website titled "Transformation of Drag" shows Rock sitting next to a drag queen identified as Wanda on September 26, 2003, at the now permanently closed nightclub Prive in Miami, Florida. Newsweek could not independently verify the photo's authenticity.
Wanda was reportedly a notorious drag queen in the South Beach scene, per WRE, and passed around June 2013. The photo of Rock and Wanda was reposted in August 2013 as a tribute.
The image has been mocked online.
"Well, if it isn't @KidRock drinking Bud Light with a drag Queen while wearing a Coors hat," Twitter user Travis Akers said.
"There is always receipts! Here we have Kid Rock enjoying a bud light next to a drag Queen," tweeted Richard Ojeda, a former West Virginia senator and Democratic candidate for president. "It didn't bother him back them. Yeah that's right….he's now trying to stay relevant so he spews fake outrage. But if it didn't bother him then, it doesn't really bother him now."
Newsweek reached out to WRE and Rock's management team for confirmation and comment on the photo.
Other musicians besides Rock who have announced Bud Light boycotts have included John Rich and Grammy Award-winning musician Travis Tritt.
On Wednesday, Tritt announced via Twitter that he is deleting all Anheuser-Busch products from his tour's hospitality rider. He claims he knows other artists who are doing the same.
"Other artists who are deleting Anheuser-Busch products from their hospitality rider might not say so in public for fear of being ridiculed and cancelled," Tritt wrote. "I have no such fear."
Conservative commentators like Tim Pool have called for boycott attempts to include all products under the Anheuser-Busch umbrella.
Anheuser-Busch previously told Newsweek the personalized can sent to Mulvaney was "a gift to celebrate a personal milestone and is not for sale to the general public."
A spokesperson for the company added that it "works with hundreds of influencers across our brands as one of many ways to authentically connect with audiences across various demographics. From time to time we produce unique commemorative cans for fans and for brand influencers, like Dylan Mulvaney."
Mulvaney, 26, has 1.7 million Instagram followers and according to the Daily Mail has racked up over $1 million in endorsements by promoting brands including Ulta Beauty, Haus Labs, Crest, Instacart, EOS and CeraVe.
Her most recent major deal is with Nike, which hired her as a sports bra model. The move was met with more online backlash.