Claudia Conway, the daughter of former Donald Trump counselor Kellyanne Conway, has lashed out at his "horrifying" social media statement regarding the overturning of Roe v. Wade.
Some Republican-led states have either limited or banned abortion since the U.S. Supreme Court ruling last June in the Dobbs v. Jackson Women's Health Organization case that reversed Roe v. Wade, a 1973 landmark decision that gave women the federal constitutional right to have abortions.
The Dobbs v. Jackson case stated that the authority to regulate abortion policies should be "returned to the people and their elected representatives." Overturning Roe allowed some states to enact their so-called "trigger laws," which granted them the right to issue and regulate their own abortion policies and laws.
In April, Florida Governor Ron DeSantis signed the Heartbeat Protection Act [SB 300], which prohibits abortions once a heartbeat is detected. Heartbeats can often be detected from the six-week mark of pregnancy.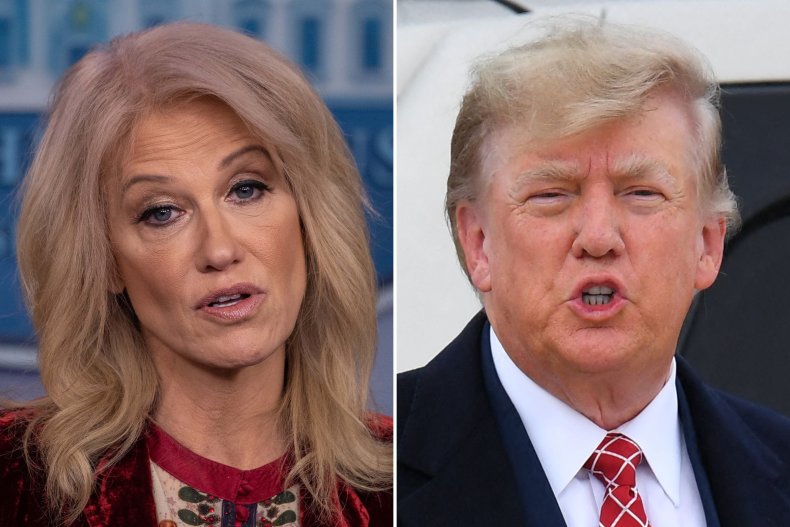 With other Republican-controlled states enacting and proposing their own restrictions and bans on abortion, Trump took credit for the landmark upheaval in a post shared on his Truth Social platform.
"After 50 years of failure, with nobody coming even close, I was able to kill Roe v. Wade, much to the 'shock' of everyone," he wrote on Wednesday. He added that he "for the first time put the Pro Life movement in a strong negotiating position over the Radicals that are willing to kill babies even into their 9th month, and beyond."
"Without me there would be no 6 weeks, 10 weeks, 15 weeks, or whatever is finally agreed to," the real estate mogul continued. "Without me the pro Life movement would have just kept losing. Thank you President TRUMP!!!"
Sharing a screenshot of the post on Twitter, Claudia Conway, whose mother served as a senior White House counselor to Trump and managed his 2016 presidential campaign, lashed out at the former president.
"Now this—this is horrifying," the 18-year-old wrote. "How we have gone backwards in time letting irrational, conservative men dictate our individual bodily autonomy is beyond me. less than 1% of abortions are done in the third trimester— usually for the mother's health or lack of the fetus' viability."
She added in another post that: "One in three women learn that they are pregnant after 6 weeks. In a handful of states (24 states have bans in place/pending), these women cannot get an abortion. enough. 'Pro-life' is NOT pro-life."
The outspoken teen's tweets drew messages of support, as well as attacks from those who disagreed.
Addressing her detractors, Claudia Conway tweeted that she "would love for one of you conservative f**** in my comments to debate me on reproductive rights and healthcare instead of commenting GIFs calling me a b****."
In a post that she later pinned to the top of her Twitter feed, Claudia Conway brought up a range of issues that have affected children over the years.
She commented: "Pro-life should mean that American children are safe from AR-15s in their classrooms, that the 319,000 children in foster care are cared for, that LGBT+ youth are given the resources they need, that kids aren't kept in CAGES at the border, that BIPOC are protected, etc."
While her mother worked in Trump's administration for much of his term, Claudia Conway and her father, George Conway, have been openly critical of the 2024 presidential hopeful over the years.
The Conways' criticisms have continued in the days since a jury found Trump liable for sexual abuse and defamation of writer E. Jean Carroll in an alleged incident that occurred in a Manhattan department store dressing room in the 1990s. In her lawsuit, Carroll had accused Trump of raping her, but the jury didn't find him liable for that allegation.
Trump was found liable for defaming Carroll after he called her allegations a "con job" in a social media post. She was awarded $5 million in total damages, including $2 million in compensatory damages for the battery claim in her lawsuit.
After denying the accusations, Trump responded to the trial's outcome by declaring it "a continuation of the greatest witch hunt of all time." He repeated his denials during last week's town hall in New Hampshire, which was broadcasted by CNN.
Addressing the Carroll verdict, the former president boasted that his "poll numbers went up" despite the allegations, and he claimed that he had "never met" the former columnist.
Trump also complained that the judge didn't allow his legal team to tell the jury that Carroll's "cat was named Vagina" and referred to the alleged rape as "hanky-panky." The audience reacted with laughter.
"What kind of a woman meets somebody and brings them up, and within minutes you're playing hanky-panky in a dressing room," Trump said, prompting loud laughs from the crowd.
Trump went on to say that he "felt sorry" for Carroll's ex-husband, John Johnson, resulting in even bigger laughs and a round of applause for the former president.
Kellyanne Conway, a Fox News contributor, has remained supportive of her former boss. Over the weekend, she told Politico that Miami Mayor Francis Suarez should be considered as a potential vice president for Trump as he seeks another term in the White House. She said she has personally suggested Suarez, who has reportedly considered a presidential run himself, in conversations with Trump.
Despite Kellyanne Conway's ongoing support for Trump, she wrote in a guest essay for The New York Times in January that it would be "foolish to assume that Mr. Trump's path to another presidency would be smooth and secure."