The shooting of 16-year-old Ralph Yarl by 84-year-old Andrew Lester sparked a nationwide debate about race and calls for hate crime charges.
Some saw Yarl's skin color as the reason Lester opened fire. Conservatives, however, pushed back that the shooting was motivated by race at all.
The difference in opinion has prompted a fierce debate in Kansas City, Missouri, which is still grappling with a long history of racial tension.
The most important thing for Kansas City, Missouri, was that 16-year-old Ralph Yarl survived.
Shot twice at point-blank range, including once in the head on April 13 after ringing the doorbell at a home he thought was where he wanted to be, Yarl—who is Black—easily could have been killed. When it became clear he would recover, it was called a miracle, a point of celebration for a city and state still confronting its racial past.
For many, however, Ralph Yarl was a reminder: It could have happened to anyone.
"This could have been my son," said Jamie Johnson, a Democratic state representative in an area near where the shooting took place.
Nearly a decade after the 2014 death of Michael Brown in Ferguson—nearly a four-hour drive east—helped ignite the Black Lives Matter movement, the city of Kansas City that once was considered among the most segregated in America still has unresolved issues of trust, not only with law enforcement but with each other.
The tension has defined the public conversation since Yarl's shooting, with many rushing to find 84-year-old Andrew Lester's motivation.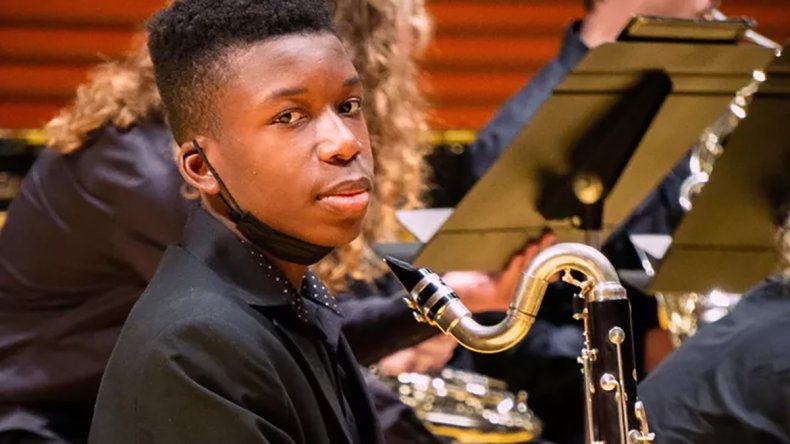 One of Yarl's attorneys, Lee Merritt, told reporters Wednesday that he believed Lester saw Yarl's skin color as a threat.
Lester's family members downplayed claims that the decision to shoot was inherently racist. Grandson Klint Ludwig told the Kansas City Star that he believed Lester had grown increasingly paranoid from a steady consumption of conservative news.
On Kansas City's talk radio stations, liberal hosts sparred with callers who defended Lester's right to self-defense. Some callers said they could understand why an elderly white man might feel fearful of a young Black man showing up on their front porch in one of the nation's most violent cities—particularly if Yarl attempted to open the door.
Tony's Kansas City—a local conservative blog—described Lester as "confused and frail" during his arraignment Wednesday, deriding national and local news outlets who tried to characterize the shooting as a flashpoint in the city's racial divide. The decision to even quote Lester's grandchildren, they wrote, was "working to reinforce a narrative about that ALLEGED racism of some old school dude rather than simply reporting the facts of this case."
"TWO things can be true at once," Pete Mundo, a conservative talk show host in the city, tweeted days after the shooting. While Lester's charges were "well deserved," media interest in the case was "obviously narrative-based," with the facts failing to back it up, he said.
The truth of the story, some told Newsweek, is more nuanced.
A National Story
What made Yarl's shooting a national story was the backdrop of where it took place: in the heart of a predominantly white neighborhood in a city where his near-fatal mistake was one that residents make on a regular basis.
The street where Lester lives—Northeast 115th Street—was just one block from Northeast 115th Terrace, a naming convention that regularly leads visitors to the incorrect address. Kansas City residents sympathized with Yarl, telling Newsweek that they made similar error numerous times. One person said they'd once gone as far as walking into a house before realizing their mistake.
Lester's house, a non-descript split level on a quiet street, looks strikingly similar to the house Yarl's family said he intended to visit, and is visible from Lester's yard. The placement of the garage is identical, as are the roofline, the window to the left of the front door and even the layout of the front yard. The key difference: Lester's house is yellow, the other house is gray. The shooting occurred at about 10 p.m.
Johnson, a mother of three and an 18-year resident of Kansas City, represents a predominantly white community in the city's Northland section, a broad swath of territory that encompasses just about everything north of the Missouri River.
The river represents a physical and social line of demarcation that divides a sleek and modern city from the sprawling suburban developments that extend the city's borders into the forested plain stretching into the horizon.
By car, about 17 miles of woodland and concrete separate where Yarl was shot from downtown Kansas City. And even as the district's first Black representative, Johnson said some of her constituents are surprised when they realize she is a Black woman.
"I know that I got votes because people think I'm a white man," she told Newsweek. "Like literally I've knocked on people's doors and had my T-shirt on and they thought I was there canvassing for Jamie Johnson. They'd ask, 'Hey, do you know that guy?' I am that guy."
"There are old-timers up here who still don't feel like they're part of the city," said Ed Ford, a former city councilman from Northland. "We're a much more conservative Republican area, especially the further north you go."
But Northland is also changing, with new developments and homes lining the highways. With the physical change came social change. While Johnson and her children have experienced a handful of incidents because of their race, the local school community has sought to make amends.
"I truly believe that in this community," Johnson said. "While we don't always get it right, we're trying. And I think my election is proof of that."
After a parent complained when a predominantly white high school and a predominantly Black high school's volleyball teams near her district wore unity shirts in the wake of the 2020 killing of George Floyd by police in Minneapolis, Johnson said they were able to implement a diversity and equity inclusion council, working to help bridge some of the divides in the community.
It was the same situation at Yarl's high school, where his classmates walked out this week in solidarity with him and in recognition of the realities.
"We've had incidents in our school where like kids say racist things and nothing really happens to them," Brianne Kemper, a senior at Staley High School and a staffer on the school magazine, told Newsweek on Wednesday.
But some pockets of the city—particularly in Northland—have come around slower than others, remaining largely white and conservative. Lester's neighborhood, locals said, just happened to be one of the whitest.
Like many communities in Northland, the Nashua neighborhood was annexed into the greater Kansas City area as the city grew around it. Where downtown Kansas City is roughly 27 percent Black and 60 percent white, Nashua's Black population is about 7 percent in recent U.S. Census data, while the Black population sits at about 5 percent in surrounding Clay County.
"At one time [it] was like an island," Chris Gahagan, a city council candidate whose district borders the Nashua neighborhood of Northland where Yarl was shot. "I mean, you'd have to drive for 10 minutes before you'd see another house before you got to that neighborhood."
Even with the recent growth, the neighborhood still felt isolated. While the street was packed with protesters the weekend after Yarl was shot, the neighborhood lay silent Thursday afternoon, with little traffic in or out when a Newsweek reporter visited. Things in the area, Johnson said, were just as they always were.
It's the things that haven't changed, some said, that are barriers to progress.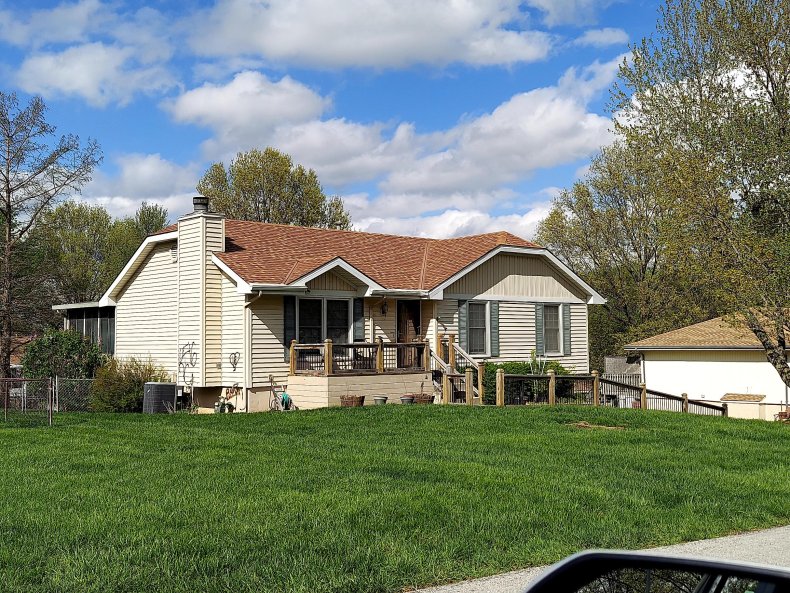 A Blue Dot in a Red State
Even as Black residents gained political power in the city—the southside suburb of Grandview elected its first Black state representative last fall—Kansas City's Black residents don't feel fully comfortable in a state they said, politically, often presents a counterweight to their interests.
Split across two states (Missouri and Kansas), the political weight of liberal-leaning Kansas City is greatly diminished in Jefferson City, Missouri's capital, creating a dynamic in which critics said Kansas City is almost fighting with one hand behind its back in state affairs.
Democratic strategists told Newsweek that they believe Missouri—currently a safely Republican state—could potentially be a swing state if all of Kansas City was within Missouri's borders, citing the city's large Democratic-voting population as well as the party's success with liberal policies passing in ballot initiatives.
Last year, for example, Missouri resoundingly voted to legalize recreational marijuana, presenting a stark contrast to the policies championed by the state's conservative government. In response, the state's House Republican conference began to push legislation to increase the approval threshold for a proposed constitutional amendment from a simple majority to 60 percent.
"A lot of people feel they have been tricked sometimes," House Speaker Pro Tempore Mike Henderson said of the proposal during the winter, according to the Missouri Independent.
But Kansas City also has some of the nation's highest rates of gun violence in a state with some of the most relaxed gun laws in the country—which locals argue is a symptom of the philosophical divide between the city and the state.
According to 2021 data from the Rand Corporation, about 49 percent of Missouri residents own at least one firearm. According to statistics from local police, Kansas City saw 169 homicides in 2022, surpassing the 157 reported killed in 2021, to become the second-deadliest year on record. The city's deadliest year, 2020, saw 179 homicides.
In protests this week, many in the city spoke of Republican lawmakers' unwillingness to include their concerns about mounting gun violence in the larger debate about state policies.
Some Democrats criticized Republican responses to the shooting. Days after Yarl was shot, Republicans in the Missouri statehouse moved to advance legislation that would permit concealed carry on public transportation as well as mandate houses of worship to accept concealed carry, drawing sharp rebukes.
"We've got a young boy in Kansas City, he went to a doorbell and was shot because people are scared of how people look," Assistant House Minority Leader Richard Brown—a Kansas City-area lawmaker—said on the state's House floor Tuesday.
"The nation is looking at Missouri," he added. "They're looking at that boy over there in North Kansas City, what happened on Thursday night, and then in one week we go and pass something like this. What do you think the nation is going to say about the state?"
Violence happens
The symbolic significance of the shooting is complicated, many of those interviewed told Newsweek.
While people try to indict the neighborhood Lester lived in as a symbol of racial division, Ford said that some of Lester's white neighbors defied warnings to stay inside so they could help Yarl.
Some were unhappy with the way police handled the case, particularly in their decision to release Lester after just two hours of questioning. Many believed it showed a double standard in how local police investigate white suspects versus Black suspects.
Ultimately, others—particularly conservatives—argued that the only distinction in the Yarl case was his skin color, citing similar shootings that took place within days of Lester pulling the trigger that failed to catch the notice of the celebrities who flocked to bring public attention to the case.
In upstate New York on Saturday, a 20-year-old woman was shot to death by a man on his porch after she'd mistakenly pulled into the wrong driveway. Early Tuesday in Texas, two teen cheerleaders were shot and wounded after one of them mistakenly entered the wrong car in a lot. And on Thursday, a North Carolina man was arrested after he shot and injured a 6-year-old girl and her parents after she entered his yard to retrieve a ball.
Those three shootings prompted anger from some who felt Yarl's shooting was being politicized after he was invited to the White House.
"For a shooting like this to take place in Kansas City, north of the river, is unusual," said Ford, the former city councilman. "We just don't have very many murders up here. I can't remember the last time we had a white person shoot a black person. So it's not like this happens all the time.
"South of the river in Kansas City every day, you have a black person shooting a black person," Ford added. "That is not newsworthy, and no one is outraged. The civil rights attorneys don't come in and demand justice. We had a 3-year-old toddler shot and killed in Jackson County [on Christmas Eve, according to the Kansas City Star] and we hardly heard a peep from the mayor and the city officials. Sometimes that sense of outrage is no longer there when it's black-on-black crime."
A Culture on Trial
What made Yarl's case so impactful to activists in Kansas City wasn't that it was a Black kid being shot by a white man. It was an amalgamation of factors: the current political environment and depictions of the Black community by the national media, particularly regarding crime.
Lester, who walked with a cane and had difficulty moving during his arraignment Wednesday, said in police interviews that shooting Yarl was "the last thing he wanted to do" but he was "scared to death" because of Yarl's size as well as his own ability to defend himself at his age.
"He believed he was protecting himself from a physical confrontation and could not take the chance of the male coming in," according to a police statement.
Yarl, however, claimed he never tried to open the door. Even if he did, his attorney argued, that would not be enough to invoke the self-defense protections allowed under Missouri's "Castle Doctrine," which allows for homeowners to shoot an alleged intruder if they believed they posed a threat.
"Mind you, touching the door in and of itself wouldn't be enough to justify the use of deadly force," Merritt told reporters Wednesday. "Ralph rang the doorbell and waited quietly outside until the door was open."
For some, the question was not whether Lester acted willingly and purposefully to shoot a Black person: It was what would make him afraid in the first place.
Shortly after Lester's arraignment, Ludwig did interviews with the Kansas City Star and CNN in which he mentioned that his grandfather regularly consumes content from conservative outlets like Fox News and One America News that he said made him more paranoid of the outside world.
Numbers showed that last year, a conservative news viewer was highly likely to see content about how violent the world appeared to be becoming. In the lead-up to the 2022 midterm elections, the Fox News channel saw a surge in its coverage of crime in liberal cities around the United States. One survey, by the left-leaning Media Matters for America, noted that the network's weekday violent crime segments decreased 50 percent in the week of the election compared to the weekly average since Labor Day.
"I hesitate to say he got more extreme, because all this stuff has been extreme," Ludwig told the Star. "It's been the same story for decades and decades, and generation to generation of people believing the same things. It's just nowadays people are acting on it a little bit more."
In this instance, Lester's fear quite literally came knocking on his front door.
While Missouri prosecutors declined to pursue hate crime charges against Lester, Merritt and some members of Kansas City's city council said this week that they are pushing the U.S. Department of Justice to pursue federal hate crime charges, saying that his decision to shoot Yarl—while fear-motivated—was specifically because he was afraid of Black people.
"It's a soup of a lot of things," Johnson told Newsweek. "The fear-mongering that happened, the fear-mongering that led to his idea that the person at the door, this 5-foot-8 Black boy, was a threat. The culture of fear is on trial."