The arraignment of Donald Trump was made for television.
The former president's every move—from his plane taking off to his motorcade traveling to the courthouse—earned wall-to-wall coverage on every news station in America last week when he was arraigned in New York City on charges related to a hush money payment made to an adult film actress before the 2016 election. Panels of talking heads spent the week weighing the strength of the Manhattan district attorney's case against him, as well as its political implications.
Meanwhile, the 2024 presidential candidate, while at the center of the media maelstrom, was cashing in, raking in millions of dollars in donations from campaign loyalists as he dominated the airwaves. He has denied any wrongdoing in the criminal case and the actress' claim that they had an affair.
The biggest beneficiary of Trump's legal troubles, though, may be his potential 2024 opponent, Joe Biden, whom Trump gifted with a week out of the spotlight and the news cycle's focus.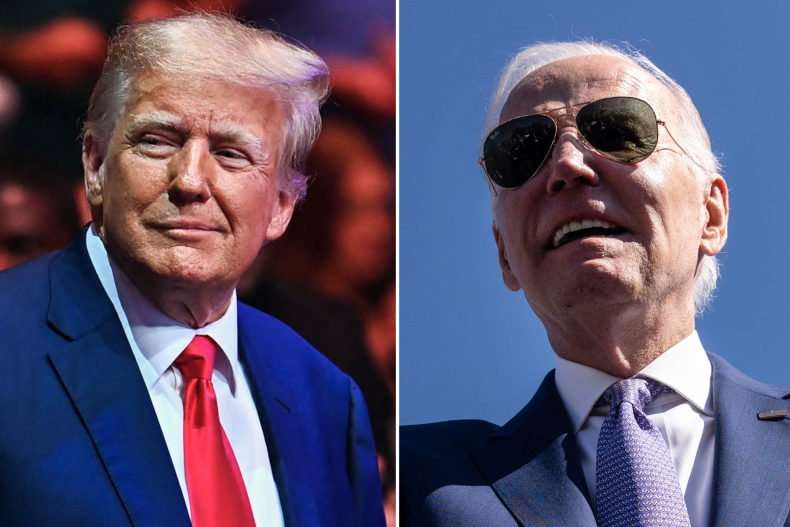 Several days after Trump's arraignment, Biden's Department of Education announced a controversial proposed change to Title IX that would prohibit sex-based discrimination in federally funded education programs—essentially cutting the legs out from under legislation in GOP-led states barring transgender athletes from participating in women's sports.
That same day, his administration also released a 12-page summary of his administration's disastrous 2021 withdrawal from Afghanistan, largely placing the blame on his predecessor. And over the weekend, niche debates raged over topics like misleading narratives about an alleged "global digital currency" and the administration's possible involvement in pressuring Israel over military aid to Ukraine, as detailed in leaked memos from the Pentagon.
While each story was widely covered by national media, both apparently failed to gain traction with the public—a fact that did not go unnoticed by some of Trump's most loyal supporters in the media.
"The mainstream media…is loving every minute of this," Fox News host Dan Bongino, one of the most popular personalities on one of the highest-rated cable news networks in the country, said about Trump arraignment's in a segment last week.
"But while the left has us all focused on their shiny object—Trump! Trump!—multiple crises are piling up behind the scenes, very serious ones. And the mainstream media, the lefties, are hoping you're not paying attention," Bongino said.
"[The Trump arraignment] is nothing but a distraction," blared a tweet from the pro-Trump Right Side Broadcasting Network last week, featuring an interview with a protester at Trump's court appearance who believed the effort to charge and arrest the former president was an effort to distract attention from Biden.
Whether intentional or not, the so-called politics of distraction has long been a common phenomenon, fitting in with long-standing patterns of controversies being washed out by bigger stories.
In 2019, researchers Ruben Durante and Milena Djourelova published research arguing that presidents tended to issue controversial executive orders to coincide with other events that "distract the media and the public," allowing them to avoid the negative publicity they otherwise would get. Others do it as well: In the past decade, published research has shown that corporations and the military also rely on the concept of "strategic planning" in an effort to dodge scrutiny.
Unlike other events, what makes the Trump case unique is the former president's ability to drive narratives and set the media's agenda, political strategist and Southern Methodist University professor Rita Kirk told Newsweek. In addition to drawing "liberal" outlets' attention, outlets normally dedicated to attacking Biden are now pushed into scenarios where they have to defend Trump, essentially diverting them from their typical programming strategies.
Substantial political messages, Kirk said, are not receiving proper weight.
"News organizations like eye-candy stories that lure viewers to follow events," she said. "Trump gets almost wall-to-wall coverage because he is so unpredictable and the shock value of his next statement is entertainment. That disguises many of the real issues that should be the substance of a well-educated electorate."
It's not just Biden who benefits. As discussions about Trump carried on, some said that other controversial decisions—for example, Texas Governor Greg Abbott's decision to pardon someone convicted of killing a legally armed Black Lives Matter protester during 2020 protests there—failed to receive equal attention from the political press. The latter, critics said, was too easily distracted by what former President Barack Obama once described as the "shiny objects" that drive news agendas.
With all eyes on Trump, Kirk said, other storylines go unrepresented in the news cycle, allowing figures who should be attracting more coverage—like Florida governor prospective presidential candidate Ron DeSantis—to receive far less airtime.
"On the Republican side, we should see two sharks in the water. We're not," said Kirk. "It's just Trump playing by himself. He's not in opposition to anybody."
At this point, it's considered part of Trump's M.O. After the Trump motorcade coverage, outlets like the Columbia Journalism Review attacked the media circus that played right into Trump's hands by supporting the argument that the charges against him were nothing more than an attempt to distract from Biden administration controversies.
"THE ONLY REASON I HAVE THESE ABSOLUTELY RIDICULOUS INVESTIGATIONS AGAINST ME, HEADED UP BY RACISTS, LUNATICS, AND RADICAL LEFT MANIACS, IS FOR PURPOSES OF ELECTION INTERFERENCE," Trump raged in a post on his social media platform, Truth Social, on Monday.
"IT WILL BE HARDER FOR THE DEMOCRATS TO CHEAT LIKE THEY DID IN 2020, SO THEY ARE GOING RIGHT TO THE OLD SOVIET UNION PLAYBOOK AND USING THE DOJ, FBI & OTHERS IN 'JUSTICE' TO INTERFERE IN OUR ONCE SACRED ELECTIONS," he added. "WE'VE GOT TO SWAMP THESE CHEATERS, AND WE WILL WIN!"
The problem with that strategy, however, is that it leaves Trump perpetually forced to defend himself, leaving him little time to do what political candidates typically would in their attempt to unseat an incumbent: make a case why he's the better option.
"Trump is overshadowing his own message strategy," Kirk said. "While he relishes being the poster child for underdogs crushed by a corrupt governmental system, his most important message should be to make the case as to why he's the better option to lead the country. That message is, sadly, absent."