A hearing on crime held by the House Judiciary Committee on Monday took several surprising turns with members from both sides of the aisle offering an array of different views.
On Monday, the House Judiciary Committee, led by Ohio Republican Representative Jim Jordan, held a hearing in New York City to discuss violent crime and District Attorney Alvin Bragg's policies.
"The House Judiciary Committee will hold a field hearing on Monday, April 17, 2023, at 9:00 a.m. ET in New York City, New York. The hearing, 'Victims of Violent Crime in Manhattan,' will examine how Manhattan District Attorney Alvin Bragg's pro-crime, anti-victim policies have led to an increase in violent crime and a dangerous community for New York City residents," the committee said in a statement regarding the hearing.
Earlier this month, Bragg indicted former President Donald Trump in connection to an alleged hush money scheme to silence adult film star Stormy Daniels before the 2016 presidential election, sparking a feud between Bragg and the House Judiciary Committee.
While Monday's hearing featured speakers criticizing Bragg and crime in Manhattan, some Democrats on the committee shared different opinions, including some calling for the hearing to be moved to Jordan's home state of Ohio.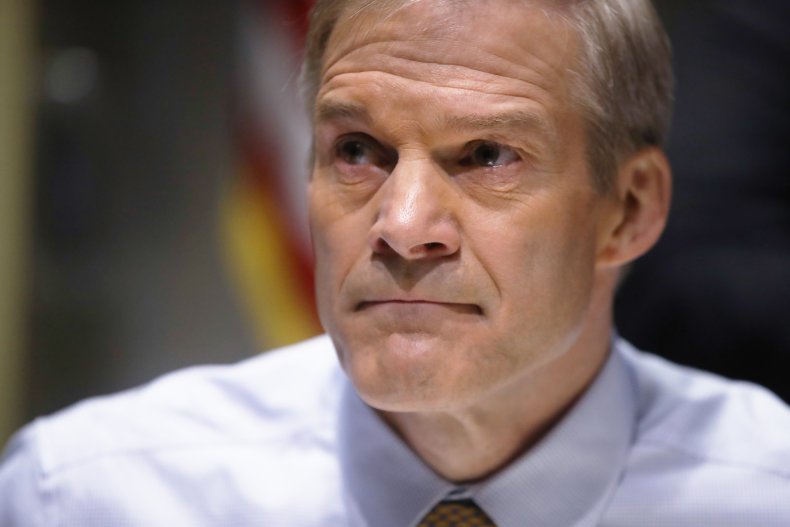 Toward the beginning of the hearing, committee members heard impact statements from several New York residents who have experienced violent crime incidents. Democratic New York City Council member Robert F. Holden also spoke early in the hearing and criticized Bragg's policies.
"On his first day in office, Bragg issued a memo that would decriminalize a broad range of offenses and reduce charges for violent crime," Holden said. "This was a signal for every criminal that it was open season on law-abiding citizens in New York….These failed progressive policies reverse 30 years of law and order delivered to the city by the hardworking men and women of the NYPD and professional prosecutors that put victims' rights ahead of criminals."
During another portion of the hearing, Jim Kessler, the co-founder and senior vice president for policy for Third Way, provided an array of crime stats in New York City and spoke about how they compare to other cities across the nation.
Kessler said that "New York City is not only safer than most large cities in America, it is safer than most cities of any size, and on a per capita basis, New York City is safer than most of the states of the members sitting…on the majority side."
Kessler went on to say that Ohio's murder rate was higher than the rate in New York City in 2020.
Shortly after Kessler read off numerous crime trends in New York City and how they compare to other cities, Representative David Cicilline, a Democratic member of the committee, asked Jordan if the hearing could be moved to Ohio.
Representative Zoe Lofgren, another Democratic member on the committee, also spoke about the witnesses and said she felt they were being "used for a political purpose" by the Republican members, sparking a response from the crowd, which appeared to disagree.
Republican Representative Matt Gaetz also issued a response to Lofgren's comments and asked many of the witnesses if they felt used.
"I'm a willing participant," witness Madeline Brame, the mother of a homicide victim, said in response.
Democratic member Henry Johnson also criticized Jordan and the location of the hearing, which prompted many audience members to speak out in disagreement. Jordan called for order in the hearing and warned that some could be asked to leave if they continued to interrupt. Later on, an individual in the audience was escorted out of the hearing by police officers.
Newsweek previously reached out to Jordan's press secretary for comment via email.