A bodega worker, the mother of a homicide victim, and a woman whose boyfriend was killed are among those scheduled to testify Monday in New York City as part of the GOP House Judiciary Committee's hearing aimed at diminishing the credibility of Manhattan District Attorney Alvin Bragg.
Bragg has been in the crosshairs of some Republican lawmakers following his office's indictment of former President Donald Trump, who last week was charged with 34 felony counts of falsifying business records in association with allegedly covering up affairs and a payment made to adult film actress Stormy Daniels. Trump has denied any illegal wrongdoing in association with the charges and has also denied the affair.
House Judiciary Chair Jim Jordan has taken the reins, announcing on behalf of his committee that a "field hearing" will occur on April 17 at the Jacob Javits Federal Building located mere blocks from Bragg's office and from the courthouse where Trump was arraigned. Victims will testify about Bragg's "radical policies," per House Republicans.
Speakers will include Jennifer Harrison, Jose Alba and Madeline Brame, according to the Daily Mail.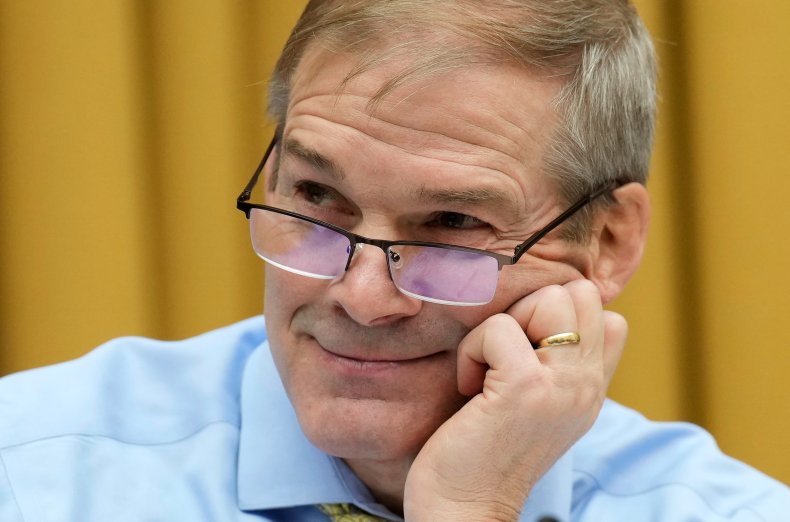 Who is Jennifer Harrison?
Jennifer Harrison is the founder of Victim Rights NY and has been vocal about Bragg and his policies, even including a "Fire Alvin Bragg" tab on the organization's website.
Harrison told Newsweek via email on Wednesday that her boyfriend and his best friend were both murdered by two brothers in Elizabeth, New Jersey, in 2005. One of the suspects was on parole in New York at the time, she said, while the one who took the sentence had a clean record.
"I was 27," Harrison said. "While all of my friends were planning weddings and having babies, I was sitting in court listening to how the knife recovered was so drenched in blood they couldn't get fingerprints, and why the love of my life was responsible for his own murder."
"The world will soon know how victims are treated by Soros-funded prosecutors, especially in Manhattan, by Alvin Bragg," she added, saying none of the dialogue should be political and that all prosecutors "need to do their jobs and prosecute criminals."
"The problem lies when a prosecutor cherry picks who to prosecute based on politics, leaving victims of violent crime and law-abiding citizens to fend for themselves in the world of anarchy the prosecutor helped create," she said. "But we, the victims, have no recourse in New York with no recall power and one party, super-majority rule.
"Alvin Bragg is calling this unconstitutional but perhaps this is the exact opposite of unconstitutional. Since when is oversight a bad thing? Only when you have something to hide. I am beyond grateful for this opportunity to shed some light on what is happening here in hopes it will make a difference everywhere."
Bragg is suing Jordan and other Republicans for what he calls an "unprecedently brazen and unconstitutional attack by members of Congress" on his office over the criminal prosecution of Trump.
Who is Jose Alba?
Alba was charged with second-degree murder last July after he stabbed 35-year-old Austin Simon to death with a knife while working the counter at the Blue Moon bodega in Hamilton Heights. The action was described by Alba as self-defense.
Charges presented by Bragg's office against Alba, which led to him being detained at Riker's Island on $250,000 bond, were later dropped after surveillance video was widely circulated.
Who is Madeline Brame?
Brame, chairwoman of New York State's Victim Rights Reforms Council, has been critical of Bragg and his office in wake of the death of her son, Army veteran Hason Corea, who was fatally stabbed in 2018 in Harlem.
Correa, a 35-year-old married father of three, was reportedly beaten and stabbed to death by multiple suspects outside an apartment building. However, Brame said she was unaware that two of the suspects had struck a plea deal with Manhattan prosecutors while another suspect was left off on time served.
"You violated my rights as a crime victim to be fully informed, and to be heard," Brame, a mother of five and grandmother of seven, wrote in a letter to Bragg and New York Governor Kathy Hochul last summer per the Daily Mail. "Why would you dismiss murder charges against half of the participants, when the murder and their roles were caught on video?"
Brame continued her criticism of Bragg and his office during an April 5 appearance on Fox News' Fox & Friends, comparing his statement that nobody is "above the law" in relation to Trump's alleged crimes to the death of her son.
"If no one is above the law, then I don't understand how Alvin Bragg could dismiss murder and gang assault indictments against two of the people involved in the murder of my son," Brame said.
Newsweek reached out to Brame via email for comment.
Jordan previously issued letters requesting the testimony of two former Manhattan prosecutors—Mark Pomerantz and Carey Dunne—in relation to Bragg's "unprecedented abuse of prosecutorial authority," as described by the GOP House Judiciary.
A tweet by the GOP House Judiciary on Wednesday said "more witnesses may be added" to Monday's hearing.
What Does It All Mean?
Lisa Parshall, a political science professor at Daemen University, told Newsweek via email that the return of the grand jury's indictment against Trump was likely to lead to more blowback by GOP lawmakers, including the use of a legislative platform in support of the former president.
"The House GOP may continue with their threats of hearings and use the congressional platform to bluster," Parshall said. "I personally do not see the limitation on congressional authority as related to legislative business as a significant obstacle…On that narrower question of forcing Bragg to testify, I agree the indictments do change the political calculus and, more importantly, bolsters Bragg's legal objections."
Newsweek reached out to Bragg's office via email for comment.