Conservatives raged on social media over first lady Jill Biden's political message at King Charles III's coronation on Saturday.
Biden and her granddaughter Finnegan Biden wore coordinated yellow and blue dresses to the coronation ceremony, representing the flag of Ukraine. The move was viewed as a sign of solidarity with the Eastern European country, which for more than a year has been fighting off an invasion from Russia.
The Biden administration, like many other world leaders, has supported Ukraine, supplying the war-torn country with billions of dollars in weaponry and condemning Russian President Vladimir Putin over the conflict, which they say was unprovoked.
Chatter on Twitter ensued about Biden's look at the historic coronation, with the first lady receiving praise and criticisms over the decision to show support for Ukraine.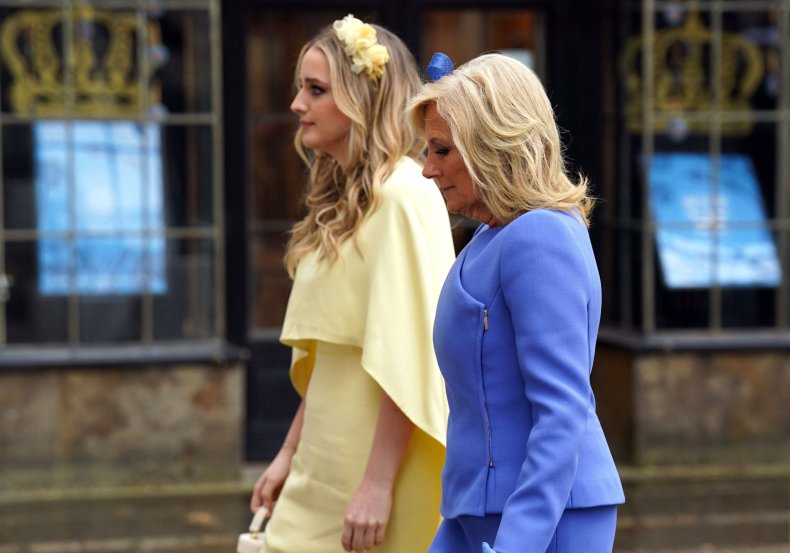 Right-wing critics of the Biden administration condemned the look, saying that the first lady should have instead worn colors representing the United States.
"Jill Biden was disrespectful to the United States and her office of First Lady by wearing the colors of the Ukraine flag with her granddaughter instead of representing our flag and our nation," tweeted Jenna Ellis, an ex-attorney for former President Donald Trump. "First Lady Melania would have been pure elegance and patriotism."
In a separate tweet, Ellis wrote, "America's First Lady represents Ukraine instead of America while in the UK. The Democrats hate America."
Lavern Spicer, a Florida congressional candidate, tweeted: "Jill Biden is not who should be representing America abroad."
Others, however, came to the first lady's defense, praising her for showing support for Ukraine and calling out her critics.
"Do you see how efficiently MAGA uses the US supporting its allies in Europe and standing up to Putin as a wedge to campaign against Biden? Do you see how closely aligned trump and Putin's interests are? And how they have been since putin illegally helped trump take power in 2016?" tweeted Luke Zaleski, an editor for Condé Nast.
Anton Gerashchenko, an adviser to the Minister of Internal Affairs of Ukraine, tweeted: "First Lady Jill Biden with her granddaughter at the coronation ceremony of King Charles the Third. The language of colors," alongside a yellow and blue heart, also representing the Ukrainian flag.
Newsweek reached out to first lady Jill Biden's office for comment via email.
During the coronation, the first lady and her granddaughter were seated next to Ukrainian first lady Olena Zelenska, who met with Jill Biden and Kate Middleton, the Princess of Wales, prior to the coronation, according to Middleton's official Twitter account.
Meanwhile, Biden expressed support for Ukraine in her last tweet before the ceremony, writing: "We stand with Ukraine."
The first lady served as the main representation of the U.S. at the ceremony, as President Joe Biden did not attend. Biden announced that he would not be appearing at the coronation in April, with experts previously telling Newsweek his absence should not be interpreted as a slight against King Charles III, as no U.S. president has attended the coronation of a British monarch since the country's formation.
Biden tweeted his congratulations to the new king and queen on Saturday.
"Congratulations to King Charles III and Queen Camilla on their Coronation. The enduring friendship between the U.S. and the U.K. is a source of strength for both our peoples," he wrote. "I am proud the First Lady is representing the United States for this historic occasion."