Influencer and makeup artist James Charles has stunned followers after revealing the incredible childhood home that his father built from scratch.
In a TikTok video with over 6.5 million views, Charles revealed that his parents were selling the home.
Giving viewers a tour of the property, which already has a sale pending, he revealed that his father built the house for the family to live in after purchasing the once empty swamp land.
With a series of snapshot family photos, Charles told his followers: "My dad saw the potential, bought the property, and built us his dream home.
"It was such a beautiful house, I'm so lucky that I got to grow up here," he said.
James Charles is an American YouTuber and makeup artist. Just 23 years old, he rose to fame online by sharing makeup tutorials.
Once calling himself a "catalyst" for "influencer reputation," Charles has an estimated net worth of $22 million, earning millions in ad revenue from his online content, including makeup tutorials and reviews.
Where Did James Charles Grow Up?
James Charles was born in 1999 in Bethlehem, New York, to parents Skip and Christine Dickinson. His father, a 62-year-old contractor, built their family home.
With a population of just over 35,000, Bethlehem is located in Albany County. It was also the hometown of Academy Award Winning actress Eva Marie Saint and former professional baseball player and current manager of the Kansas City Royals of Minor League Baseball Matthew John Quatraro.
In a full tour of the family home, Charles showed the spot where he had his first kiss, the artwork he won an award for in second grade and the living room where he would do all of his homework.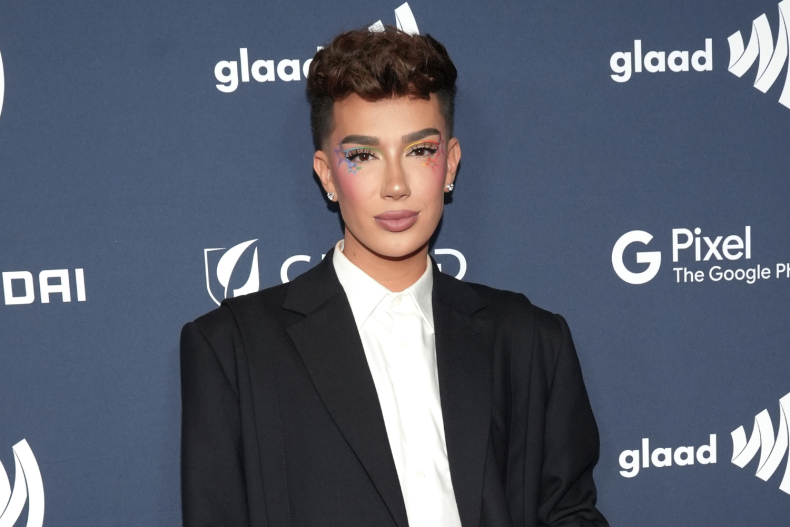 Charles began his career in 2015, posting YouTube videos of makeup tutorials from his bedroom. In 2016, he went viral for a Tweet where he re-took his senior portrait with a ring light and full makeup.
Since then he became the first male brand ambassador for cosmetics brand CoverGirl and launched his own makeup line in collaboration with cosmetics brand Morphe Cosmetics.
After rising to fame, Charles made many high-profile videos on YouTube, featuring figures including Kim Kardashian, Lil Nas X, JoJo Siwa and Doja Cat.
While Charles' career so far has been peppered with controversies and high-profile fallouts, his content continues to soar online with millions of followers across his social media platforms.
The YouTuber also picked out important family memories scattered throughout the family property.
"These are the bar stools my brother and I were sitting at when my mom told us that she was diagnosed with breast cancer," he said, before panning round to a dining table and adding: "But here's the family dinner table that we were all sitting at when she told us years later that she had beaten it."
The walls are filled with family photos, from pictures of Charles and his brother as children to polished shots documenting his influencer career.
Perhaps the most stand-out moment in Charles' childhood home tour though, was the place he said: "I know I'll miss the most" — his makeup studio.
Located in the basement, he recalled: "My dad built this for me as my career was starting to take off, and I really didn't think that I'd get emotional today, but as soon as I walked in and turned the lights on I immediately lost it and started crying."
With the rare insight into the influencer's childhood, his 37.7 million TikTok followers have been captivated by the video.
"James in his sentimental era," said one fan, while another praised his father's amazing skills and said: "Your dad is the best he deserves everything."
Newsweek has reached out to James Charles for comment via email.