A video of swabs taken from some of the most germ-filled areas on a plane has gone viral on TikTok, with 1.4 million views.
The clip was posted by TikTok user @the_lab_life1, who is a Master of Science student. It shows a person taking swabs of the headrest, the tray table and the notch that opens it, as well as the bathroom lock and handle. The samples were then incubated in a lab.
Traveling on a plane can come with serious health risks. "Over a dozen cases of inflight transmission of serious infections have been documented, and air travel can serve as a conduit for the rapid spread of newly emerging infections and pandemics."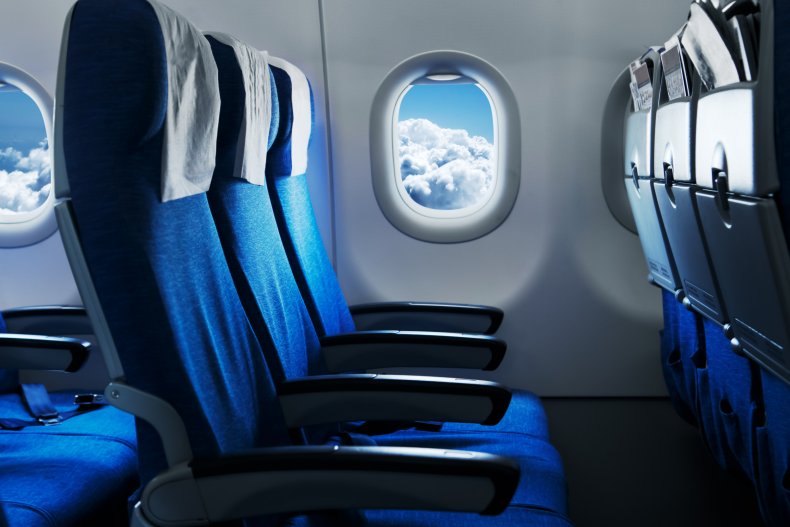 However, "the risks of transmission of respiratory viruses in an airplane cabin are unknown," said the March 2018 study in the peer-reviewed Proceedings of the National Academy of Sciences. The results of the research, which looked at 10 transcontinental U.S. flights, added that the "movements of passengers and crew may facilitate disease transmission." However, "there is low probability of direct transmission to passengers not seated in close proximity to an infectious passenger."
The latest viral clip was part of the poster's "What Will Grow?" series on TikTok, uncovering what bacteria are found in different spaces. The person was shown rubbing the swab samples onto three petri dishes (one for each area swabbed) that were incubated in a lab.
The bacteria were identified "based on morphology [a study of the shape and structure of living things], gram staining [a technique used to identify bacteria] and other chemical tests," according to a later comment by the original poster.
The video then showcased every petri dish, each of which had different patterns of small and large bubbles on it. The bacteria found were listed in messages overlaid across the clip, as outlined below.
Bacteria Found on Planes
Head rest
M. luteus (Micrococcus luteus) – found in natural environments, such as soil and water resources, and on human skin and oropharynx mucosa (tissue in the oropharynx, which forms part of the pharynx, the tube that connects the main cavities of the head and neck).
Streptococcus sp. – Streptococcus can cause different infections in the throat, skin and blood, such as strep throat and scarlet fever.
N. subflava (Neisseria subflava) – found in the nasopharynx (the top of the throat connecting the nose to the respiratory system) and in the genitourinary tract (organs of the reproductive and urinary system).
M. Smegmatis (Mycobacterium smegmatis) – found in human genital secretions and other animals, as well as soil, dust and water.
Tray table and notch
B. Subtilis (Bacillus subtilis) – a plant growth-promoting rhizobacteria commonly found in soil.
Bathroom lock and handle
Staphylococcus sp. – found in mucous membranes and the skin of humans and other warm-blooded animals.
Streptococcus sp.
Germophobes will be glad to know that the results of the swab tests were "much better than expected," according to a caption shared with the post. The bacteria found in these areas were "all pretty normal flora bacteria," it read.
In a later comment, the original poster wrote: "I'm a chronic disinfecter but this made me feel pretty good !!"
When User394196 asked, "Is that all bad bacteria?" the original poster replied "No, actually most of it is very normal and not harmful!"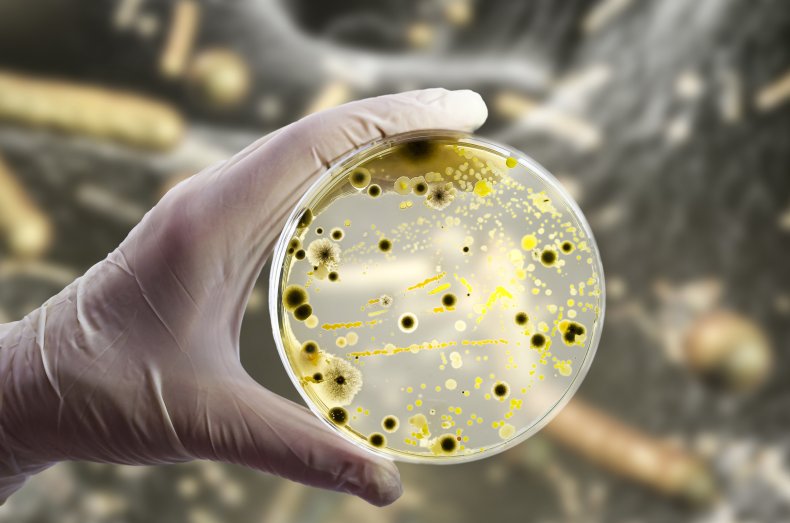 Several TikTokers were disgusted by the results, while some were also surprised. King wrote: "Be right back, need to go wash my hair …. Again."
User lovelyst4rs_ posted: "This is why I always wipe the tray table- the tv too." Dakota Burnside noted: "I figured the bathroom would be wayyyy worse!"
MellieDM commented: "Me deciding I want to know as you swab everything, although I already have contamination anxiety on airplanes."
Em wrote: "i will now be bringing wet wipes on my flight this summer."
Newsweek has contacted the original poster via TikTok and email for comment. This video has not been independently verified.
Do you have a similar video to share? Send it to life@newsweek.com with some details, and your story could appear in Newsweek.