A senior Indian official brushed off diplomatic protests out of Beijing on Monday over his two-day visit to a Himalayan frontier state that China claims as its own.
"We want peace from everyone. But the philosophy of Narendra Modi's government is that nobody can encroach upon even an inch of our land," Amit Shah, India's powerful home minister and a close confidant of its prime minister, said in remarks from Arunachal Pradesh in the country's northeast.
Arunachal, under Indian administration since before its independence in 1947, lies in the far east of the 2,100-mile Line of Actual Control (LAC), India and China's de facto border. On Chinese maps, it's known as Zangnan, literally "South Tibet." Over the years, Beijing has routinely opposed visits to the state by India's civilian and military leaders.
In comments later echoed by China's Embassy in New Delhi, its Foreign Ministry spokesperson Wang Wenbin said Shah's trip to the region "violates China's territorial sovereignty and is not conducive to peace and tranquility in the border areas."
Arindam Bagchi, a spokesperson for India's External Affairs Ministry, responded on Tuesday: "Arunachal Pradesh was, is and will always remain an integral and inalienable part of India. Objecting to such visits does not stand to reason and will not change the above reality."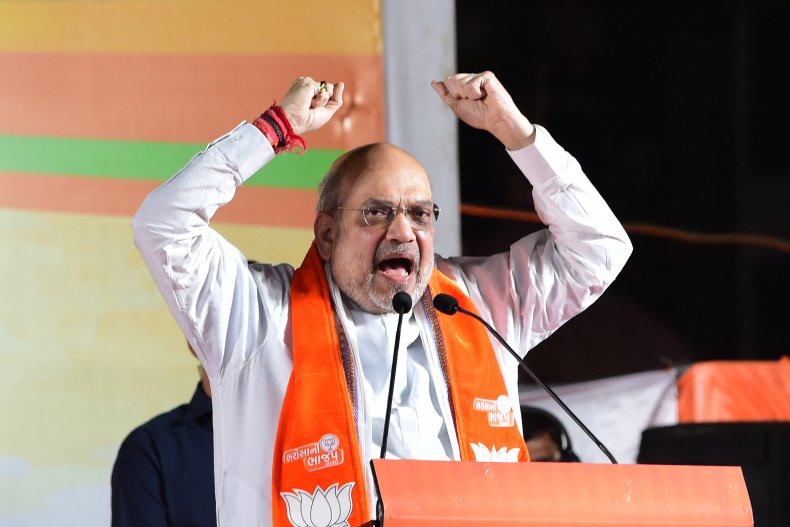 The two Asian giants fought a bloody war over their disputed border in 1962, when Chinese forces captured most of Arunachal before withdrawing after a cease-fire. Earlier this month, China's Civil Affairs Ministry announced new Chinese place names for 11 locations in Zangnan in a symbolic move to assert sovereignty over the region.
Arunachal has become a second front in the long-running political and military disagreement between New Delhi and Beijing, after their respective patrols clashed in the LAC's western Ladakh sector in June 2020 in a melee that killed at least 24 soldiers, the first fatal encounter in nearly half a century.
In December last year, the Indian Army said it repulsed—reportedly with U.S. intelligence assistance—a contingent of Chinese troops encroaching on the Arunachal town of Tawang. Beijing said it was India's patrols that had "illegally crossed" into the Chinese side.
India's foreign minister, Subrahmanyam Jaishankar, said in March that the "challenging and abnormal phase" in New Delhi's relationship with Beijing would continue until peace and tranquility could be restored in the border region.
Shah, the home minister, said India considers the boundary an utmost priority: "The security of the border is the security of the nation." He was speaking from Kibithoo, a village 7 miles from the LAC and which was overrun by the Chinese People's Liberation Army six decades ago.
Shah announced a $580 million infrastructure project that promised better connectivity for nearly 3,000 border villages in 19 districts. He also paid tributes to India's war dead at a memorial of the 1962 conflict, the official said in a Twitter post.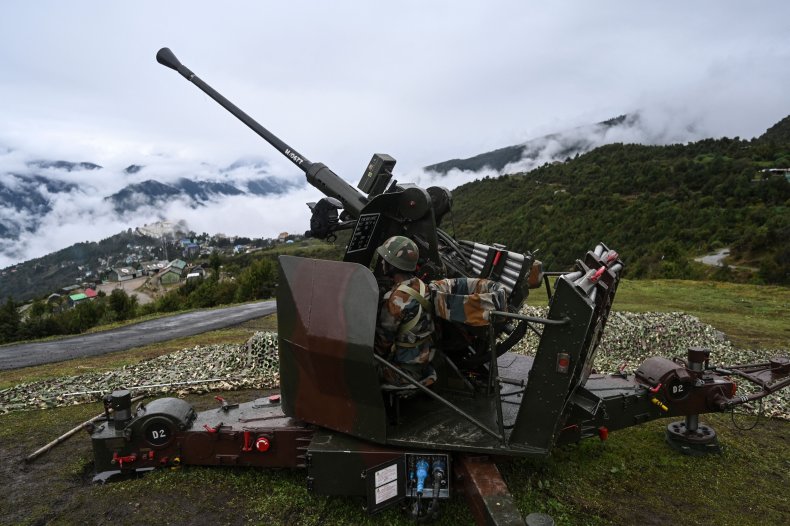 After the border clash in the 1960s, an apparently overextended China declared victory but pulled back from Arunachal, which borders its southwestern Tibet Autonomous Region. But around 1985, it began publicly asserting ownership over the region, said Manoj Joshi, a distinguished fellow at the Observer Research Foundation in New Delhi.
India-China confidence-building agreements in the 1990s brought relative calm to the LAC, but New Delhi had never avoided sending senior officials to Arunachal or other border regions for the sake of facilitating political dialogue with Beijing. "The Indians also want to make the point that we consider this Indian territory. To avoid high-level visits would be to concede that the Chinese have a case," Joshi told Newsweek.
"In terms of the actual handling of India's borders, India does it on its own. We don't expect any country to come out because we are unaligned in that sense," said Joshi, who believes the United States could assist with signals intelligence analysis of Chinese communications.
"India maintains very strong forces all across the Himalayas, and its forward deployment is more numerous than the Chinese. I don't think the Indians worry about defending their positions," he said. "The advantage that China has is operating on the plateau of Tibet. They can move forces to different parts of the border very rapidly."
With the decades-long status quo on the border deteriorating since the Galwan Valley fight nearly three years ago, Joshi argued the two parties could agree to coexist by reaching a new understanding on "no-patrol zones," which have been implemented in three places in the west of the LAC, where Ladakh's borders meet the Chinese regions of Tibet and Xinjiang.
"I believe that they plan to do that right across the LAC wherever they have zones of overlapping claims," he said.
Do you have a tip on a world news story that Newsweek should be covering? Do you have a question about India and China's border dispute? Let us know via worldnews@newsweek.com.