A cancer survivor and mother-of-two is encouraging others to get their lumps checked by sharing her story on social media.
Laura Smith, 33, from the United Kingdom was diagnosed with myxoid liposarcoma—a rare form of cancer that grows in fat storage cells—in August 2022. At the time, Smith thought that she was "too young for cancer" and almost ignored the painless lump in her thigh.
"I had no symptoms at all so getting cancer at 33 was such a shock to everyone," Smith told Newsweek. "I noticed the lump when I was sat cross-legged sorting the washing, as it was during the heatwave and I was wearing shorts. I thought it was maybe a pulled muscle and as it was painless I thought about just leaving it and seeing if it disappeared."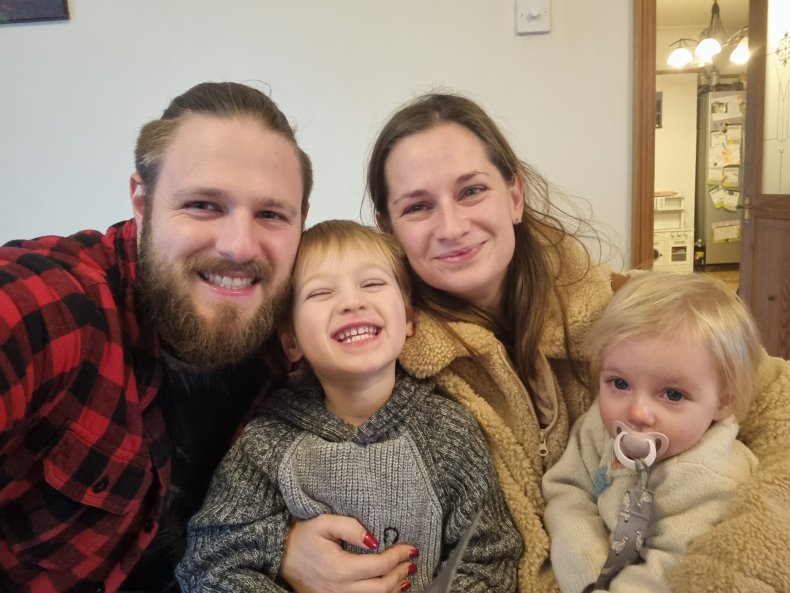 Her mother had recently been diagnosed with cancer, so Smith decided to get the lump checked just in case. "I never thought both my mum and I would be fighting cancer at the same time," she said.
The next day, she went to see her doctor, who referred her for an urgent ultrasound. The ultrasound was on her daughter's first birthday.
"The doctor doing my ultrasound told me on the day that it was large and looked sinister and that they would be referring me for an MRI, which I had four days later," Smith said. "I knew after the ultrasound that it was likely to be cancer so when they called with my MRI results to confirm I wasn't surprised."
Two weeks after finding the lump, Smith had her diagnosis.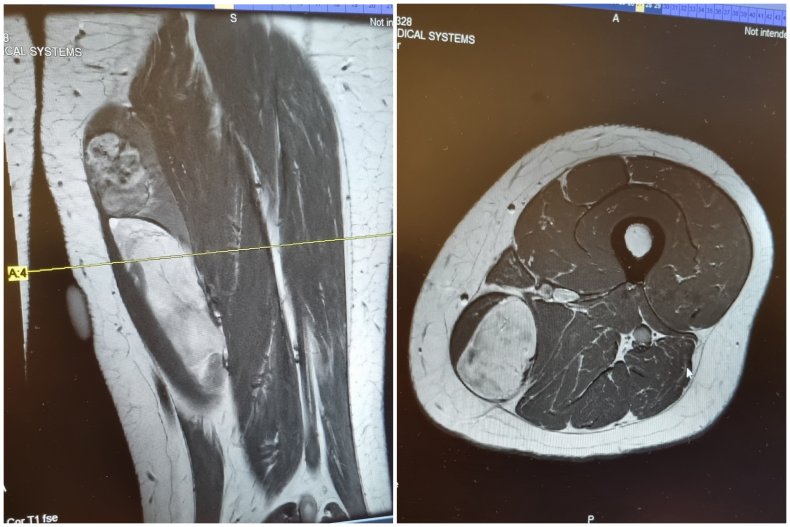 "Hearing the word 'cancer' was terrifying," she said. "I was so scared I would be leaving my husband and children but also ready to fight it with all I had for them. I felt so guilty for putting my family through more worry, especially my poor mum who was already going through her own cancer battle."
Smith started her treatment as soon as she could. "The thought of having the cancer growing inside me was awful," she said. In October 2022, Smith began radiotherapy.
"My radiotherapy was daily for five weeks so I missed a lot of evenings and bedtimes," she said.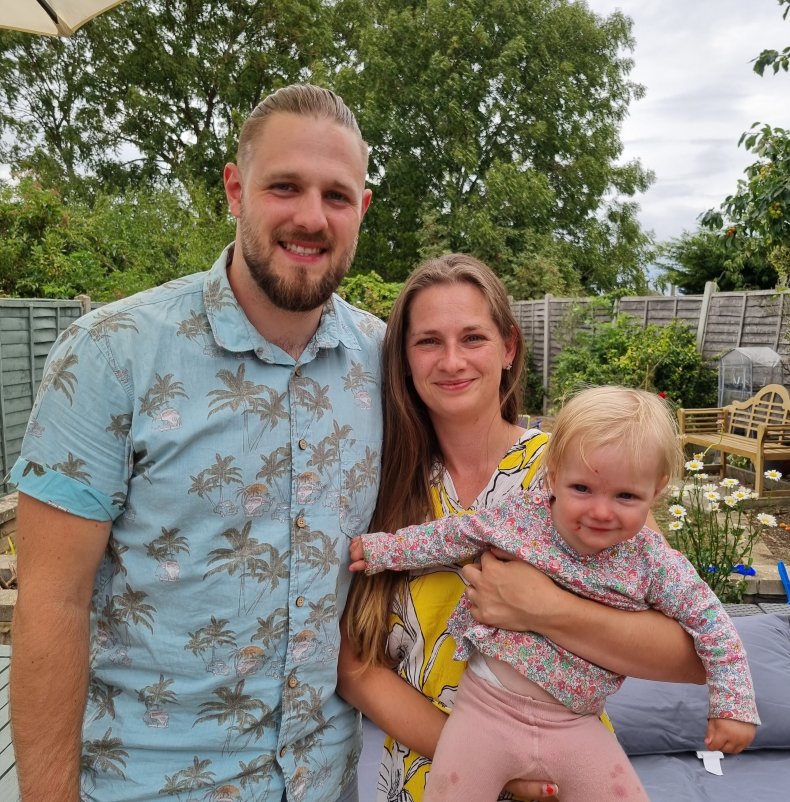 The treatment changed the tumor but it did not cause it to shrink so Smith underwent surgery to have it removed in January.
The surgery took place at a specialist clinic in Birmingham in the U.K., 100 miles away from her home. "I didn't see my husband or children for 8 days as it was too far for them to come for the day," she said. "My amazing husband face-timed me for every bath and bedtime so I didn't miss a single one while I was away."
Two weeks after the surgery, in January 2023, Smith was told that the cancer had been fully removed from her leg. In February, her doctors checked whether it had spread anywhere else, and, at the end of March, she finally got her results.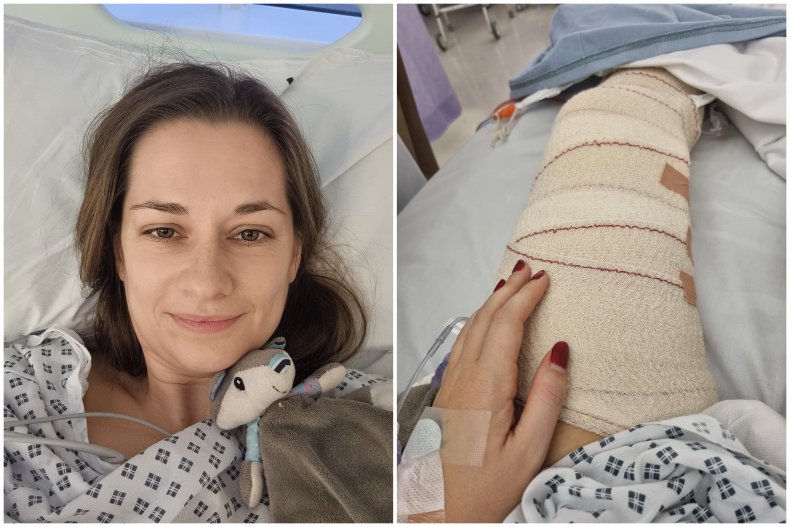 "I was finally given the news that there were no signs of metastatic disease and I was all clear," Smith said. "I cried happy tears that day."
Having cancer has profoundly changed Smith's outlook on life. "It has made me realize that the old saying of 'life is short' is all too true and I am finding happiness in the smallest of things, and treating myself more!"
However, she also finds herself feeling more anxious about the health of her family.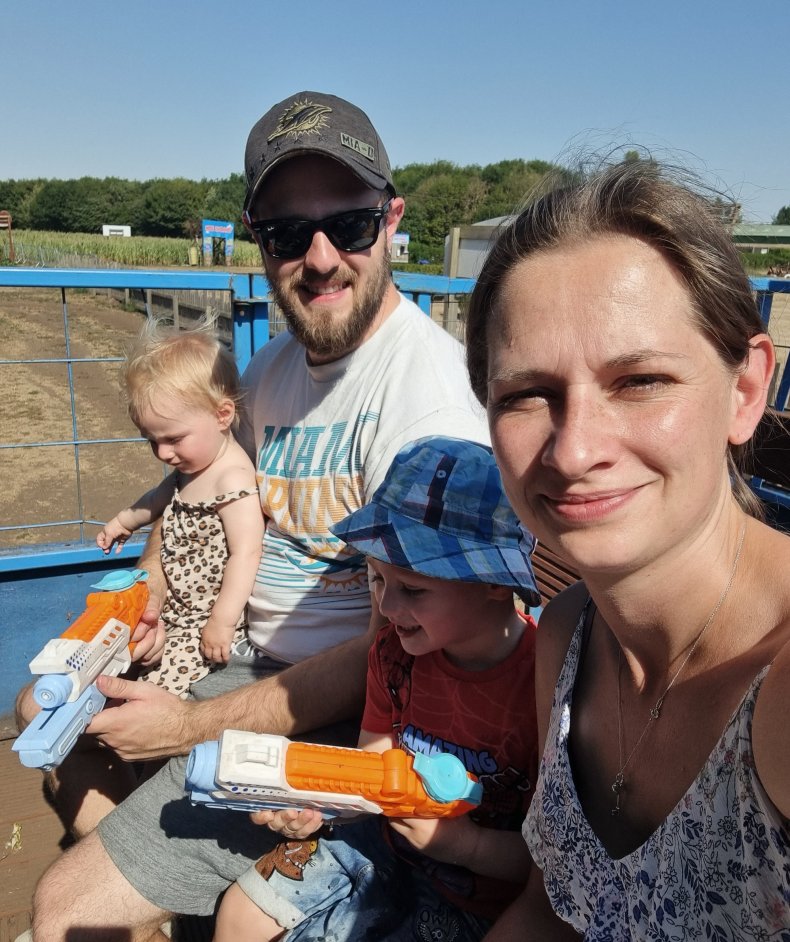 "I never thought it would happen to me so I am a little more paranoid about my family's health now," Smith said. "Where I never used to worry about things like coughs and colds I now tend to fear the worst, which I am working to overcome."
Smith started a TikTok page, @smithlk1, to share her journey on April 9 and has already received millions of views for her videos. In her second video, which has been viewed over 2 million times, Smith pointed out the tumor in her leg that had been "hiding in sight."
"If there's a message I would like to send to anyone it's check yourself for lumps regularly, not just the usual places they tell you but everywhere," Smith said. "I had never heard of getting cancer in your thigh muscle before so would never have thought to check, especially at the age of 33. It is so scary finding an unknown lump on your body but not getting it checked and the potential consequences of that is even scarier."
Is there a health issue that's worrying you? Do you have a question about cancer? Let us know via health@newsweek.com. We can ask experts for advice, and your story could be featured on Newsweek.