Significant fuel shortages in Broward County, Florida, that resulted from recent flooding was due to distribution issues and "human nature," Broward County Mayor Lamar Fisher told Newsweek on Thursday.
Last week, the county experienced record rainfall labeled by officials as a "one-in-1,000" weather event, during which about 26 inches of rain fell in a 24-hour period. The rain prevented trucks from being able to distribute fuel from Port Everglades to stations, sparking concerns about a gas shortage in the state.
GasBuddy, a travel and navigation app, estimated that nearly 60 percent of gas stations across Broward County, which is home to 31 municipalities that included the hardest hit cities of Fort Lauderdale, Hollywood and Dania Beach, experienced fuel shortages.
It led to what Fisher said was panic fuel purchases in some regards.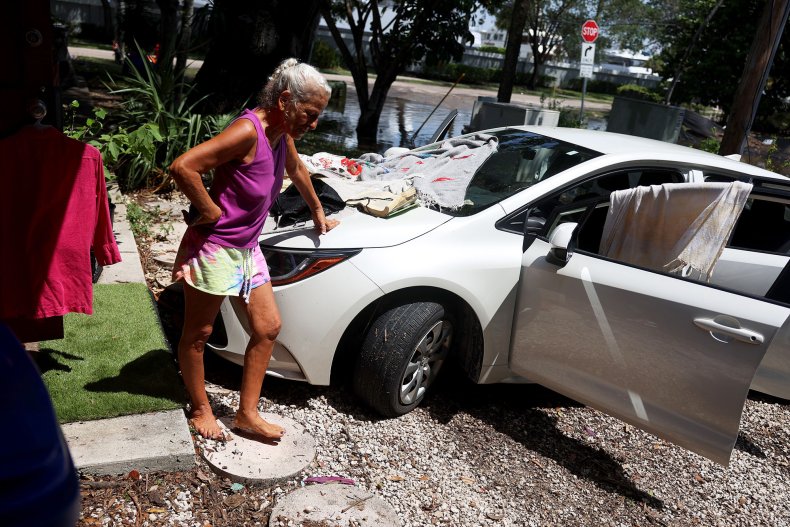 "I think it's just human nature that when a crisis does happen, people tend to hear that there's low fuel," Fisher said. "They want to go fuel their cars, they want to fuel gas cans. And you see that on the news where folks have three or four gas cans that they're trying to fill up, too."
Fisher said a major problem emanating from the flooding aftermath that "a lot of people don't know" is that Port Everglades, a cruise and cargo seaport in Fort Lauderdale and Hollywood, works with privately-owned petroleum partners that own and control terminals on private property that have the petroleum in them.
The fuel then makes its way onto tankers that supply gas stations with petroleum. The mayor said about 1,200 tankers typically come out of the port daily to service gas stations, so the 36-hour gap caused officials "to play catch-up."
"We have plenty of fuel at the port," Fisher said. "We have multiple ships with fuel. So, fuel's not the issue; it has just been the distribution to these gas stations, but I can tell you that as I rode around Brower today [Thursday], I would say that 80 percent of the gas stations that I saw were operating—and there were actually no lines, which was very encouraging."
An update provided by Port Everglades on Friday afternoon stated that 11 out of 12 gas terminals are operating, with the anticipation that all 12 gas terminals will be functioning properly the end of the day.
Fuel continues to arrive by ship, the update added, and drivers in South Florida should expect to see service stations replenished "over the coming days." Two vessels in the port are reportedly ready to unload, in addition to four more tankers offshore.
Ellen Kennedy, director of external Affairs and cruise services at Port Everglades, told Newsweek via email on Thursday that terminals experienced severe flooding and couldn't reopen until they completely dewatered. It took six days, in part, because "there was nowhere for the water to go."
Meanwhile, Fisher wants to use the recent storm as a learning experience, and is looking for ways to handle future calamities. A reimplementation of the county's master plan will take into account a future similar flooding situation.
The mayor said two days prior to the storm, the county's public works department made sure drains were clear and debris was removed.
"But no one would have ever predicted 26 inches in seven hours….I think also our capital improvements plan that we designate every five years, I think you'll see some different resiliency plans for those developments that occur and what our capital improvements will happen," Fisher said.
To help with the distribution problem, Amelia Johnson, spokesperson for the Florida Division of Emergency Management, told Newsweek on Wednesday via email that the State Emergency Response Team deployed over 500,000 gallons of fuel to southeast Florida.
The first fleet of trucks arrived Tuesday night, and arrivals continued Wednesday and Thursday.
Fisher said the neighborhoods of Edgewood and Melrose were among the hardest hit from the flooding. The Federal Emergency Management Agency (FEMA) currently has four separate teams going door-to-door to evaluate the number of damaged homes. However, the storm resulted in no deaths, something Fisher called a "blessing for everybody."
"I think we'll learn from this experience to be able to in the future to ward off this issue," he said. "So, what bad comes good, and I think we had this unfortunate tragedy happen to us. But good comes out of it as now we are able to learn from it and able to prepare for the future."