A blockade of the Russian-occupied Crimean Peninsula by Ukrainian forces could impact resources and force Vladimir Putin to shift his wartime strategy, a former United States ambassador told Newsweek.
Russian military units located along the 800-mile front have reportedly been preparing for a Ukrainian spring counteroffensive in the eastern Donetsk region for months.
Tamila Tasheva, Ukrainian President Volodymyr Zelensky's top representative for Crimea, said recently that Russian citizens' anxiety in the region is palpable and evident by thousands fleeing Crimea and abandoning their properties for safety reasons.
Ukraine's purported counteroffensive may come on the heels of Putin and Russia canceling their annual Victory Day celebration on May 9 in areas including Crimea, Kursk and Belgorod.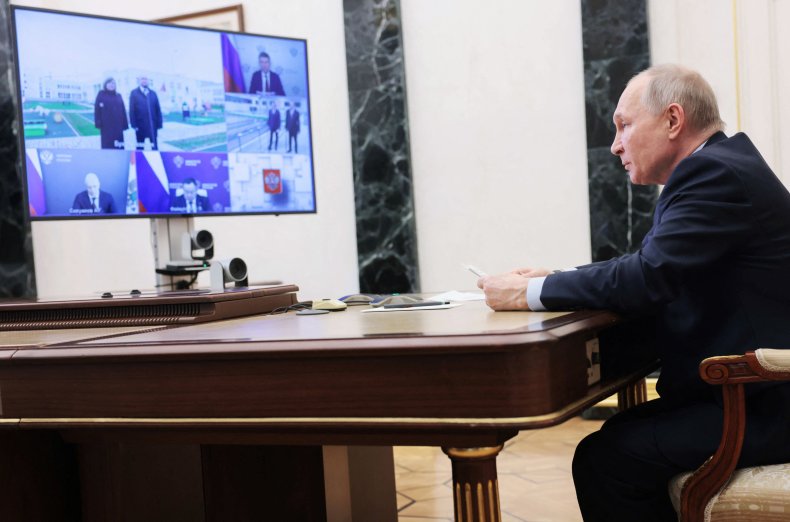 William Courtney, an adjunct senior fellow at the nonpartisan RAND Corporation and a former U.S. ambassador to Kazakhstan and Georgia, wrote in a recent op-ed published by The Moscow Times that a blockade may ultimately be a better long-term strategy for Ukraine than attempting to completely overtake the territory annexed by Russia in 2014.
Courtney told Newsweek in a phone conversation that Crimea's significance in the ongoing conflict is due to the annexation nearly nine years ago, compounded by Putin's nuclear threats. It has led to suggestions of a blockade aided by modern technologies with a focus on the Black Sea.
"If it were blockaded it would mean essentially that Russians could not use Sevastopol as a naval base," he said, adding that warships in the Black Sea could not harass Ukrainian shipping. "This would have a pretty powerful impact."
A blockade could also force Putin and his military brass to reanalyze its strategy and inflict more damage in other manners, such as part of a more proliferated use of air defense weapons. They could also carry out more forceful attacks elsewhere.
He expressed a particular focus on the Kerch Bridge, which has been previously targeted by Ukrainian forces due to it connecting Russia with Crimea and negatively affecting logistics. It would also affect Russian warships in the Black Sea, he added.
"It would not only neutralize a lot, but not all, of Russia's military capability in Crimea but it will also weaken military support for Russian troops starting in Kherson and the Zaporizhzhia oblast," Courtney said.
Ukrainian President Volodymyr Zelensky has essentially said a resolution to this war will not occur unless Ukraine successfully retakes Crimea.
Courtney said a ceasefire or armistice requires no political settlement and would essentially mean a two-nation agreement to stop fighting. A political settlement would require Ukraine to cede the Crimean territory it has been so adamant about reclaiming.
"I don't think there's any possibility of a political settlement," he said. "The Ukrainians would absolutely be opposed to that, and the West would certainly not pressure Ukraine legally to cede some of this territory."
A ceasefire could come into effect if Ukraine hypothetically took other territories important to Russia and Crimea was the major land up for grabs, Courtney said, but he declined to predict what could occur considering the unpredictability of war and this conflict that has already surpassed 13 months.
He does, however, expect continued support from NATO allies.
"The West will continue aiding Ukraine because this is such a clear-cut example of naked aggression," he said, comparing it to the West's strong responses in Korea and during the Cold War.
Andriy Zagorodnyuk, who served as Ukraine's defense minister from 2019 to 2020 and is now an adviser to Zelensky's government, previously told Newsweek that Russia's construction activity in Crimea is no surprise.
"Of course, the Russians are trying to fortify but I don't think it will work, simply because it's not the early 20th century and physical fortifications cannot guarantee that a force will be able to keep a position," Zagorodnyuk said. "They will be attacked in from the air with missile strikes, airstrikes, and so on."
He also stated that Crimea's "invincibility is very much overestimated by international observers."
Hilary Appel, a government professor at Claremont McKenna College in Claremont, California, told Newsweek over email that it would be "very difficult if nearly impossible" for Ukrainian forces to succeed in Crimea on military force alone.
She agreed that the Kerch Bridge could be a vital military success on Ukraine's behalf.
"Pushing Russia out of Crimea in the current context would likely mean assuming control over the base in Sevastopol," Appel said. "While previously Ukraine was willing to accept Russia's control over the base and the stationing of the Black Sea Fleet there on its territory, the invasion has changed that. The Ukrainian leadership does not want any Russian soldiers stationed on its territory now."