Queen Camilla has been crowned in the final culmination of a decades long transition from King Charles III's secret mistress into his official consort before the eyes of the world.
Charles and Camilla first dated before the king ever met Princess Diana and her continued presence in his life cast a shadow over his first marriage from the word go.
Diana and Charles argued when she discovered he bought Camilla a present, a gold chain bracelet, before the ceremony, causing her to consider cancelling the wedding. On their honeymoon the princess had nightmares about Camilla.
Diana, clearly, could detect what is now plain to be seen, that however much the king may have genuinely wanted to commit to Diana in that moment, he always loved Camilla.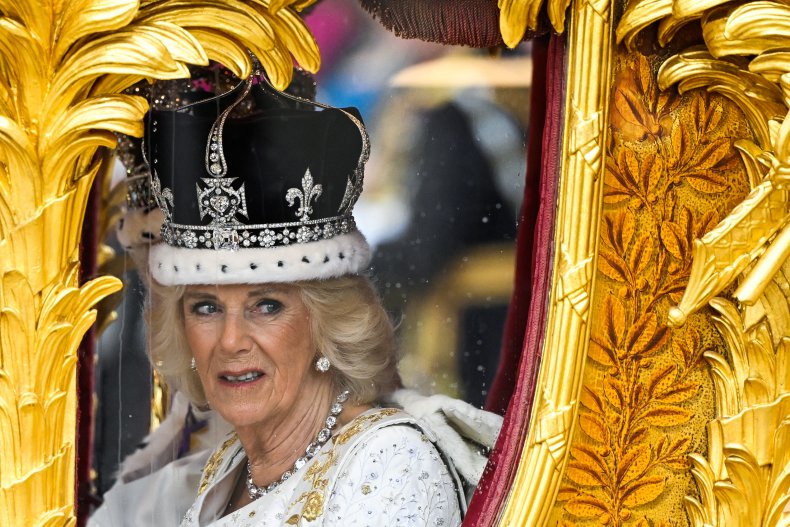 Prior to 1992, the Queen Consort was not a household name in Britain. Then a book by biographer Andrew Morton, secretly written with Diana's help, exposed their affair for the first time, shattering Charles' popularity with the British public.
Charles and Diana separated that year and divorced in 1996, two years after Charles admitted infidelity in a TV interview and one year after the princess famously told the BBC: "There were three of us in this marriage so it was a bit crowded."
Then tragedy struck in 1997 when Princess Diana died in a car crash in Paris, sparking assassination conspiracy theories which were ultimately debunked by the police.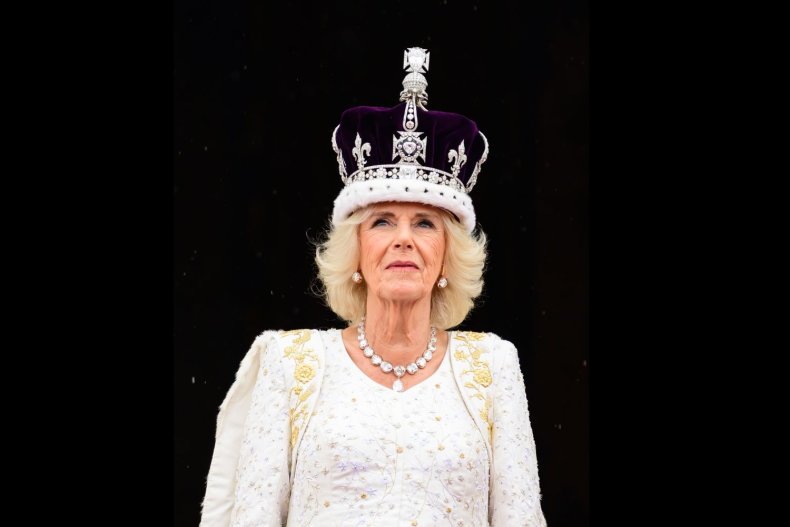 In the years that followed, Charles slowly brought Camilla out of the darkness and into the light, taking her with him to events where they would be photographed together.
By 2005, they married though in the face of opposition from both the king's sons, Prince Harry and Prince William, according to Harry's book Spare.
The couple were denied a church wedding because Camilla was a divorcee with a living former spouse, her ex-husband Andrew Parker-Bowles. He was among the guests at the coronation.
Instead, they had a civil ceremony at Windsor Guildhall, which Queen Elizabeth II did not attend, followed by a blessing where Charles' mother was present at St George's Chapel, Windsor Castle.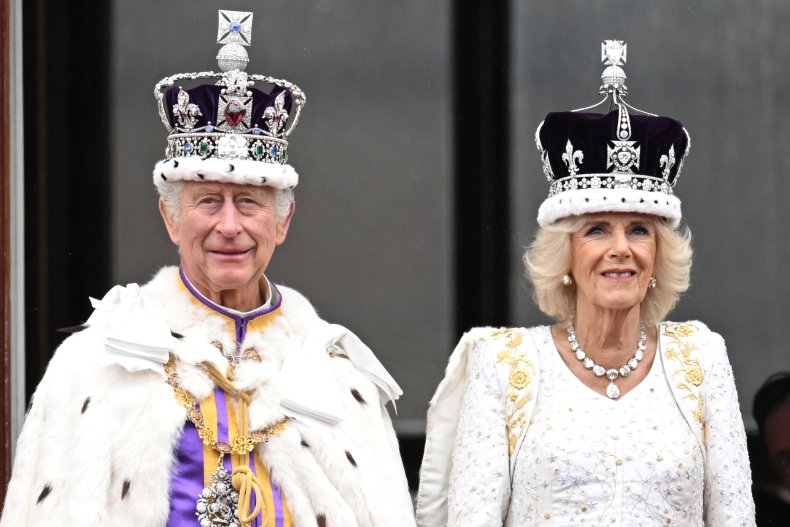 The palace told journalists Camilla would never be queen, instead taking the title Princess Consort, a move geared towards showing respect for Diana.
Fast forward less than 20 years and Camilla's transition is complete, even in the face of a new broadside from Prince Harry, who accused her of sacrificing him on her PR altar as recently as January when his book came out.
Camilla struggled to stop herself adjusting Queen Mary's crown as it was placed on her head by the Archbishop of Canterbury during the religious ceremony.
The crown has a controversial past having borne the Koh-I-Noor, a famous diamond which critics say is tainted by the crimes of the British Empire.
But like Camilla, the crown had already been stripped of its painful history by the time it was presented to the world at Westminster Abbey on May 6.
Not only was she crowned queen, but her grandsons played a key role alongside Prince George as pages of honor, embracing not only her present day but the marriage and family that came before.
One milestone on Camilla's journey came as recently as February 2022 when Elizabeth used a major statement on the eve of the 70th anniversary of the death of her father, King George VI, to express her wish that Camilla be given the title Queen Consort.
The Royal Family website went one step further when it emerged on coronation day that its description of her had been changed to simply read: "The Queen."
Ingrid Seward, author of Prince Philip Revealed, told Newsweek the late queen's intervention in 2022 was less relevant than Charles' long standing determination that Camilla should be queen: "She would have been queen anyway. It is the wish of the king and Charles is the king and he wanted her as his queen.
"I think it was her hard work that made the difference because Camilla was notoriously quite lazy. When the queen saw her really get down to it and really be supportive to Charles she thought 'she's cracked it now.'
"Charles owes her pretty well everything to Camilla I would think. More than we will ever know. There is a dark side to the king as we have seen but I think she levels him out and makes life more enjoyable for him.
"He's never really had anyone whose taken that much interest in his mental wellbeing before."
The campaign to ensure Camilla got the title that was once destined for Princess Diana was seemingly successful, though not all were convinced.
Rose Moloney, who lives in Scotland, brought a Princess Diana placard to an anti-monarchy protest on the day and told Newsweek: "I'm carrying it for Diana to honor her because she's being airbrushed out of royal events in the last two years. She's never mentioned."
"Today I'm here as a protest," she continued, "not to honor the coronation or the monarchy but to say they lost the best queen they ever had. The royal family didn't look after her. Charles didn't love her. She was used to bring the two children into the world and then cast aside."
Queen Elizabeth II famously used to say that she had to be seen to be believed and part of the purpose of the coronation is so that succession can also be seen and therefore believed.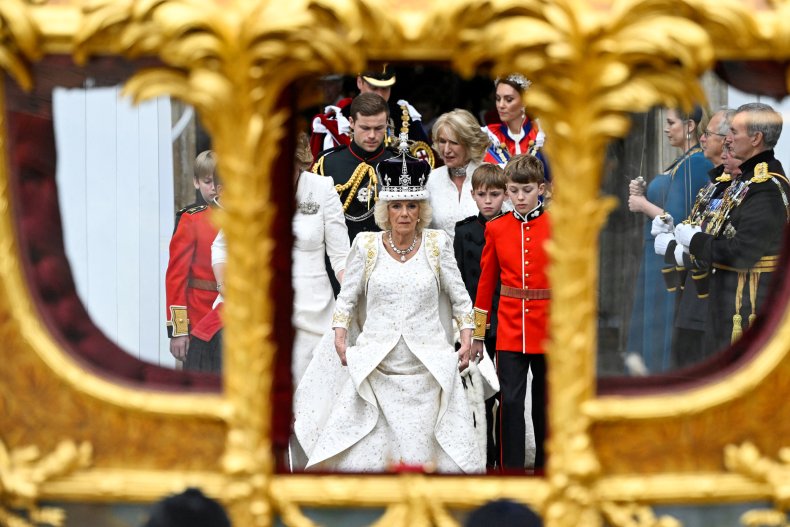 The world can therefore believe that Camilla is the Queen Consort, though with opposition to monarchy rising among 18 to 24 year olds in Britain, it will be some time before Britain's ultimate verdict on the new king and queen becomes definitively clear.
For now though, Charles and Camilla have pulled off a successful coronation viewed by thousands of adoring royalists, some of whom camped for days to get a spot to view their carriage procession.
Cheers went up as RAF planes flew overheard, leaving red, white and blue trails in the sky, watched from below by the royal couple, still wearing crowns.
There were no malfunctioning pens to spark Charles' famous temper. The Mall heaved with, to the naked eye, just as many people as for Elizabeth's Platinum Jubilee less than a year earlier.
The only task left is to reign.
Jack Royston is chief royal correspondent for Newsweek, based in London. You can find him on Twitter at @jack_royston and read his stories on Newsweek's The Royals Facebook page.
Do you have a question about King Charles III, William and Kate, Meghan and Harry, or their family that you would like our experienced royal correspondents to answer? Email royals@newsweek.com. We'd love to hear from you.