The U.S. House approved a bill Thursday that proposes an amendement to Title IX, restricting transgender athletes from competing in girls and women's sports at federally funded educational institutions.
The ruling, which is not expected to pass the Senate, would apply to a small number of U.S. citizens if it becomes law.
Several states have already outlawed transgender athletes from participating in girls and women's sports, but some GOP governors have vetoed similar bills that landed on their desks.
Transgender people are again at the center of the GOP's crosshairs after a recent bill outlawing transgender athletes from competing in girls' and women's sports passed the U.S. House along party lines on Thursday.
The bill, titled Protection of Women and Girls in Sports Act and authored by Florida Republican Greg Steube, is not expected to pass the Democrat-controlled Senate, and President Joe Biden has threatened to veto the bill if it lands on his desk. Despite its unlikely path to success, the bill solidifies that the LGBTQ+ population remains at the center of a culture war waged by the GOP.
As dozens of states nationwide target LGBTQ+ people at the state level—including those competing in athletics—the U.S. House recently passed a bill that, if it became law, would prohibit transgender athletes from competing on girls' and women's sports teams at federally funded educational institutions.
The Protection of Women and Girls in Sports Act
The Protection of Women and Girls in Sports Act proposes an amendment to Title IX, which prohibits gender-based discrimination in education and related programs. The amendment would recognize an athlete's gender as being "based solely on a person's reproductive biology and genetics at birth."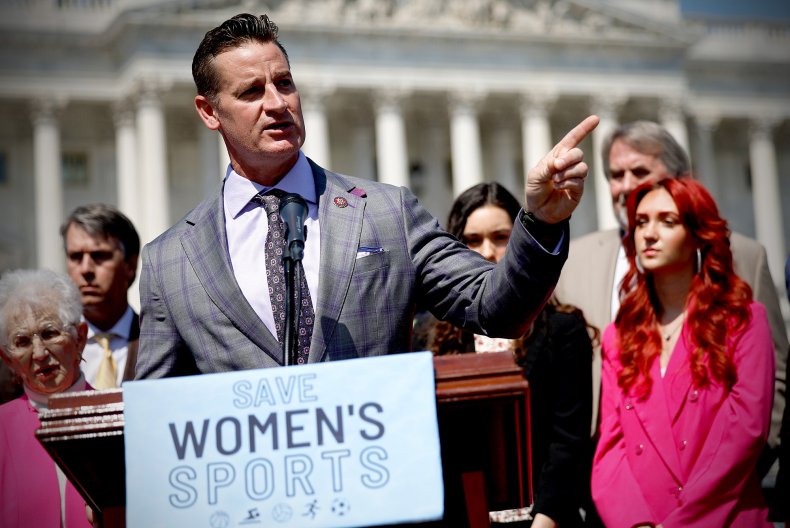 It is the first of its kind considered in the House as it failed to proceed in the last three Congresses.
The bill, if passed, would target athletes competing at public K-12 schools as well as public universities relying on federal funding.
However, the energy spent by Republicans in passing the bill likely only impacts a very limited portion of the U.S. population.
How many transgender athletes are in the U.S.?
Of the estimated 332 million citizens living in the United States, 1.3 million adults and 300,000 youth ages 13 to 17 identify as transgender, equaling half a percent and 1.4 percent of the population respectively, according to a report published by Williams Institute, a think tank at UCLA's Law School in 2022.
Not all transgender people identify as women, and an even smaller number consists of transgender women hoping to compete in girls' and women's sports.
Privacy laws make it tough to identify the exact number of transgender athletes competing in public school sports, but researcher and medical physicist Joanna Harper estimates the number can't exceed 100 nationwide.
"While we don't know the exact number of trans women competing in NCAA sports, I would be very surprised if there were more than 100 of them in the women's category," Harper told Newsweek.
One hundred transgender athletes would comprise an incredibly small number of the U.S. population, and the number dwindles even further when it comes to middle school and high school athletes.
Gillian Branstetter, a spokesperson for the American Civil Liberties Union (ACLU) said the number of transgender athletes isn't comprehensive, but she's also certain it's a very small portion of the nation's population. Branstetter told Newsweek that Save Women's Sports, an organization advocating for banning transgender athletes from competing in girls' sports, identified only five transgender athletes competing on girls' teams in school sports for grades K through 12.
However, transgender athletes that do compete in women's sports pack a punch when it comes to conservative responses.
In Washington, an outcry exhibited by Republican legislators and some parents made national news when a transgender female student-athlete at Seattle Academy competed with girls after leaving the boys' team. The transgender student won several races on the girls' team and was a top finisher in others. Scrutiny arose after learning that when competing on the boys' team, the student never performed better than 25th place.
The news led to cries of unfairness from Republicans, including Caitlyn Jenner, who transitioned in 2015.
Jenner was an Olympic gold medal-winning decathlete prior to transitioning. She, among other conservatives, believes that as transgender people gain more visibility, the transgender population will continue to increase. Jenner recently called the transgender population "oversaturated" and blamed the increasing numbers on indoctrination caused by the Democrats.
On Thursday, Jenner praised Steube's efforts in passing the Protection of Women and Girls in Sports Act.
"HR 734 passed along party lines. @RepGregSteube did a phenomenal job- the GOP is the party that stands for women whiles Dems are trying to ERASE WOMEN! Not one Dem supported this! Shameful!" Jenner tweeted.
What states have passed legislation against transgender athletes?
More than two dozen states have addressed transgender athletes at the state level with proposed legislation, with Idaho leading the charge when it became the first state to outlaw transgender athletes in women's sports in 2020.
Many others shortly followed, including Alabama, Arkansas, Mississippi, Montana, South Dakota, West Virginia, Tennessee and Steube's home state of Florida.
Florida has become a leader in the movement, as Ron DeSantis' Parental Rights in Education law recently was expanded to prohibit gender identity and sexual orientation topics from being taught in K-12 classrooms.
More states have since proposed legislation blocking transgender athletes from competing in girls' sports, including North Carolina.
On the same day the U.S. House passed the bill, the North Carolina House passed a bill that also banned transgender athletes from competing in girls' sports. Of the 15 transgender athletes competing in high school sports, only two are transgender girls according to an article by the Associated Press.
One of the transgender athletes competed on a high school volleyball team. During committee hearings, athlete Payton McNabb told legislators how during a volleyball match in 2022, a transgender athlete hit a volleyball that hit McNabb in the head, allegedly leading to a concussion and neck injury.
McNabb spoke to legislators and told them that more people would come forward with stories like hers if the bill didn't pass.
Not all Republican leaders believe in banning transgender athletes
Despite the nationwide push against transgender athletes, some Republican states are ruling in favor of the athletes.
In Indiana, Republican Governor Eric Holcomb became the first conservative governor to veto a ban on transgender athletes from competing in women's sports in 2022 after the state legislature was unable to prove that transgender athletes were competing unfairly.
Shortly after Holcomb's ruling, Utah Governor Spencer Cox, also a Republican, vetoed a bill that would prohibit transgender athletes from competing in women's sports.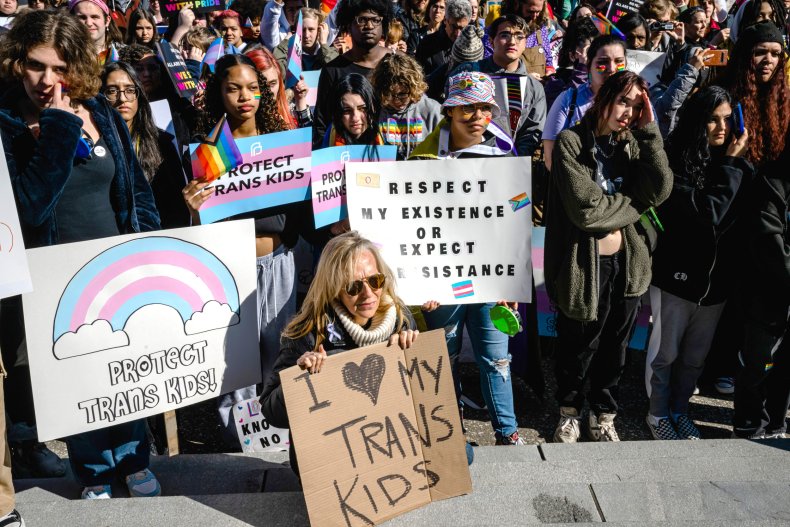 At the time of the bill's proposal in Utah, Politico reported that four transgender athletes out of 85,000 athletes competed in sports at state high schools. Only one of the athletes was competing in girls' sports.
In a letter to Utah's legislature, Cox wrote that although the conflicting science muddled his understanding of the topic, he wanted to err "on the side of kindness, mercy and compassion".
"Four kids who are just trying to find some friends and feel like they are a part of something. Four kids trying to get through each day," Cox wrote in the letter, also citing suicide rates among transgender youth. "Rarely has so much fear and anger been directed at so few. I don't understand what they are going through or why they feel the way they do. But I want them to live."
However, Holcomb's and Cox's actions constitute a minority of Republican leaders. Many conservative lawmakers argue that if a transgender athlete identifies as a woman, they are still biologically male.
"RT if you agree that biological MEN don't belong in WOMEN'S sports," a pinned tweet at the top of Steube's Twitter profile said.
The tweet has nearly 5,000 retweets.
In a House hearing on his bill, Steube heavily quoted the Bible.
"For thousands of years in human history, we have recognized as a species that there are women and there are men who are obviously biologically different and dare I say, even scientifically different, and even science agrees with this premise," he said.