Wedding photographs make memories last a lifetime, but one photographer's snaps helped a bride locate the huge diamond that went missing during her big day.
While scrolling through the stills from the day, photographer Laura Palacios spotted the moment that the bride's diamond fell out of the ring. "I have no idea, but it was a BIG rock and a real diamond," Palacios told Newsweek.
The bride and groom told Palacios that they wanted to jump in the pool, to end the wedding with a splash. At 11.30 p.m., the happy couple leapt into the water at the venue and after about five minutes, the wedding photographer noticed people searching the floor of the pool.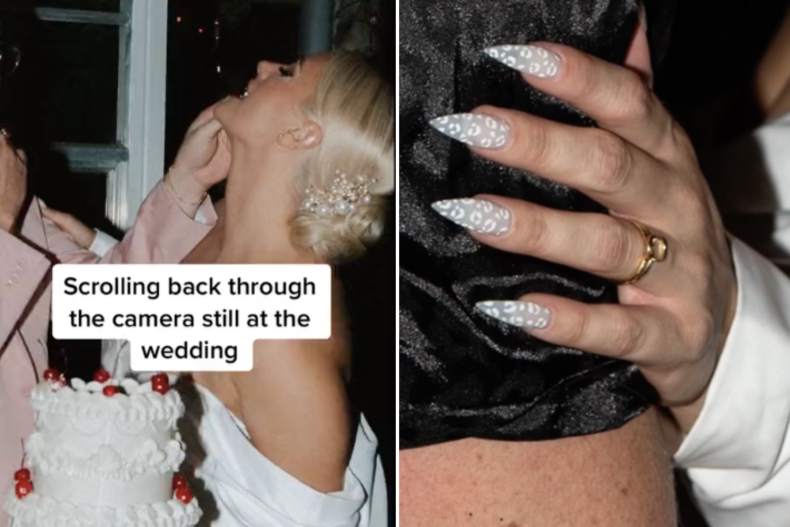 "I asked, 'Did you lose something?' My gut was saying it was the ring," said Palacios. "The bride, Courtney, put her hand on the side of the pool for me to see. The ring was there. The diamond was gone. She was as calm and happy as she had been all day."
As guests continued to search the pool for the missing gem, Palacios had the brain wave of checking through the still images she'd taken so far. She was then able to pinpoint the moment the diamond went missing.
Front and center in a few shots, the diamond shone beautifully on the bride's finger. Then, suddenly, it was gone. The ring still on her finger, but the gem was missing from its setting.
"I would have jumped in the pool to help them look, but I wanted to be sure we weren't wasting time looking in the wrong place," said Palacios. "She assured me it was insured, but several of us started to look. I looked back through images and realized it had gone missing at some point on the dance floor."
Running back to the venue staff, the photographer helped clear the dance floor—which was slatted with small gaps in-between.
"Thankfully, the diamond was so big, it got stuck, and a staff member at the venue found it within a minute. It was a miracle," Palacios said.
After the wedding, she shared the moment on TikTok, where she posted the series of stills and told the story of the missing diamond, and the video received over 10 million views.
"I gasped," posted one commenter, while another wrote: "The way I would sob."
"I knew it was a one-in-a-million story," added the photographer. "It was like finding a needle in the haystack, but thanks to being able to look back at photos, we were able to locate it quickly."
Update 5/17/23, 7:34 a.m. ET: This article was updated to include a new picture.